Nothing is more satisfying than witnessing your kid grow and excel every day. However, if you're a responsible parent, India's increasing educational costs might have already swamped you.
This is why Child Insurance Plans are the best way for you to save funds for your child's future whether you are there around or not. The more you can do to assist your kid in accomplishing their dreams and flourish in life, the better it is.
Understanding Child Plans
Routine monthly savings may not be sufficient to meet the increasing costs of higher education. Education expenses should be the ultimate limitation for your kid to thrive in a competitive world. A Child Plan consolidates investment and insurance to guard your child's future. Also, at the end of the term, Life Insurance is paid in a lump sum.
Not just that, these plans likewise offer flexible bonuses at crucial times in your child's schooling and college. In addition, Child Insurance Plans enable you to invest in policies based on your existing financial situation, other financial and child's educational requirements.
Tips to evaluate and get the best Child Plan
While there are countless Child Plans available in present times, you must consider some factors that can help you assess the best Child Plan for a secure future of your child.
Mentioned hereunder are some points that will help you evaluate the best Child Plan: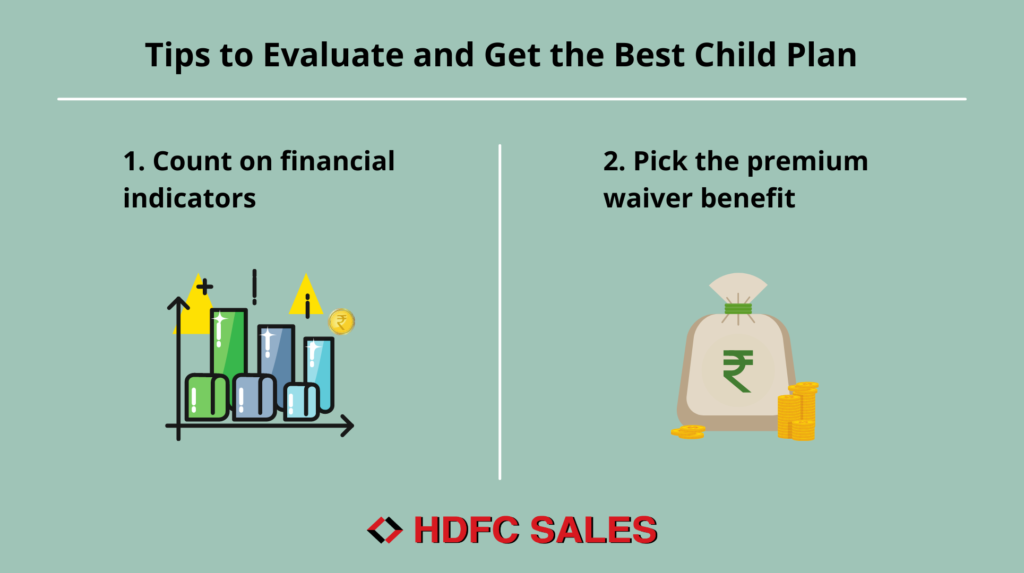 Count on financial indicators
It is vital to remember that you will only employ your child's investments and savings in the upcoming years. When deciding on a particular sum guaranteed, you must contemplate various financial considerations. Also, increasing education costs, inflation, escalating healthcare expenses, among other financial concerns, if accurately considered, will provide adequate funds for the child in the future. Moreover, you can limit this by utilizing the best child education approach.
Pick the Premium Waiver Benefit
Insurance companies usually extend to waive the premium in the event of the policyholder's premature demise during the policy's duration. It is a premium self-funding or premium waiver benefit. Also, it assists in maintaining the insurance without putting the family, especially your kid, under financial pressure. At maturity, the kid gets the comprehensive benefit guaranteed when you bought the plan. This feature is incorporated in Child Insurance Plans, given you purchase this rider.
Bottom Line
If you are looking for the best Child Plans, visit us. Here you can get the most comprehensive Child Insurance Plans such as HDFC Life Young Star Udaan.