The financial journey of an individual is not all about earning money. You also need to adopt healthy financial habits like savings and investments that guarantee a secured future. Quite naturally, these plans have a lot of proven benefits.
The accumulated wealth over time will give coverage against unseen financial emergencies. Remember, saving money is essential to meet substantial expenses, avoid debt, ease the financial burden in the retirement phase, and leave a financial legacy.
Let's dive deeper to understand the potential of savings and investments.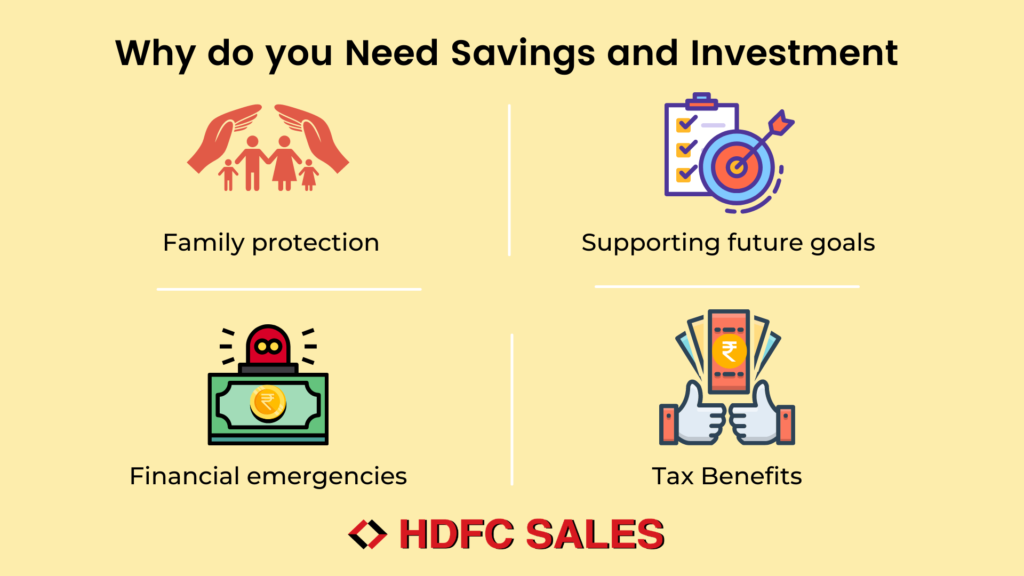 Family protection
Today, you might be earning generously, but then you can't accurately predict your future. Your wealth is subjected to uncertainty at any point in time. Think, without savings, how will you sail through the financial storms? If you don't have any investments, how will you contribute to your retirement period?
So, it's wise that you learn to manage and plan your savings. Now, there are various types of Fixed Deposit Schemes catering to the requirements of individuals. Just select the one that meets your requirements.
Supporting future goals
You need to take steps towards working for your future financial goals. Nobody knows what the future beholds for them.
Maybe you require a colossal amount to finance your dream project. It can be anything starting from purchasing a home and a car, your wedding and vacationing in an exotic destination to your child's education and marriage.
If you don't have any blueprints on savings, you are most likely to spend more. It's better to invest in Mutual Fund SIPs at a regular interval contributing to a lump-sum amount. The installment amount can start from a minimum of Rs. 500 yielding good returns.
Financial emergencies
There will be some unforeseen financial emergencies in your life, and it's totally inevitable. Money is something that will be crucial during this period. For instance, you might need funds to meet a medical emergency or your car could be damaged in an accident.
A decent figure will save you from adding a financial burden to your life. So, it is extremely important to maintain an emergency fund. Moreover, investing in Insurance Plans is best in these regards to forgo the crisis.
Tax Benefits
Do you know that Investment Plans also offer tax benefits to individuals? Yes, apart from the good returns earned through the interest, many Investment Plans get tax exemption in Income Tax under Section 80C.
There are various schemes like PPF, ULIP, National Savings Certificate, Senior Citizen Scheme, Sukanya Samriddhi Yojana, and others. Among the Mutual Fund Schemes in India, you can invest in ELSS to get tax benefits.
Conclusion
With systematic savings and investments, you enjoy a greater sense of financial freedom. The market is flooded with several schemes, but you need to select a plan that satisfies your financial diet.
Disclaimer: Interest rates are subject to change from time to time. For detailed Terms and Conditions, visit www.hdfcsales.com; Toll Free: 1800 266 3345.
Disclaimer: Mutual Fund investments are subject to market risks, read all scheme related documents carefully.