Synopsis
You must identify your investment goals to ensure maximum profits.
One should carefully examine finances.
Ensure you recognise your risk profile before making investments.
Many people today see retirement as the beginning of a new life as they can finally use their free time to pursue their interests. Individuals must strive for a flexible portfolio while balancing lifestyle and return expectations for a stress-free and comfortable retirement. You will be able to utilise your time in various investment avenues in your free time after you retire.
Following the necessary investment tips before retirement will help you avoid loss of consistent income and manage expenses.
Top 10 tips you must follow to become a Successful Investor after Retirement.
So how does one ensure they have enough capital to last them into their golden years? Continue reading this blog to understand money investment tips.
Add real estate to your portfolio
Own a property that will generate income through rentals once you retire. You can also sell a house you acquired when you were younger to raise money for retirement.
Don't forget insurance
Private sector employees and business owners must obtain enough insurance coverage for themselves and their families.
Remain diversified
Maintaining diversification in your portfolio is important for lowering risk. It is a crucial factor to consider while making stock market investments.
Maintain an emergency fund
After you start investing, ensure you have a sufficient surplus in case of any loss in your investments.
Inspect and balance
Examining your returns to receive the money you require to meet your financial objectives is important. Rebalancing can assist you in controlling your investment risk and ensuring that your portfolio continues to function in a way that will help you reach your financial objectives.
Think outside the box
Innovative thinking is a trait of successful investors. You should observe, analyse, and invest even when it is not the right time to buy or sell. Understanding these guidelines will enable you to prosper, even when the market is erratic.
Don't time the market
Keep your money in the market to get good returns and refrain from dipping in and out. How much time you spend in the market or how long you invest matters most for getting a decent return on your investment.
Keep learning
Learning about the market, how to invest, and how to prepare for retirement is crucial. You need to be aware of how something you invest in operates.
Track progress
Review the retirement plan periodically so modifications can be made to costs, savings, and investments as needed.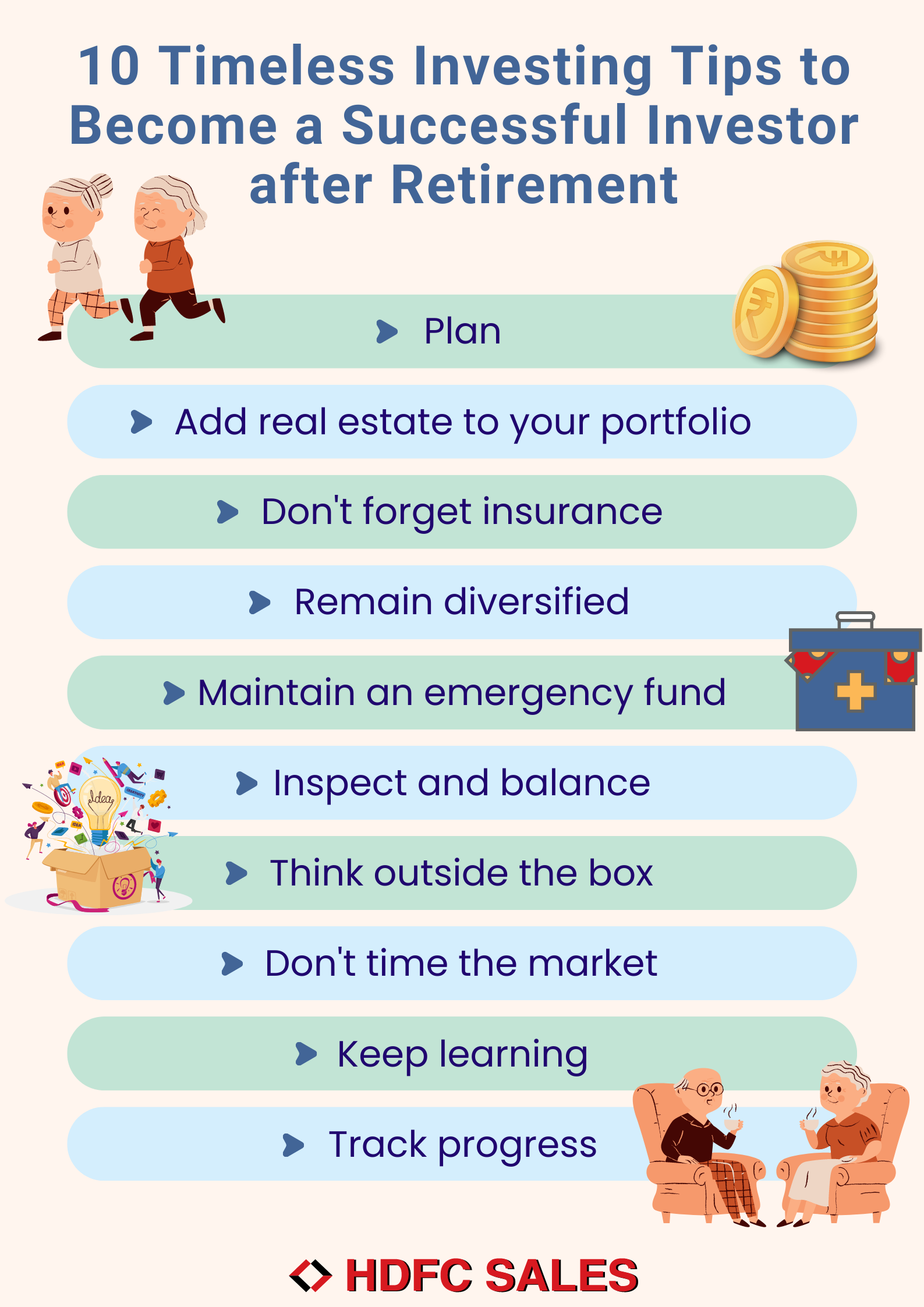 Conclusion
HDFC Sales brings you the National pension system (NPS) regulated by the Pension Fund Regulatory & Development Authority (PFRDA). Government bonds, bills, shares, etc., are among the several portfolios.
It is time to apply for a national pension system and start managing your money to become a successful investor after retirement using how to invest tips'.
Disclaimer:
The contents of this blog/website represents our own unbiased opinions and is solely for educational or information purposes only and is not in any way binding on the Company. The information provided here does not constitute professional advice and should not be used in place of it. The Company shall not be liable for usage of this information in any form or manner and your browsing and/or using of this website is subject to all applicable laws.
This blog/website may contain links to other websites, we are not, directly or indirectly, implying any approval, association, sponsorship, endorsement, or affiliation with any linked website, unless specifically stated. We are not responsible for examining or evaluating, and we do not warrant the offerings of, any businesses or individuals or the content of their websites.