With the global Pandemic and inflation knocking at the door, our lives have changed forever, and it has become more necessary than ever to save and invest money for the future. However, when it comes to investment, people seek investment plans with more returns and less risk.
If you are making investment plans for 2022 and looking for investment options that will get you maximum returns and minimum risk, then choose the option depending on your risk tolerance, investment limit, financial objectives, and liquidity requirements. However, though there are various investment options, none of the investment options are risk-proof. Risks and returns are directly related to each other, which means that larger the risk, greater the likelihood of a return.
Investment Plan- Where to Invest?
If you are looking for the best investment plans for 2022, below are the best investment opportunities: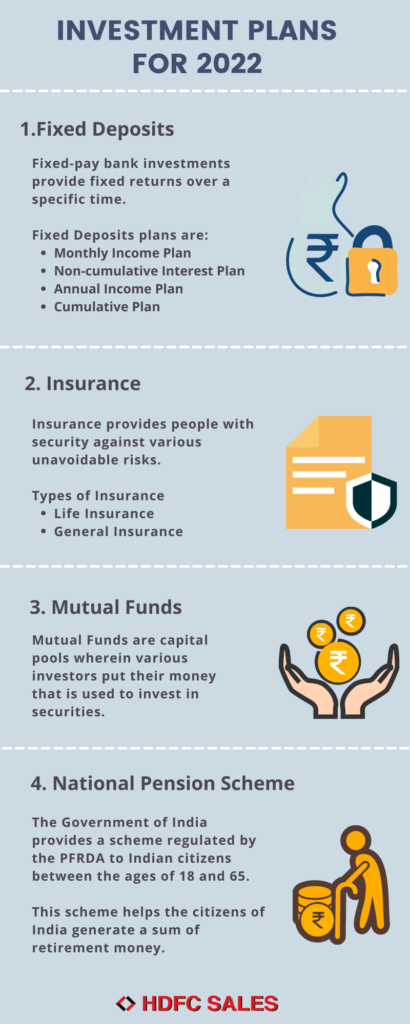 Fixed Deposits
Fixed Deposits are fixed-pay bank investments that provide fixed returns over a specific time. The amount, inclusive of the interest, is either payable after the end of the period or renewed again. Fixed Deposits are available in various plans:

Monthly Plan: Provided with monthly income.
Non-cumulative interest plan: Interest is provided quarterly or half-yearly.
Annual income plan: Interest is provided yearly.
Cumulative plan: Entire amount is provided at the end of the period.
Insurance
Insurance provides people with security against various unavoidable risks. It is a step to protect you and your loved ones' future and provide for them, even in your absence. Insurance is of two types:
Life Insurance: Life Insurance protects a person's needs and requirements through different types of plans like Term Insurance Plans, Savings and Investment Plans, Health Plans, Retirement Plans, Children's and Women's Plans.
General Insurance: This type of insurance covers: Home, Health, Motor, Travel and Fire or any other unforeseen perils.
Mutual Funds
Mutual Funds are capital pools wherein various investors put their money that is used to invest in securities. Investment managers handle the investment, manage the invested fund, and earn profits on the initial capital by making calculated investment decisions. The greatest Mutual Funds to put your money into include Equity Funds, Index Funds, Tax-saving Funds, Debt/ Income Funds, Liquid/ Money Market, Gilt and Balanced Funds.
National Pension Scheme
The Government of India provides a National Pension Scheme regulated by the Pension Fund Regulatory and Development Authority that the citizens of India between 18 to 65 can avail. This scheme helps the citizens of India generate a sum of retirement money.
Conclusion
While looking for a good investment opportunity, consider the options mentioned above. Any investment involves some risks, but taking a calculated risk can result in making a substantial profit. Each of the options- Fixed Deposits, Mutual Funds, Insurance and National Pension Scheme, have different advantages and policies that meet the needs of different people differently.