The importance of having life insurance could not be stressed upon more than in the current atmosphere. Most individuals avoid planning for the future, and the future of their loved ones in the event of any unfortunate event. The main reasons for this stem from a lack of awareness about plans and schemes, and from an attitude that "nothing will happen" in terms of unforeseen events. However, unpredictability is a fact of life, and with the rising costs of living holding sway, unless you have a plan for your loved ones, they may be unable to cope in the event of your sudden demise.
Protection is Affordable
The Saral Jeevan Bima Plan offers individuals life coverage at very low rates of premiums. Plans can be purchased in a convenient manner from any insurers online and offline, and HDFC Life provides this plan without hassle. As a pure term insurance plan, the Saral Jeevan Bima Plan is geared towards life coverage and advantages that can be obtained for up to forty years.
How the Plan Works
How this plan works is best understood with the help of an illustrated example:
Let's assume that Arvind is a 35-year old worker in a factory. He works in a rural area and supports a wife and two children. His parents are also dependent on him for financial support. This is a typical scenario where Arvind is the sole breadwinner of his household. Since this is the case, Arvind sees the need to protect his family's future, financially, to ensure that any requirements must be met should an unpredictable event, like his demise, occur. However, since Arvind's monthly income is not of a fixed nature, and varies from one month to the next, what is the plan that is best suited for him?
Arvind considers the HDFC Life Saral Jeevan Bima Plan. He goes ahead and purchases the plan for a term of 20 years. With the plan, Arvind receives a Rs. 25-lakh life coverage and he has to pay a premium of only Rs. 447. In case of Arvind's unfortunate demise during the term of the plan, his family will receive Rs. 25 lakh as a death benefit. Moreover, this will be generated quickly.
Protection With No Frills
Saral Jeevan Bima Plan is a term insurance plan that is easy in terms of individuals to understand and has no frills attached. Term insurance should be much-sought after in today's world. The Saral Jeevan Bima Plan is available with HDFC Life and offers you flexibility in premium payments and the ability to meet your family's financial requirements in your absence. One way that this flexible option works is by offering you the option to pay up your premiums in the first few years of availing the plan (if you can afford to do so). Hence, you enjoy cover for life without the concern of paying premiums. Policy terms can also be chosen by potential holders, and these range from 5 years to 40 years. According to the finances you have at your disposal, you can choose an option within the plan that suits your requirements best.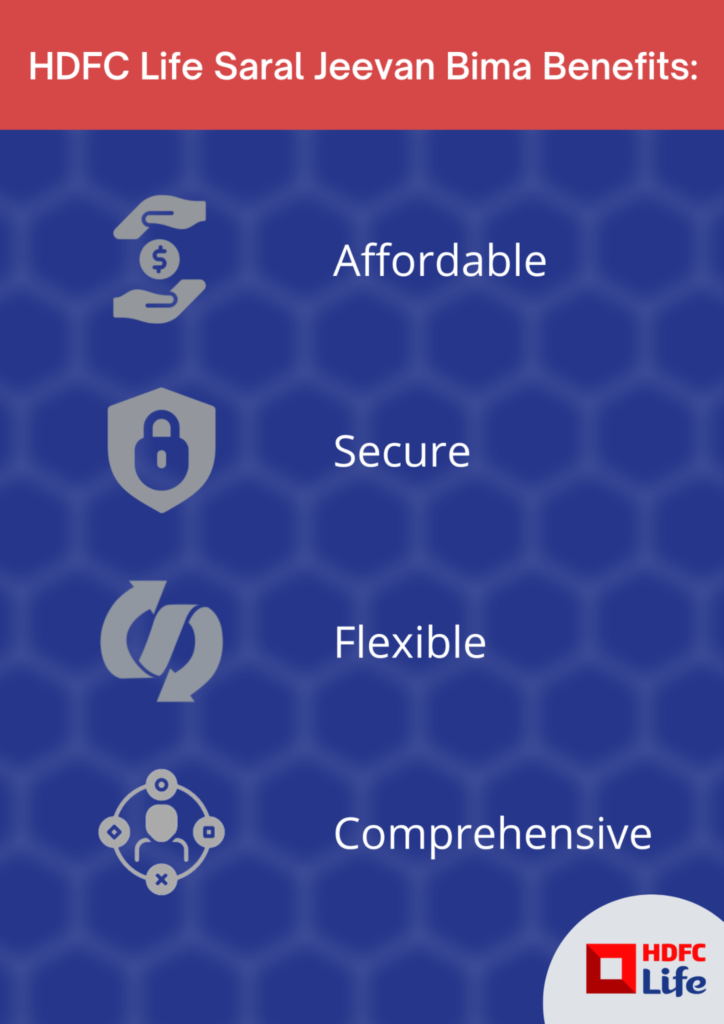 Why Get the HDFC Life Saral Jeevan Bima?
A term insurance plan is the easiest way to offer your family a financial safeguard should your untimely demise occur. When you compare the HDFC Life Saral Jeevan Bima Plan to other life insurance plans, it wins hands down for its low premiums that potential policyholders can afford from any strata and socio-economic background.
With regular life insurance plans, insurers usually charge high premiums to those individuals who work in jobs that warrant some hazard, as the chances of life expectancy may be significantly lower than those in other professions. The Saral Jeevan Bima Plan can be availed of by any individual, regardless of profession, place of residence, etc, and is an easy, yet effective plan for those who wish nothing more than the financial protection of their families in their absence.