Synopsis
● It is effortless and convenient to apply for a loan against property with HDFC
● Simple procedure, fast execution.
● Easy monthly instalments to repay as per your convenience and paying capacity.
A salaried person and a self-employed person can avail of the HDFC loan against property.
HDFC's Loan Against Property (LAP) gets you the most convenient and efficient option to serve your financial needs. You can apply for a loan against property for personal or business needs and get it at the most attractive interest rates. Both residential and commercial properties can help get LAP. HDFC offers loans against property to both salaried and self-employed people. Though, the features and eligibility criteria change in both scenarios, respectively.
Key Features
HDFC LAP can be levied on entirely constructed, freehold residential and commercial properties. The need for the loan can differ from business needs to marriage, medical expenses, or other personal needs. Transferring your outstanding loan from another bank/financial institution is also possible.
● 100% hassle-free documentation
● Primary monthly instalment method for repayment
● HDFC LAP offers an interrogated branch network to avail and service the loan across India.
● To have affordable EMIs, you can stretch the loan for longer.
HDFC'S loan against property interest rate is competitive in the market.
Eligibility Details - For a Salaried Person
Primary Applicant
● The age bracket can be 21-65 years.
● The profession can be either salaried or self-employed
● The person has to be an Indian resident
● People of any gender can be a primary applicant
Co-Applicant
● Add a co-applicant, and it will help you enhance/increase your loan amount.
● Having a woman co-owner will help you avail a better interest rate.
● A co-applicant need not be a co-owner. Usually, co-applicants are close family members.
Eligibility Details - For a Self-Employed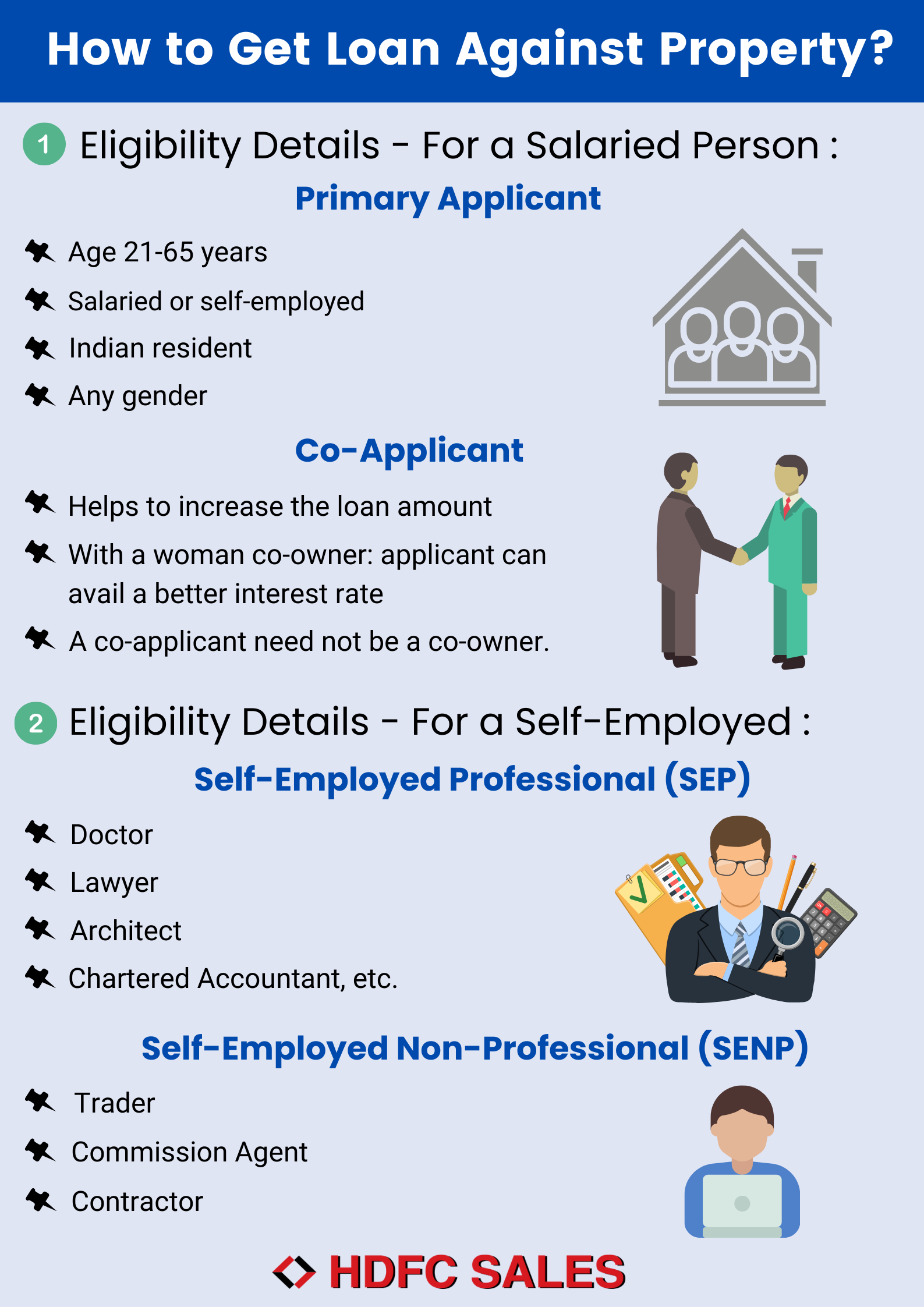 Self-Employed Professional (SEP)
The list includes -
1. Doctor
2. Lawyer
3. Chartered Accountant
4. Architect
5. Consultant
6. Engineer
7. company Secretary, etc.
Self-Employed Non-Professional (SENP)
1. Trader
2. Commission Agent
3. Contractor etc.
HDFC is one of the most trusted and reputed names in the market. The financial institution has earned this with years of experience and expertise in the financial market. The kind of loans, interest rates and hassle-free procedure HDFC offers is unparalleled.
For an existing customer, the maximum funding for a loan against property should not exceed more than 60% of the market value of the mortgaged property. On the other hand, for a Non-HDFC customer, the loan against the property being availed should not exceed 50% of the property's market value. The bank will prefer customers and give them the best services and benefits possible.
The HDFC Loan against Property can be availed for a maximum term of 15 years or till the age of your retirement, whichever is lower. The security of the loan given by HDFC would be the security interest on the property financed by the bank or any other collateral or interim security as asked by the bank.
HDFC Loan against Property is a hassle-free procedure; no primary paperwork or massive documentation is needed. Everything is very streamlined as you can get your loan processed within no time from the bank. It would help if you only kept in mind never to miss deadlines and have the correct authorised documents for a smooth and convenient procedure.
Disclaimer:
The contents of this blog/website represents our own unbiased opinions and is solely for educational or information purposes only and is not in any way binding on the Company. The information provided here does not constitute professional advice and should not be used in place of it. The Company shall not be liable for usage of this information in any form or manner and your browsing and/or using of this website is subject to all applicable laws.
This blog/website may contain links to other websites, we are not, directly or indirectly, implying any approval, association, sponsorship, endorsement, or affiliation with any linked website, unless specifically stated. We are not responsible for examining or evaluating, and we do not warrant the offerings of, any businesses or individuals or the content of their websites.