Due to a lack of hefty finances, you might choose to opt for a home loan in order to fulfil your dream of being a homeowner. But you might be worried about the paperwork and the checklist of prerequisites that availing a home loan might call for. One of the most prominent issues is home loan ITR filing. In this article, we shall clear all your doubts regarding whether you should file an ITR to be eligible for a home loan.
What is ITR? Why is it an Important Element for Banks While Providing Loans?
ITR is a document that officially states your timely tax payments. It is a formal document of Income Tax Return acknowledgment from the Income Tax Department. The banks use ITR to assess your financial condition. However, it is not mandatory to file an ITR if you wish to get a home loan.
Top 5 Benefits of Filing an ITR for Home Loans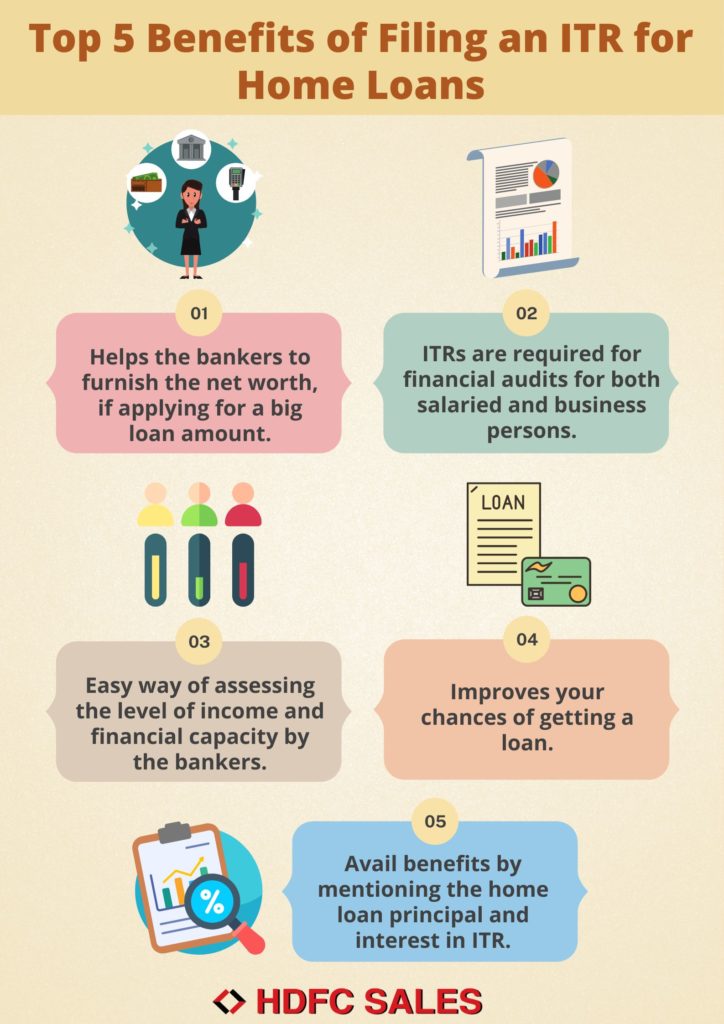 Having said that, there certainly are benefits of filing ITR in the loan procedure, which are mentioned below:
Having an ITR indicates the completion of your financial documents. It helps the bankers to furnish your net worth if required - only if you are applying for a loan of a big amount.
Sometimes, the bankers require your audited financials. Income tax return for salaried persons and business persons is required to conduct the audit on your financial documents.
It is an easy way of assessing your level of income and financial capacity by the bankers. They generally look at the ITR of the 3 previous years to ensure that you are capable of paying the loan back.
ITR filed on time also showcases your creditworthiness. This makes the banker confident that you can pay regular EMI's, thus improving your chances of getting a loan.
You can also avail benefits by mentioning the home loan principal and interest in ITR.
However, you are not required to file an Income tax and benefit return every year if you want to get a home loan.
Can I Get a Home Loan Without Filing an ITR?
Some banks and financial institutions allow their customers to avail of a home loan without filing an ITR. Other factors that make having an ITR non-mandatory are:
Your CIBIL score
Your credit history
Your occupation type and salary
Your age
Your previous properties or investments, etc.
If the banks believe that you are eligible to get a home loan based on any of the above factors, they can exempt you from showing your ITR.
Takeaways
Looking for a home loan? Want to get the best offers? Perplexed about your requirements and the prerequisites of a loan?
Visit the HDFC Sales website to clear up your doubts.