Synopsis
It is important to stay prepared with the help of insurance plans and add-on covers.
Different types of add-on insurance covers:

Maternity Coverage
Medical Health Insurance
Life and Critical Illness Cover
Multiple Critical Illness Insurance
HDFC Personal Accident Plan

Significant benefits and coverage for the lowest rates and premiums are available.
It's always better to be prepared for any illness or misfortune, and take the first step towards protecting your family today.
The cost of undergoing any medical procedure these days is high, especially with the developments in medicine over the past few decades. With rising prices and uncertain times, finding the right health insurance add-on covers can be monumentally helpful. They can provide the right financial protection against a large range of unexpected conditions or circumstances. Being one of India's top insurance plans providers, HDFC Bank offers a wide variety of add-on covers with more than 4 crore lives and 1.67 lakh families secured with life insurance plans to date.
But, what kind of add-on covers should you invest in? Let's find out.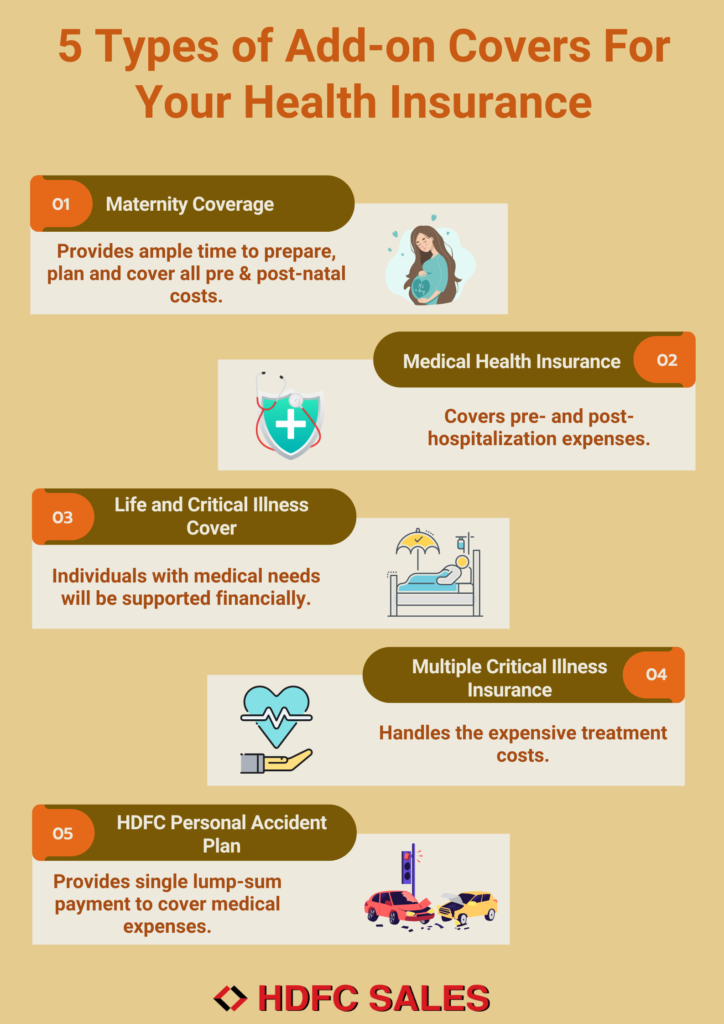 5 Types of Add-on Covers For Your Health Insurance
In varied circumstances, an individual might have specific insurance requirements. It is always advisable to stay informed and be well-prepared. A few of the different types of add-on insurance covers that you can consider are:
Maternity Coverage
Adding maternity coverage to the health insurance plan can be hugely beneficial for aspiring parents and mothers. A waiting period of 3-4 years can help provide ample time to prepare and plan, and cover all pre- and post-natal costs.
Medical Health Insurance
A medical insurance plan helps you cover pre- and post-hospitalization expenses, saving you taxes up to 75,000 Rupees. HDFC covers cashless healthcare and medical care within most health insurance plans.
Life and Critical Illness Cover
In the case of fatal or critical medical conditions, a life and critical illness cover on your health insurance plan ensure that your family and loved ones are protected, and financial support will be provided for the necessary care of the individual.
Multiple Critical Illness Insurance
In the case of multiple life-threatening illnesses and lifestyle diseases such as cancer, stroke, kidney failure, etc., a multiple critical illness insurance plan or cover is essential in handling the expensive treatment costs. If you are at the risk of certain hereditary diseases, such covers can provide additional protection should any such illnesses arise.
HDFC Personal Accident Plan
As a precaution against unforeseen accidents, the personal accident plan offered by HDFC provides lump-sum compensation in a single transaction to cover accident-related medical expenditures. It acts as a safety net for your family in your absence.
Takeaways
Ultimately, yours and your family's health and welfare are of utmost importance. With the cost of any medical treatment steadily rising, it is best to be prepared for all circumstances. Making sure financial support is available through the help of insurance plans and add-on covers is essential. HDFC's health insurance plans can provide you with such support. Let us help you today!