Though Home Loans are available with ease, it is crucial to plan your finances before you take one. Home Loan tenures can last up to 30 years, and so, repayment needs financial discipline.
When you apply for a Home Loan, take whatever term you get for an EMI that equals 40% of your total monthly income. If you have other EMIs, use the margin you have. Your total EMI outflow should not exceed 40% of your total monthly income. Do not skip this rule even if you get approval for a higher amount.
Get a rough estimate of your Home Loan EMIs before you apply for a Home Loan. Use the HDFC Home Loan EMI calculator to know your approximate Home Loan EMIs.
Why do you need to buffer your HDFC Home Loan EMIs?
For proper contingency planning, keep a reserve equal to your 3-months EMI payments. Here's why you should do so.
When you buy a house, you will also have other expenses, besides your Home Loan EMIs. Stamp duty, home registration charges, interiors, shifting costs, society maintenance bills and brokerage fees are some of the standard costs incurred.
In case the possession of your property gets delayed, you will have the added burden of rent plus your Home Loan EMIs. The delay could last longer than the premium holiday your lender gives you. So, you need a provision to pay both the rent and your EMIs.
If you get laid off your job and don't have another source of income, you will still have to make your EMI payments. You can use your Home Loan EMI buffer to prevent defaults.
There are some months in a year when our expenses increase. Say, we tend to spend more on festivals and birthdays. It helps to have some money on the side to cope with the increased outflow.
If in an unfortunate event, you meet with an accident or get diagnosed with a critical illness, it takes time to get your insurance policy benefits.
In case of death, your family will have to pay the EMIs until the claim gets settled. If you keep a buffer, it could ease things for your family in your absence.
How do Home Loan EMI defaults affect your Credit Score?
Every month, the bank sends a CIBIL (The Credit Information Bureau of India) report of your credit information.
Defaults on EMIs deteriorate your credit score.
If you have to take another loan in the future, these EMI defaults reduce your chances of negotiating a good deal.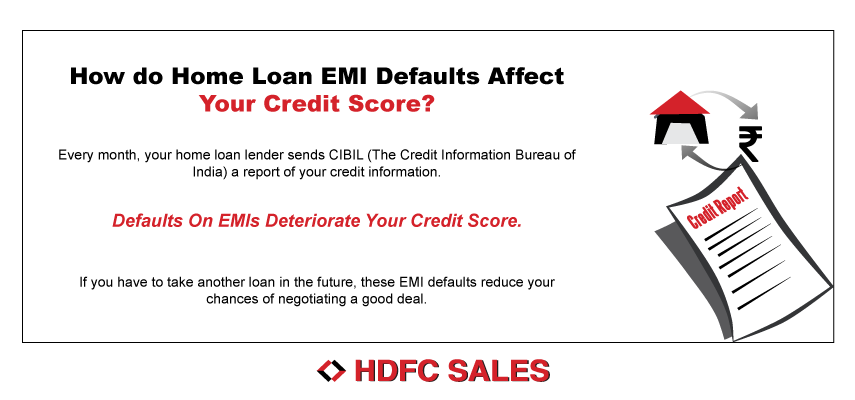 What happens if you don't pay your HDFC Home Loan EMIs on time?
If there are insufficient funds in your bank account, your Home Loan EMI gets missed. The bank then gives you a few days as a grace period.
Beyond the grace period, lenders charge you a penalty on the overdue amount.
For example, if you miss your Home Loan EMIs, you have to pay interest on the accrued amount. This extra interest gets charged monthly and could go up to 18%-24% of the defaulted amount.
If you're unable to pay your EMIs for three months, your lender sends you reminders or calls you to follow up. They might send a sales representative to meet you. Some lenders bill these extra charges to you too. You could also receive a legal notice.
The Negotiable Instruments Act, Civil Suit, and the SARFAESI Act state the guidelines under which intimations/reminders and notice(s) get sent to the loan defaulters.
The lender's recovery process involves taking possession and the sale of the mortgaged property.
The Securitization and Reconstruction of Financial Assets and Enforcement of Security Interest Act, 2002 (SARFAESI Act) or other similar acts lay down the recovery process that Home Loan lenders follow.
How can you Buffer your HDFC Home Loan EMIs?
Never underestimate the power of saving small sums every month. Separate your needs from your wants to help you find the money for your buffer amount.
Set a goal of having a reserve that equals your 3-months Home Loan EMIs. Start with whatever you can put aside with ease. First, save an amount equal to your 1-month EMI and go on to build a 3-months reserve.
You can use a Switch Account to build your reserve. A Switch Account is a combination of a Savings Account and a Fixed Deposit. Specify your Switch Account balance. Beyond that, the remaining amount in your Savings Account goes to a Fixed Deposit. This way you can earn higher interest on any amount you don't need at the moment.
In case you have to use your buffer amount to pay your Home Loan EMI, the money comes from your Savings Account. Any deficit gets met by the Fixed Deposit and you continue to earn higher interest on the balance amount in your Fixed Deposit.
There are other investment vehicles you can use like Liquid Mutual Funds. It is easy to redeem Liquid Mutual Funds. However, do consider what taxes apply when you switch out of the Liquid Mutual Fund.
The idea is to build enough assets that support you during difficult times.
If you're lucky, you won't have to use your EMI buffer amount. You can then use it to make a part or full prepayment of your Home Loan.
Disclaimer: All loans at the sole discretion of the HDFC Ltd. For detailed Terms and Conditions, visit www.hdfcsales.com; Toll Free: 1800 266 3345.