Be it a corporate job, an entrepreneurial venture or the everyday business of being a home-maker– women now stand undefeated in almost all fields. They handle personal earnings and family budgets with ease and confidence.
However, they do lag behind in one aspect when it comes to money– getting themselves insured. Fortunately, insurance policies like HDFC Life Insurance Policy address the importance of women's insurance plans.
Reasons why women need Life Insurance more than men
Being a woman comes with specific conditions that require them to be more financially secure at all times. These reasons are discussed below:
Women-related health complicacies
Women go through certain specific health complicacies in relation to reproductive health. Considering these health risks, women need to get themselves insured so that the financial security of the family is intact even during emergencies.
Longevity of life
Statistically, women are said to live longer than men. Being financially stable is crucial if one wants to survive in a cut-throat capitalist world. The longer you live, the more complicated your problems are. Financial dependence should not be one of them.
For Single Parents
Women who are a Single Parent have the sole responsibility for their children's future. In order to ensure that the children have a financial safety net to fall back on, it is a must for women who are single parents to get their life insured.
For post-retirement worries
Retirement can be difficult when it comes to maintaining the same standard of life. In the case of working women, a HDFC Life Insurance Policy will aid them in strengthening their financial conditions even after retirement.
For home-makers
As a home-maker, she takes on the responsibility of a care-taker, a tutor, a chef, and so much more. A woman's life has a very high financial value. In the case of an untimely death, a Life Insurance Policy will allow others in the family to have the funds to hire help.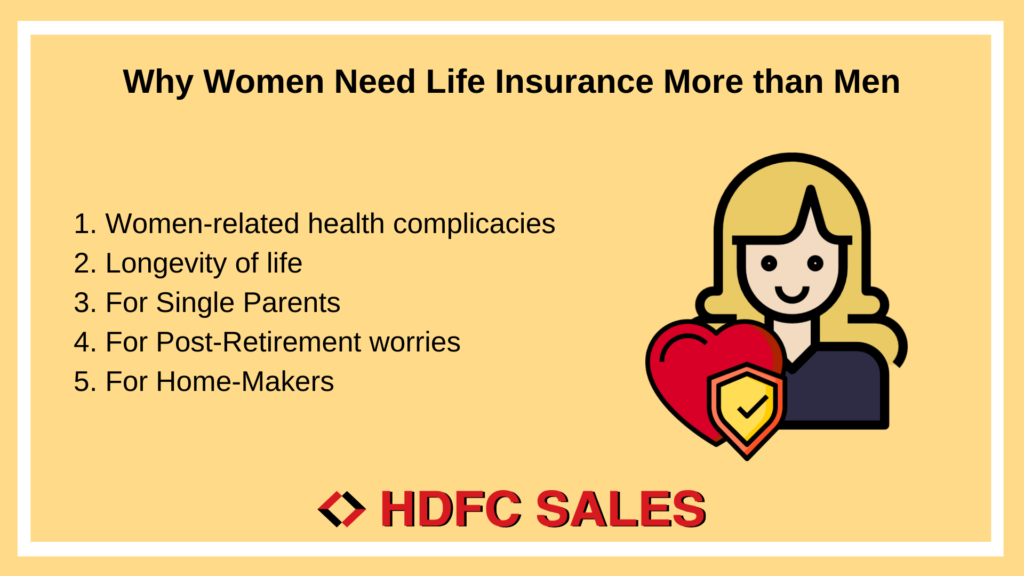 HDFC Women's Insurance Plans
The HDFC Life Insurance Plans in India have introduced the Women's Insurance Plans under them. These insurance plans give women the much-needed financial aid by helping their wealth grow. These plans address different requirements of women, based on what their circumstances in life are.
The HDFC Life Smart Woman Plan is one such Women's Insurance Plan. The minimum assured sum for this plan is 7 times the annual premium and the maximum assured sum is 40 times the annual premium. This Insurance Policy is an investment opportunity that offers 4 fund options and 3 benefit options.
Wrapping Up
Because of societal conditioning, gender roles, and gender discrimination, women were hardly ever involved in any key decisions when it came to money. With changing times, this dynamic has shifted as well. In fact, because of their specific challenges in society, it has now been established that women need Life Insurance, way more than men do.
Disclaimer: HDFC Sales Private Limited, Registered office: 4th Floor, Wing-A, HDFC House, 165-166, Backbay Reclamation, H.T. Parekh Marg, Churchgate, Mumbai – 400020. CIN: U65920MH2004PTC144182; Email: customercare@hdfcsales.com; Toll Free: 1800 266 3345; website: www.hdfcsales.com; IRDAI Reg. No. CA0080.