Home Loan Balance Transfer and Top-Up Loan are two different things and cannot be compared as such.
Home Loan Balance Transfer
A Home Loan Balance Transfer is a process in which you can transfer your outstanding Home Loan balance to a different bank. The repayment of loan continues but with a new lender. Balance Transfer of loan is chosen to either reduce the interest cost or where the borrower is not happy with the service(s) provided by the lender.
Top-Up Loan
Whereas the Top-Up Loan is the additional loan which the borrower can avail to manage emergency fund requirement. Personal loan can be an alternative to the Top-Up Loan but it is more expensive as compared to the Top-Up Loans. Currently, Personal Loans are offered at 10.75% to 11.5% range whereas Top-Up Loans are much cheaper as compared to personal loans as they are secured loans. Also, personal loans are offered for max 5 years tenure whereas Top-Up Loan is offered for tenure which is equal to unexpired period of the original Home Loan.
HDFC Home Loan Balance Transfer and Top-Up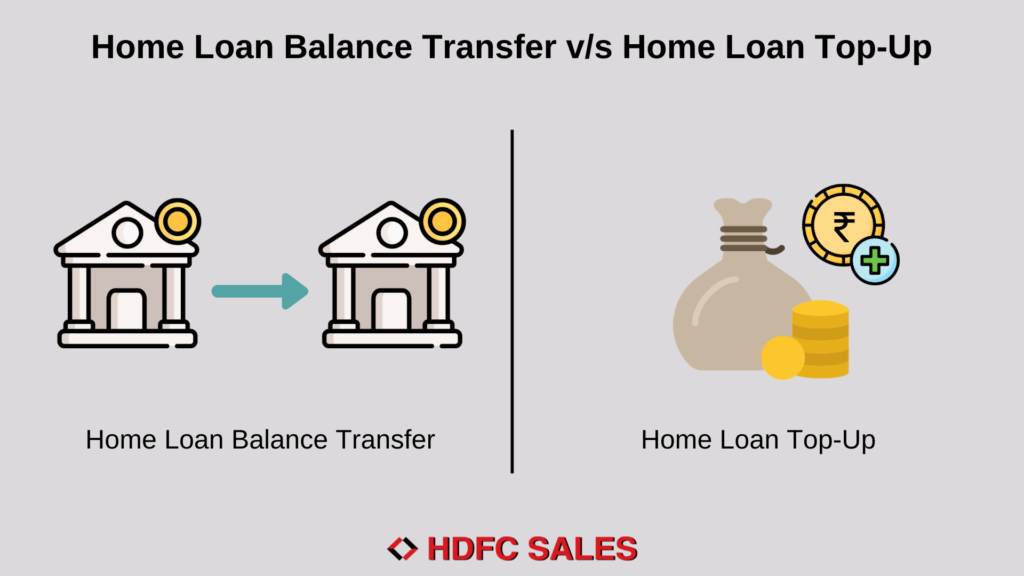 HDFC Home Loan interest rate starts from 6.90% p.a. with additional features such as flexible and customizable repayment options. It provides Home Loans with EMIs starting from ₹659 per Lac, the lowest one can find anywhere. Home Loan Transfer to HDFC from another bank or financial institution helps get an additional Top-Up Loan up to ₹50 Lacs. With its integrated branch networking throughout India, it becomes very convenient for the borrower.
Conclusion
Both Home Loan Balance Transfer and Top-Up Loan have their own merits. While one reduces the loan cost, the other offers you an emergency fund at any time. HDFC Home Loans aim to make your dream home budget-friendly by offering you the best of all worlds.
Disclaimer: All loans at the sole discretion of the HDFC Ltd. For detailed Terms and Conditions, visit www.hdfcsales.com; Toll Free: 1800 266 3345.