A plot in a good location has the potential to provide high appreciation in value. That's what makes it an investment worth considering.
Most people buy land for two reasons- either to build on it or to sell it off for a profit. These can be for Residential or Commercial purposes or raw land purchase.
Land purchases can be expensive, and you might need some financing to be able to buy one. Usually, it is possible to get funding for up to 50-80% of the cost of the land.
There are two types of HDFC Land/ Plot Loans available:
Residential Land/ Plot Loans
Commercial Land/ Plot Loans
When you apply for an HDFC Plot Loan, two areas that get scrutinized are the quality and purpose of investment and your repayment capacity. Here are some tips that can make it more comfortable to get a Plot/Land Loan: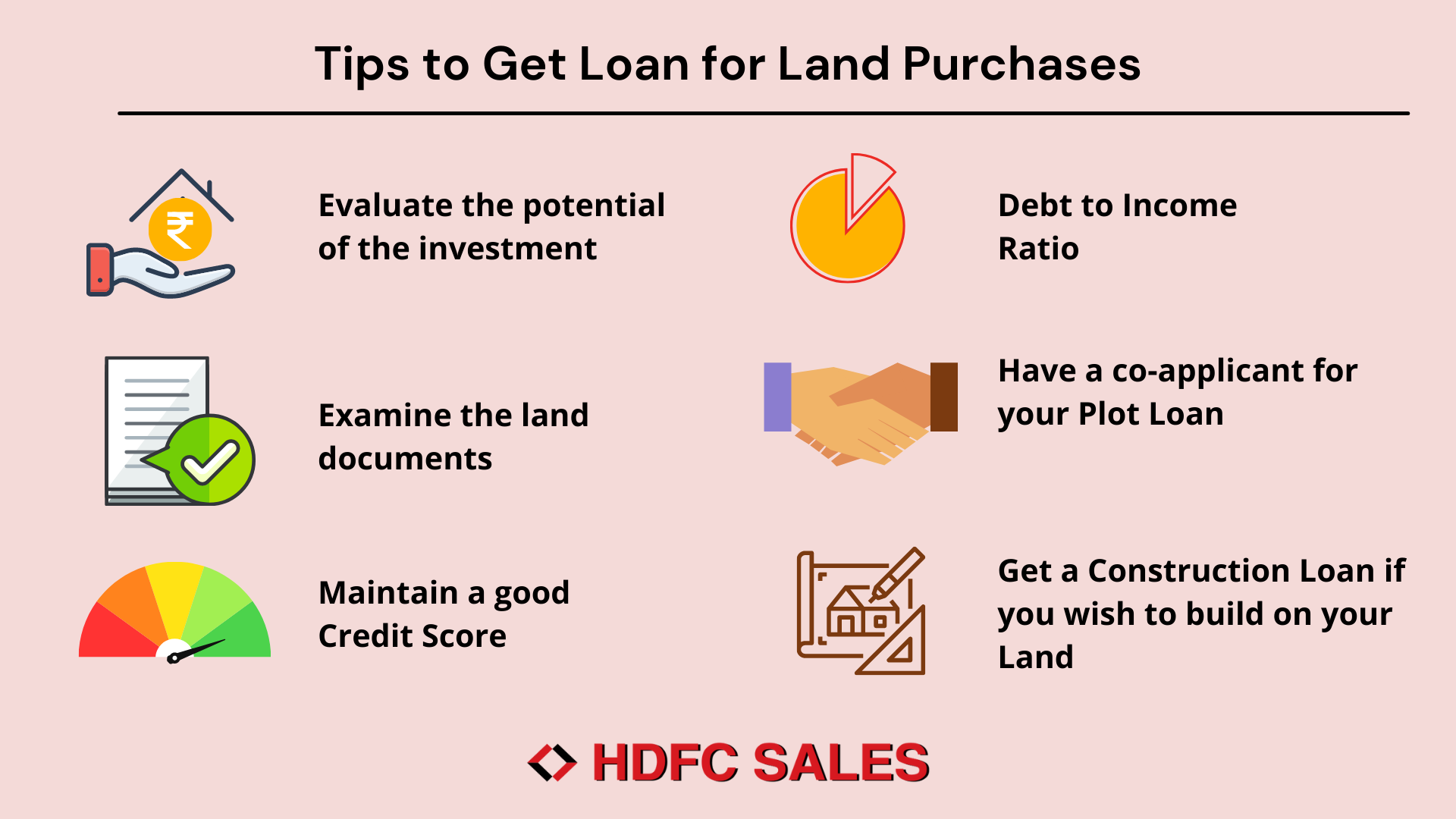 1) Evaluate the potential of the investment before you approach a loan lender for a Plot Loan
Location is an essential factor in determining whether a piece of real estate is a good deal or not. Let's take an example:
Say you wish to get an HDFC Residential Plot Loan and build your home on the land. Here are some things you need to consider at the initial stage:
Where is the plot located?
Does the locality have proper provisions for basic amenities?
Are there other people who have constructed homes in the same area?
What is the scope of further development in that area?
What type of appreciation has the land been able to get over the last decade?
Also, get a proper survey conducted to get a record of the exact plot area and the feasibility of construction.
2) Examine the land documents
Go through the land records of the plot you wish to buy. Check for the following:
The Title Deed- The Title Deed will tell you what purpose the land is for – Residential, Commercial, Agricultural. There should be no unclear deeds.
Encumbrance Certificate- Check if there are any pending legal cases on the land.
Release Certificate- The bank gives this certificate to say there are no outstanding loans on the land before it is resold.
Verify that all property tax receipts are in order. There should be no unpaid property tax installments.
Find out whether there are any pending approvals on the land from the local authorities.
Ensure that the land isn't pledged as collateral by any of the previous owners.
3) Maintain a good Credit Score
One of the factors that loan lenders check is your credit history. Your Credit Score reveals how well you have managed debt so far. It shows what loans you have taken till date, defaults if any and their repayment history. A Credit Score that is closer to 900 would speak well of you.
4) Debt to Income Ratio
Your Debt to Income Ratio is a measure of the amount of income you have versus the amount of your income that goes in paying off any loan EMIs (Equated Monthly Installments). It is usually expressed as a percentage.
Ensure that your total EMI amount shouldn't be more than 40-50% of your income. This includes all your EMIs not just the HDFC Plot Loan you wish to take.
5) Have a co-applicant for your Plot Loan
Having a co-applicant can help you improve your Debt to Income Ratio and also get you a higher loan amount.
6) Get a Construction Loan if you Wish to Build on your Land
You can apply for a Construction Loan if you wish to build on the land. This way you can get a loan for both your needs. Construction Loans are easier to get because the plot and the constructed house/ building together add more value.
Once your Plot Loan application gets approved, familiarize yourself with all the terms like early foreclosure charges on your Plot Loan. Also, there are no tax benefits available on Land Loans unless you build your house on it.
Once you take care of the above-mentioned points, you are in for a perfect investment on a land.