'New year, New aspirations' should be our motto for 2021. Since 2020 was one of the most challenging years that any of us have witnessed, it is natural to want positive vibes in the coming one, where we feel at ease rather than stressed about our lives.
2020 was insightful in many ways, where we realized our true priorities and also understood what lights us up from inside rather than focusing on the superficial. While there are several elements to a happy life, nothing beats the feeling of having a home to call your own. If you are looking to invest in a house in 2021, this is the perfect opportunity to grab the best offers on real estate and buy your dream home.
Here are the top five reasons why you should invest in a home of your own in 2021:
Living on rent can be more expensive in the long term.
Buying your own house is an investment that keeps growing in value.
Real estate rates are very affordable given the current circumstances.
The chance to grow your family in a dream house is a privilege that everyone deserves to experience.
Supportive government policies and a very reasonable HDFC Home Loan interest rate (as low as 6.9% p.a.) can help you live your dream of owning a home.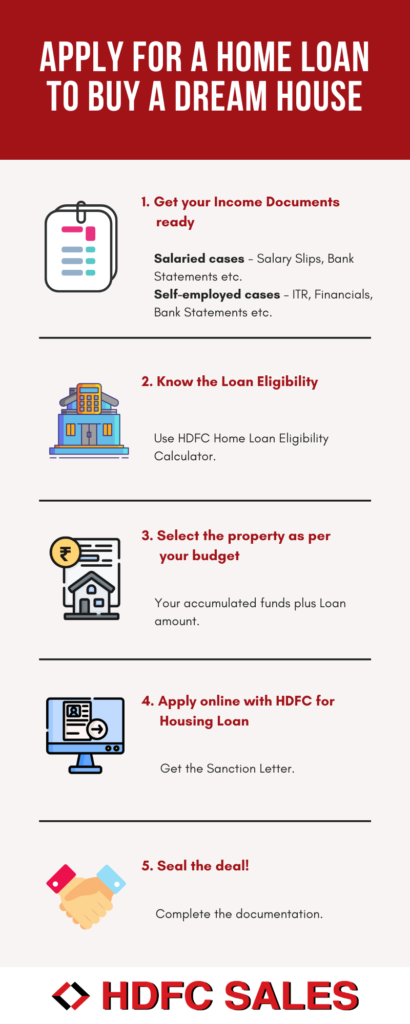 HDFC Home Loan Eligibility
Not everyone can afford to pay upfront for their homes, which is why HDFC Home Loans make it possible for anyone to buy a dream home. If you're worried about your total price of acquisition of your dream home, the Housing Loan Eligibility Calculator will help you to arrive at the rough estimate of loan eligibility based on your income, present obligation and tenure of loan selected. Since the housing loan provided is at very competitive interest rates, which make it easier to buy a house at a minimal interest cost. Checking your Housing Loan eligibility and the amount of loan you can apply for is one of the first steps before you seal the deal.
Conclusion:
HDFC has made applying for home loan online easy and the convenient. You will be provided assistance throughout the process with respect to all your queries related to the loan process, loan eligibility, legal documentation, property related queries etc. Once you have made up your mind, buying a home is just a few clicks away, so what are you waiting for?
Disclaimer: All loans at the sole discretion of the HDFC Ltd. For detailed Terms and Conditions, visit www.hdfcsales.com; Toll Free: 1800 266 3345.