Motor Insurance is mandatory for all vehicles that run on the roads in India as per the Motor Vehicles Act of 1988. This means that all your vehicles should have minimum one policy coverage to be on the road.
There are two types of Motor Insurance Policies available in the market:
Third-party Motor Insurance.
Comprehensive Motor Insurance Coverage.
Third-party Motor Insurance Policies cover your vehicle for any accidental damage that you might cause to other's property or another person while driving on the road.
While a third-party Motor Insurance Policy pays only for the accidental damages you cause to another person or other's property, a comprehensive Motor Insurance Policy also pays for the damages to your vehicle.
Here are three reasons why a Motor Insurance Policy is a must for your vehicle: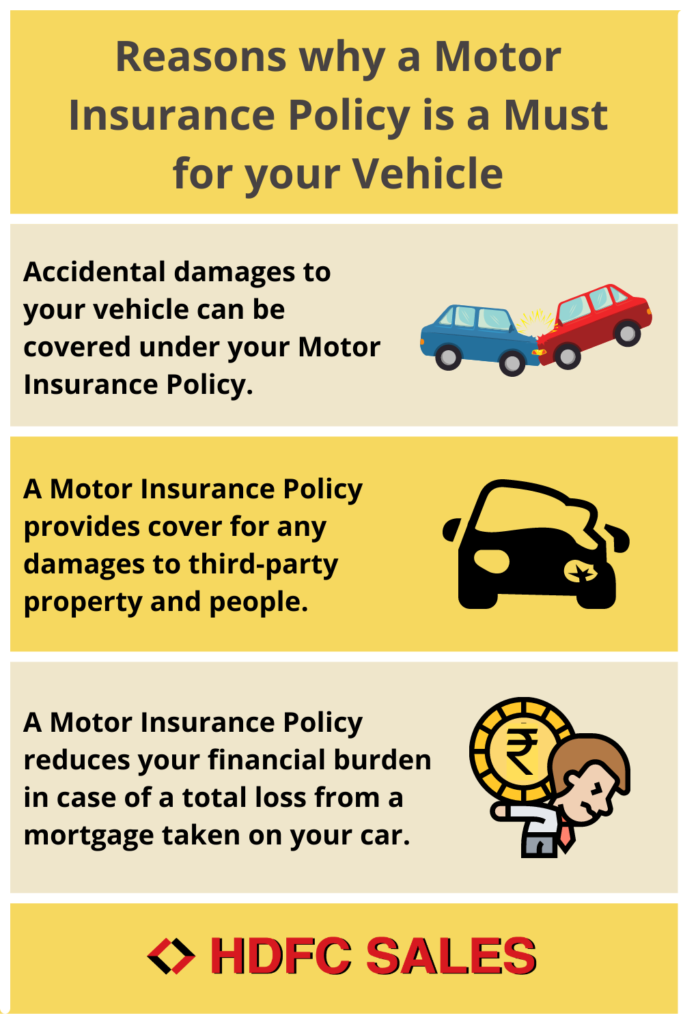 Accidental damages to your vehicle can be covered under your Motor Insurance Policy
Getting vehicle damages repaired is an expensive affair. Not to mention the extra costs of towing the car to the garage. Having a comprehensive Motor Insurance Policy can make things much easier for you.
If your car gets involved in an accident, it might have to go to a garage for repairs. You have the option to select from a wide range of garages present in your Motor Insurance company's garage network. HDFC Motor insurance Policies have about 6800+ garages in their cashless network.
A Motor Insurance Policy provides cover for any damages to third-party property and people
If you cause an injury to a person or damage any third-party property while driving, you are legally liable to pay for all the damages. It could be that you have to pay for minor repairs, but you could also end up paying a large sum.
If the amount you are liable to pay is rather large, it could cause substantial damage to your financial plans. Your Motor Insurance policy can help you prevent such unforeseen expenses.
A Motor Insurance Policy reduces your financial burden in case of a total loss from a mortgage taken on your car
If you've got a mortgage on your vehicle and your vehicle gets completely destroyed in an accident, you will still have to pay off the remaining mortgage amount to your mortgage lender.If you have taken an HDFC Motor Insurance Policy or any other Motor Insurance Policy, it can help you pay off your mortgage lender in case of such an occurrence.
When you buy a Motor Insurance Policy for your vehicle you have a mortgage on, ask your insurance company to assign the policy to your mortgage lender. Once, your Motor Insurance Policy is assigned to your mortgage lender, in case of a total loss of the vehicle, the claim amount will be paid to your mortgage lender.
Having a Motor Insurance Policy reduces many unforeseen financial liabilities that could arise due to motor accidents. Hence, it is essential to have one before you take your vehicle out on the road.