Every vehicle must have at least basic third-party insurance coverage.The Motor Insurance Act of 1988 says that you could pay a fine if your vehicle doesn't have basic Motor Insurance.The fine is INR 2,000/- for your first offence. Later, it increases to INR 4,000/- for repeat offenders.
That means your HDFC Motor Insurance Policy must get renewed on time. Nowadays, you can renew your Motor Insurance Policy in a few clicks. You can also buy an HDFC Motor Insurance Policy, arrange an inspection and submit policy service requests online.
The process followed for Motor Insurance Policy renewals
Third-party Motor Insurance premiums get circulated by the IRDA. Third-party Motor Insurance Policies only cover damage caused to other's property. So, they don't need vehicle inspection reports.
Comprehensive Motor Insurance companies cover damage to your vehicle and third-party losses. So, there are more factors involved in the renewal process.
Whether you have a two-wheeler or a Car Insurance Policy, the renewal procedure is similar.
1. The General Insurance company sends you a policy renewal notice before policy expiry.
2. The renewal notice states the premium for the coming year and the new policy terms.
3. You accept the terms and pay the premium to renew the policy.
4. In case a vehicle inspection gets done, the report is valid for 24 hours. So, you have to renew the policy in that time-frame.
5. You can opt for extra riders like "Zero Depreciation Cover" for five years at the most. If your vehicle age is over 5 years, the additional riders don't get renewed.
6. Some companies also offer you long-term policies if you wish to opt for them.
Factors that affect the renewal premium of your Motor Insurance Policy
The factors that determine your renewal premium are:
1. The vehicle's make, model and age
2. The vehicle's IDV (Insured Declared Value)
3. Claims incurred
4. Extra policy riders
5. The insurance company's claims experience
6. Place of vehicle registration. Premiums are higher for Zone A cities (Mumbai, Delhi Etc.) and lower for Zone B (other parts of India).
The total amount you can claim under your HDFC Motor Insurance Policy is the IDV (Insured Declared Value).
Every year, your vehicle's IDV reduces due to "Depreciation".
Depreciation is the reduction in the vehicle's value due to wear and tear.
No-Claims Bonus in Motor Insurance Policy renewals
The No-Claims Bonus is the discount you get at renewal for each claim-free year. You get a No-Claims Bonus on both cars and two-wheelers.
The NCB gets calculated on your OD "Own Damage" value. OD value is the amount you claim for the damages to your vehicle. NCB calculations don't include "third-party claims."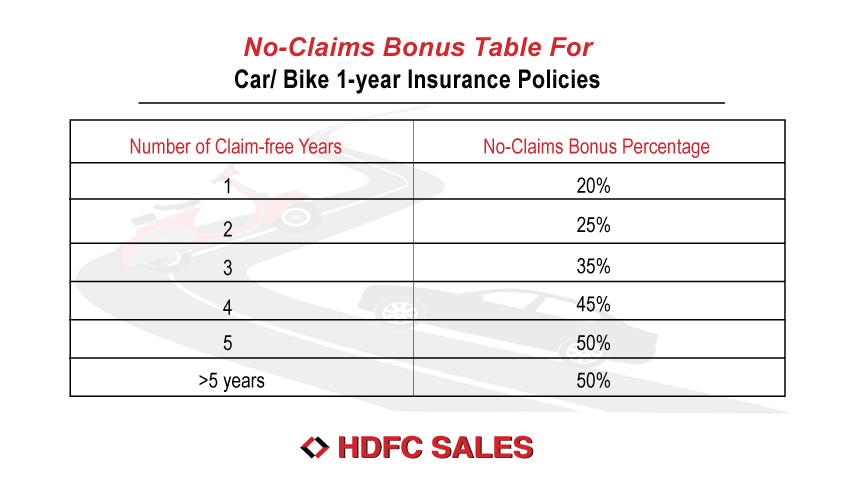 If you make a claim any year, on policy renewal your NCB gets set to zero and, the NCB calculation starts over again.
You can also get your No-Claims Bonus when you transfer your Motor Insurance Policy to another General Insurance Company. To transfer your NCB, you will need an NCB certificate from your previous insurer.
If you sell off your vehicle and get a similar one, you can also transfer your No-Claims Bonus to your new vehicle.
Renewal procedure for lapsed Motor Insurance Policies
If your HDFC Motor Insurance Policy has lapsed, you can still renew it. Under 90 days, the insurance company might or might not ask you for a vehicle inspection.
If it's over 90 days since your Motor Policy's expiry, you will lose your NCB (No-Claims Bonus) discount. Your vehicle will also undergo an inspection. Some insurers might not let you opt for extra riders if your vehicle stays uninsured for a long time. Renewals are an opportunity to re-assess your coverage needs. The best practice is to make alterations to your policy during the renewal.
Disclaimer: HDFC Sales Private Limited, Registered office: 4th Floor, Wing-A, HDFC House, 165-166, Backbay Reclamation, H.T. Parekh Marg, Churchgate, Mumbai – 400020. CIN: U65920MH2004PTC144182; Email: customercare@hdfcsales.com; Toll Free: 1800 266 3345; website: www.hdfcsales.com; IRDAI Reg. No. CA0080.