Cancer is one of the leading fatal diseases resulting from factors like heredity, stress, urban lifestyle, pollution etc. and capturing the lives of many. Precaution is better than searching for a cure.
In order to cover your family members and other dear ones against such a fatal disease, you must get a Cancer Insurance Policy. A Cancer Insurance Policy provides financial aid against the unfortunate event of being diagnosed with a minor or major stage of Cancer.
Comprehensive Plan Regarding What You Should Get in a Cancer Insurance Policy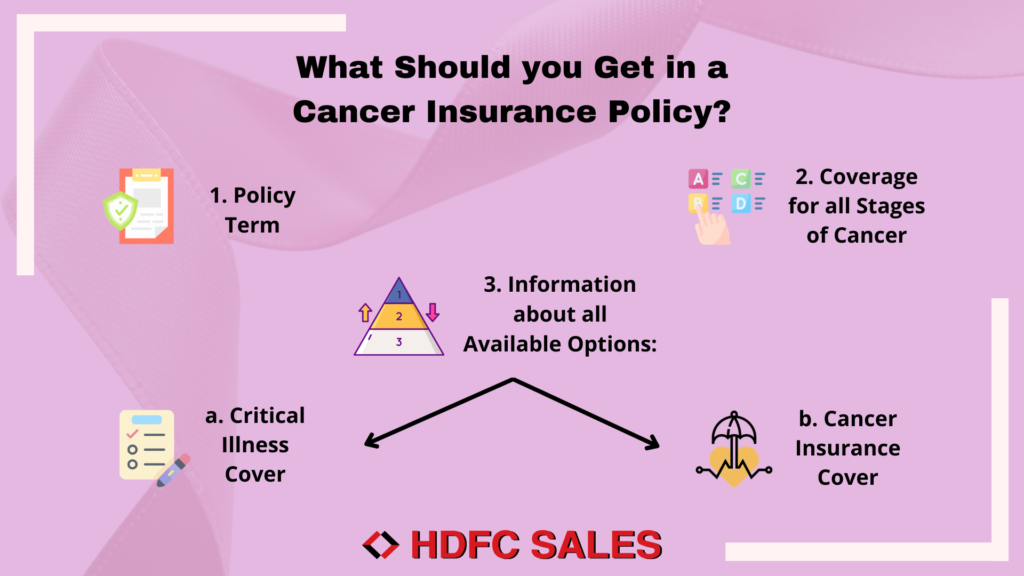 Policy Term
Considering the length of your policy term is important for determining which policy to get. Ideally, you should consider an Insurance Plan that covers you till maximum age. Especially, if you have a family history of tumour and cancer, you must not overlook the length of the policy term. A long policy term will cover your expenses for an unfortunate event and keep you stress-free at present.
Plan covering all stages of Cancer
Selecting a plan that covers all stages of Cancer will ensure that you are protected and insured at any stage. Diseases and accidents come uninformed. So, to avoid stumbling from carrying out the expense of a disease, you must get a plan that covers all the stages.
For major conditions such as Breast Cancer, Lung Cancer, Kidney Cancer, and so on, the full amount of sum assured is paid.
Information about available options
A variety of Life Insurance Plans are available in the market. Among these, you must choose the most viable one for you according to your needs. The options that you can go for include:
1. Cancer Insurance Cover
As the name denotes, it is a standalone Cancer Insurance Policy. It is specifically made for insuring against Cancer. HDFC Health Insurance Plansalso provide such cancer-specific health insurance.
2. Critical Illness Plans
HDFC Health Plans can be an excellent choice if you are looking for a critical illness cover. The insurer pays a lump sum amount if and when the insured is diagnosed with a critical disease in such cases.
Conclusion
To maintain pace with the fast-changing world, everybody needs to take care of themselves and their loved ones. The best thing could be to have an insurance cover against critical diseases like Cancer. Plans like the HDFC Life Cancer Care protects against any future dealings with hospitalisation and medication expenses for Cancer-related treatment.
Disclaimer: HDFC Sales Private Limited, Registered office: 4th Floor, Wing-A, HDFC House, 165-166, Backbay Reclamation, H.T. Parekh Marg, Churchgate, Mumbai – 400020. CIN: U65920MH2004PTC144182; Email: customercare@hdfcsales.com; Toll Free: 1800 266 3345; website: www.hdfcsales.com; IRDAI Reg. No. CA0080.