We often think of creating a vast corpus to leave as a financial legacy for our children. It typically entails all our assets, savings, investments and other financial schemes that can be passed down to the next generation.
It's quite natural as an earning member you wish to have enough in the bank to sustain your family in your absence. Over the years, many individuals have mulled over this concept of Generational Wealth.
However, the statistical reports show that the reality is depressing. Approximately 70% of the families lose their wealth in the second generation, and 90% of families lose in the third generation.
It requires well-sorted financial planning with investment in diverse portfolios to get wealth success for years to come. Let's get started with the financial strategies.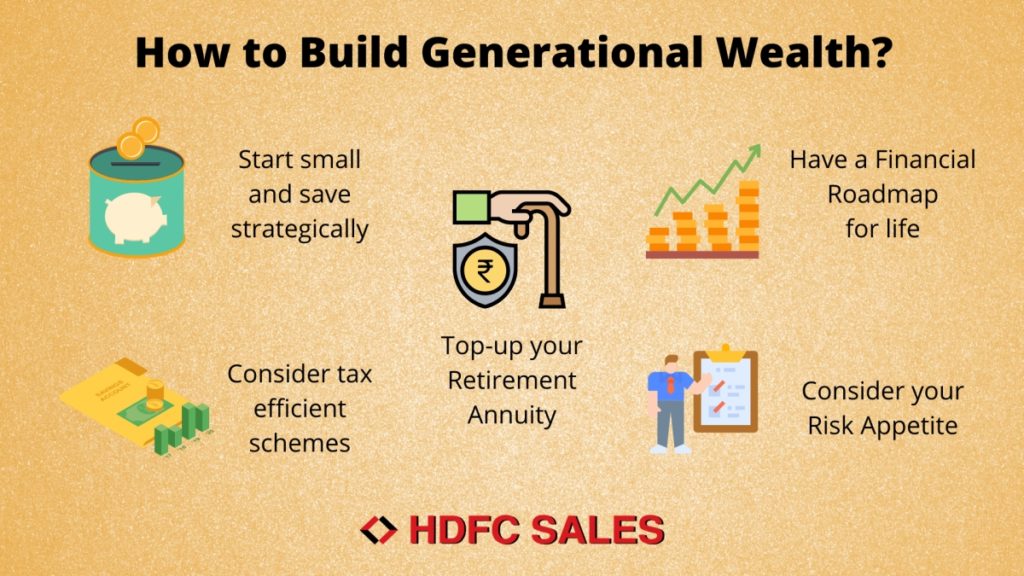 Start small and save strategically
It can be troublesome if you think of creating an enormous corpus for your family. Practically, you should start saving small amounts from the initial days. Think of exploring the traditional schemes like Fixed Deposits which have a genuine potential for wealth creation.
Invest in HDFC Fixed Deposit Schemes that provide competitive interest rates with different features to cater to the needs of different individuals. The amount of Fixed Deposit might look insignificant, but compounding helps generate a pool of money over time.
Have a Financial Roadmap for life
People often stumble upon unseen hurdles like an emergency crisis. The lack of proper financial goals contributes to the undesired scenario. To avoid these things meddling with your funds, you need to dig deeper to devise a financial roadmap for life.
It starts with the creation of contingency funds that meet unforeseen conditions. Also, formulate separate investment plans for education, marriage, sponsoring other big events of life and retirement.
Consider tax efficient schemes
You should not neglect the dual advantage derived from the significant tax-saving schemes. It enables better returns from investments with a significant reduction in tax burden.
Consider a systematic investment in Mutual Funds that assures wealth creation with portfolio diversification and flexibility to invest in smaller amounts. The HDFC Mutual Fund Scheme is one such option with a good fundraising value as per the market.
Consider your Risk Appetite
If you look for decent capital appreciation, expose your savings to market investments. Generational Wealth can only be accumulated when you have the hunger to take some financial risks in your life.
Get a little smarter by selecting Investment Plans involving the Stock markets and Real Estate. However before that, do a lot of research on how to invest and what are the risks involved.
Top-up your Retirement Annuity
A Retirement Annuity Plan is mainly considered as a usual option to secure your old age. However, this smart financial tool adds to your Generational Wealth without hurting your other monetary schemes.
This means you are independent to pay your retirement fees without compromising on the fund legacy created for your heirs.
Bottom Line
The financial liabilities of Indian households have increased by almost 37% during 2019. If creating Generational Wealth is the utmost priority, individuals have to learn about managing their investment. Sooner, you will develop a mindset to manage your funds.
Disclaimer: Interest rates are subject to change from time to time. For detailed Terms and Conditions, visit www.hdfcsales.com; Toll Free: 1800 266 3345.
Disclaimer: Mutual Fund investments are subject to market risks, read all scheme related documents carefully.