You make serious concerted efforts to achieve your financial objectives in order to acquire a new house. Many couples, however, are left with a difficulty while paying for the total value of their property. Only the husband or the wife may be qualified for a loan at a time, but the amount of the loan may be inadequate.
In such an instance, the husband and the wife can take a joint Home Loan. A shared Home Loan also entitles you to a larger loan amount. When determining loan eligibility, the lender considers both their earnings, which may allow them to purchase a larger home they desire and also share the burden of loan repayment.
What are the benefits of taking a joint Home Loan with a spouse?
A joint Home Loan has a number of advantages. Here's a list of the most important ones below: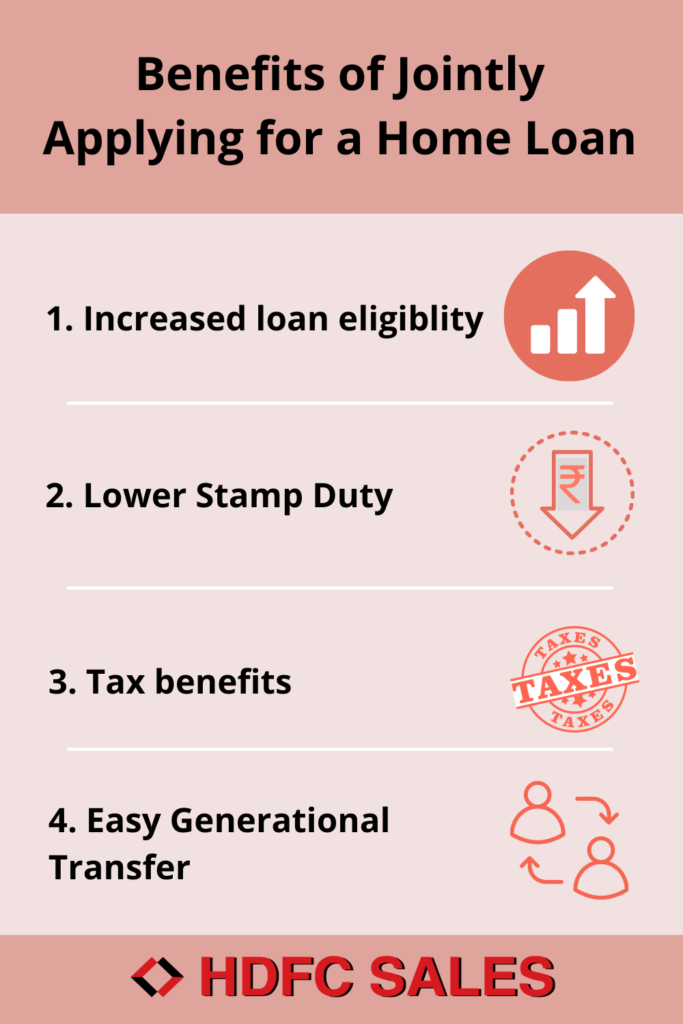 The HDFC Sales Home Loan Eligibility Calculator determines eligibility based on the applicant's income and payback capacity. The joint loan eligibility is increased when the couple's earnings are merged. Other factors which influence Home Loan eligibility include age, financial situation, payment history, credit score, Home Loan documents list, etc.
Minimal Stamp Duty is a big benefit of taking up a joint Home Loan. For female property buyers, the Government gives a reduced Stamp Duty percentage. Several states have lowered Stamp Duty for women in comparison to men in order to support gender equality. States with lower rates include Delhi, Uttar Pradesh, Haryana, and many others. The state of Maharashtra has a set rate for everyone.
As you take a joint loan, you can claim a variety of tax benefits. The couple can claim a deduction of up to INR 1.50 Lacs on the principal amount under Section 80 C of the Income Tax Act. Section 24 of the Income Tax Act allows applicants to deduct the interest paid on their Home Loan up to a ceiling of INR 2 Lacs. They can claim upto INR 3 Lacs under Section 80 C, and INR 4 Lacs under Section 24 as a pair. Cutting costs and repaying the loan on a regular basis is a huge help.
The method of transferring property to the next generation is lengthy and time-consuming. For a simple change of ownership (should the property owner die), it is preferable for married couples to jointly own the property. There are no disputes of succession, and the successor automatically becomes the legitimate leaseholder.
Joint Housing Loans are appealing due to the numerous benefits they provide. Get hassle-free housing finance with HDFC, whether you're applying individually or jointly. Get the best Home Loan interest rates and the longest loan terms.
Disclaimer: All loans at the sole discretion of the HDFC Ltd. For detailed Terms and Conditions, visit www.hdfcsales.com; Toll Free: 1800 266 3345.