Life Insurance Policies protect and provide for your family in your absence. They also ensure your financial plan continues as planned. So, it is vital to pay your HDFC Life Insurance Policy premiums on time.
Earlier, you could make your premium payment through cheques and demand drafts. However, the internet has opened up a variety of premium payment options which have made it convenient for you to pay your HDFC Life Insurance Policy premiums on the go.
Let's know the different ways in which you can pay your Life Insurance premiums.
1.Pay your HDFC Life Insurance Policy premiums through cheques and demand drafts
Cheques are the oldest mode of premium payment. It takes up to 3 days to clear a cheque. So, remember to deposit your cheques and DDs 3-5 days in advance, to ensure your premium payment gets done on time.
You can drop your Life Insurance premium cheque or DD either at any branch or in drop boxes placed in your city.
Write your name, policy number and contact number at the back of the cheque. Doing so avoids confusion and misuse.
Your HDFC Life Insurance policy will get renewed provided your cheque gets cleared.
2. Auto-debit instructions for Life Insurance Policy premium payment
You can also set up auto-debit facilities. Life Insurance companies will ask you to submit a direct-debit or ECS (Electronic Clearing System) mandate with your bank details in it. Once you submit this form, your policy premium gets debited as per your instructions.
3. Premium payments with Credit Cards
You can also give the insurance company standing instructions through a form to deduct your Life Insurance policy premiums from your Credit Card. Specify the time for which the premiums should get deducted.
4. Life Insurance Policy Online payments
Online premium payments are the best way to pay your Life Insurance Policy premiums.
Most Life Insurance companies also offer you a discount for online premium payments.
Payments through net banking are also accepted. NEFT/RTGS/IMPS are different ways to pay through net banking. After the payment gets done, you receive a receipt on your registered Email ID or confirmation on your mobile number.
5. Life Insurance companies have online premium payment portals on their websites.
Life Insurance companies have online premium payment facilities on their websites. They accept payments through a variety of Credit and Debit Cards. You also get to choose from a few different premium payment gateways.
You can even set up an auto-debit system through the online premium payment platform.
6. Life Insurance premium payment through mobile apps
Some Life Insurance companies have mobile applications. The mobile app has many functions; insurance premium payment being one of them. Mobile apps also send you payment reminders as push notifications.
7. Other ways to pay your Life Insurance Policy premiums are through ATMs and SMSs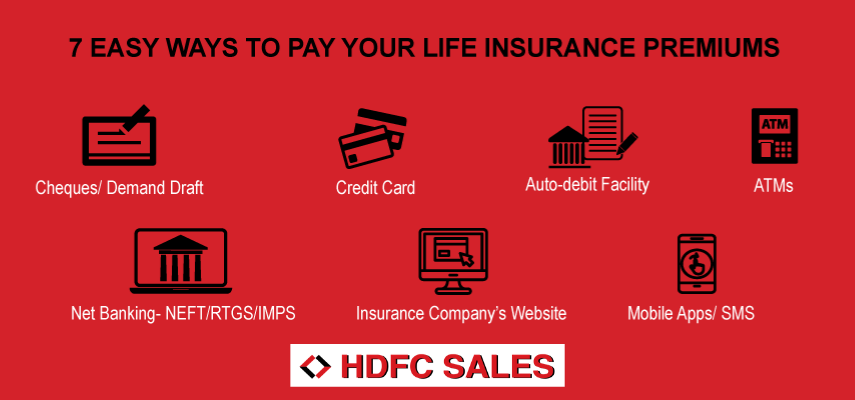 Some useful information on Life Insurance Premium payments:
a. Can you pay your HDFC Life Insurance Policy premium in advance?
There is no provision to pay your Life Insurance Policy premiums in advance.
b. What if you miss your Life Insurance premium payment?
If your premium due date goes by, your HDFC Life Insurance Policy enters its grace period. Grace periods in Life Insurance policies last between 15-30 days. Term Insurance Policies have a 15-days grace period.
c. Grace period in Life Insurance Policies
The Life Insurance Policy's grace period is the extra time to pay your overdue policy premium.
If a claim occurs during the grace period, it gets honoured by the Life Insurance Company.
After the grace period is over, your cover will lapse. To reinstate your policy, you might have to undergo medical tests. The Life Insurance Company checks your insurability all over again. It could be possible that your new premiums increase.
d. What if you can't pay your HDFC Life Insurance Policy premium anymore?
One option is to cash out your policy. However, your life cover and the other benefits will lapse.
If you can manage to pay a lower premium, you can do so by reducing your cover and other benefits. These changes get made only at policy renewals.
Lastly, whenever you buy a Life Insurance Policy, give some thought to your premium payment term. Your Life Insurance Policy term shouldn't ideally extend upto your retirement years.
Disclaimer: HDFC Sales Private Limited, Registered office: 4th Floor, Wing-A, HDFC House, 165-166, Backbay Reclamation, H.T. Parekh Marg, Churchgate, Mumbai – 400020. CIN: U65920MH2004PTC144182; Email: customercare@hdfcsales.com; Toll Free: 1800 266 3345; website: www.hdfcsales.com; IRDAI Reg. No. CA0080.