Synopsis
What is stamp duty?
Factors determining property stamp duty charges
Location of the property
Age of the owner
Gender of the owner
Type of the property
Usage of the property
Amenities for the property
Conclusion
Stamp duty is a form of indirect tax, also known as stamp tax, that is imposed by the government on the purchase of property or legal documents. The stamp duty on residential property is paid to the government to maintain legal proof of ownership or sale of a property. For the document to be effective, the revenue stamp is attached or impressed upon a document. This is done to show that the stamp duty has been paid.
The government charges the stamp duty on all property transactions as per Section 3 of the Indian Stamp Duty Act, 1899. It is important to note that the district administrations are responsible for fixing a standard rate for the property, after which the stamp duty registration is complete.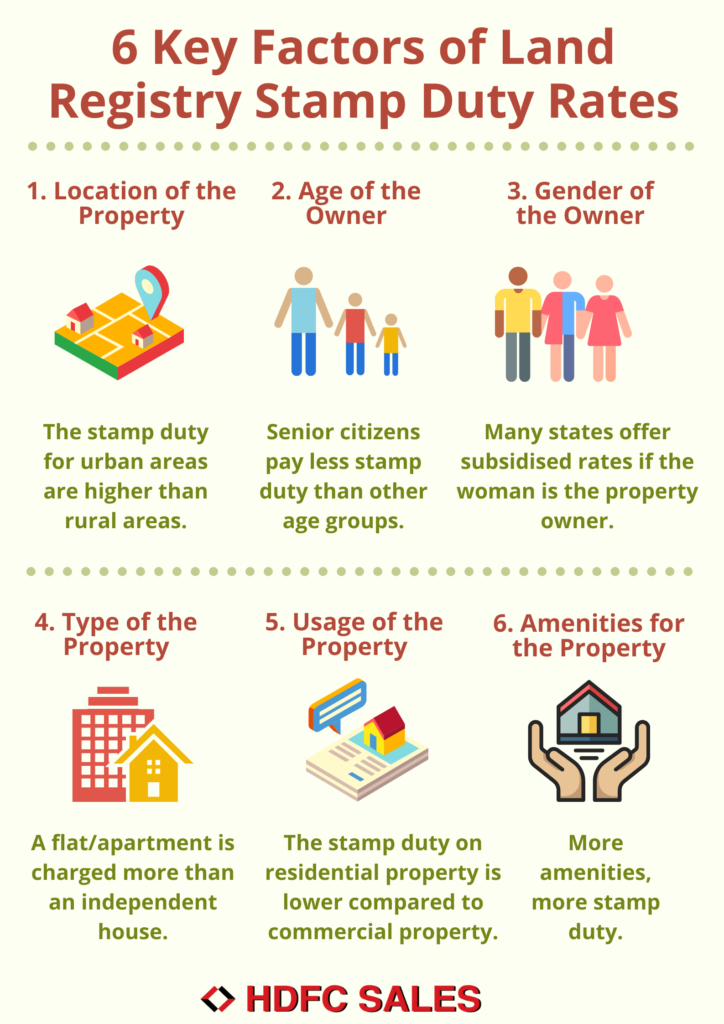 6 Factors Determining Property Stamp Duty Charges
The following are the factors involved in deciding the stamp duty charges:
Location of the Property
The property's location plays an important role in determining the stamp duty rates. If the property is located in an urban area, the stamp duty charges will be higher than those in a suburban or rural area.
Age of the Owner
In most states, the age of the property owner significantly affects the stamp duty rates. If the owner is a senior citizen, they usually have to pay a lot less than owners of other age groups.
Gender of the Owner
Many states offer subsidised rates if the property is owned by a woman. As compared to men, women have an allowance of paying fewer charges in the stamp duty land tax. Men pay 2% more charges than women in some states in India.
Type of the Property
The type of the property, i.e., whether it is a flat/apartment or an independent house, determines the difference in the land registry stamp duty rates. A flat/apartment is charged more than an independent house.
Usage of the Property
What is the property going to be used for? This is an important determining factor when it comes to stamp duty rates. The charges will be high if the property is used for commercial purposes, since several amenities will be used for the commercial property. The stamp duty on residential property is relatively lower compared to commercial property.
Amenities for the Property
The charges for stamp duty are high based on the amenities required for the property. The more amenities required, the higher the rate, whether it's a residential or commercial property. Amenities like gym, swimming pool, community hall, clubhouse, library, parks, etc., will highly impact the stamp duty rates.
Takeaways
The above-discussed factors are important to determine the stamp duty rates while purchasing any property.
Buying a house is a significant achievement in every person's life. Therefore, HDFC group offers a wide variety of home loans based on your specific needs and demands. With our affordable home loan interest rates, you and your family will be able to buy the home of your dreams!