One of the foremost responsibilities of a bread-earner is to prepare a secured future for the family. Having Life Insurance is largely seen as a financial safety net for your loved ones in the event of your pre-mature death. The death benefit received can be used to mitigate any debts or emergency expenses of the nominee.
However, did you know that apart from being a risk-management tool, Life Insurance can also be an investment opportunity? Let's explore how.
Life Insurance as an Investment
There is an increasing number of Life Insurance Plans in India. Although, Life Insurance is seen as an investment for the future of your family, some Life Insurance Plans can be used as an investment opportunity.
Unlike Life Insurance Investment, Term Insurance has no real investment opportunities as it does not pay any added dividends apart from the cash benefit to a policy-holder's nominee.
However, Whole Life Insurance, Variable Life Insurance, and Universal Life Insurance do add benefits in the form of investments. These insurance plans offer dividends on retirement, and a growing cash value, bereft of any tax that can be invested in a number of ways.
Savings and Investment Plans by HDFC Life Insurance
The HDFC Life Insurance Plans offer a wide range of Savings and Investment Plans for you to choose from. Let's have a look at a few of these plans.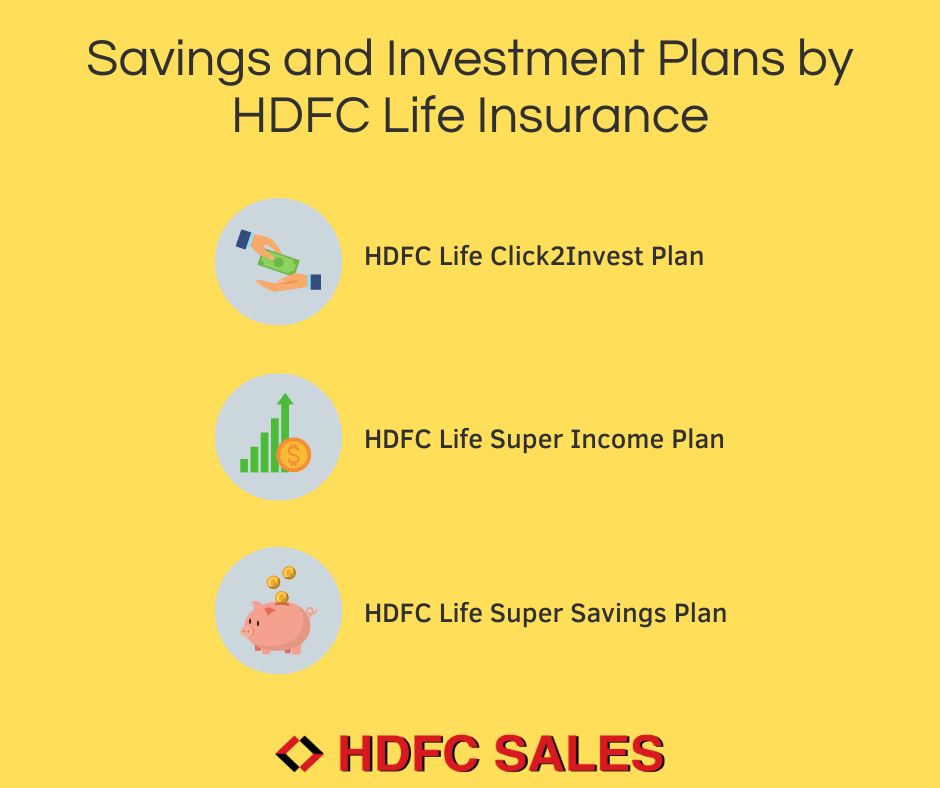 HDFC Life Click2Invest Plan
Under this ULIP, the minimum sum assured can be (a) 7 times the annualized premium if the age of entry for the policy-holder is greater than 55 years, or, (b) 10 times the annualized premium if the age of entry is less than or equal to 55 years, or, (c) 125% of single premium. This plan allows you to opt for a partial withdrawal or apply for a loan after completing 5 years of the policy.
HDFC Life Super Income Plan
This savings plan offers a minimum sum of Rs.1,28,337. At the end of each payout year, you will receive a fixed percentage of the sum assured as Guaranteed Base Income. At the time of maturity, a number of attractive bonuses are added to the Guaranteed Base Income. This plan allows you to apply for a loan of 80% of surrender value.
HDFC Life Super Savings Plan
The minimum sum assured under this traditional endowment plan is as high as Rs.2,45,155. As part of a fulfilling investment, the minimum maturity benefits under this plan include the sum assured + the accrued simple reversionary bonus, interim bonus, and a terminal bonus. You can apply for a loan of 80% of surrender value.

Wrapping Up
With the HDFC Life Insurance Plans, you can now enjoy multiple added benefits, turning your life insurance into an exciting investment venture.
Disclaimer: HDFC Sales Private Limited, Registered office: 4th Floor, Wing-A, HDFC House, 165-166, Backbay Reclamation, H.T. Parekh Marg, Churchgate, Mumbai – 400020. CIN: U65920MH2004PTC144182; Email: customercare@hdfcsales.com; Toll Free: 1800 266 3345; website: www.hdfcsales.com; IRDAI Reg. No. CA0080.