With the increase in better job prospects for women over time, there has been an increase in the number of women who have achieved financial independence. Along with high earnings, it is essential for women to be financially secure as well. This can be easily achieved through investment options such as Fixed Deposits, Mutual Funds, Public Provident Funds, Gold etc. While there are short term investments like Shares and Mutual Funds, investments like Fixed Deposits and Public Provident Funds are meant for long term investments. Some may earn monthly interests on the Principal while some may earn yearly interest at a compound rate.
Let us discuss some of the best investment options for women in 2021.
● Fixed Deposit
Fixed Deposits are one of the best investment options for women. HDFC Fixed Deposit interest rates are very lucrative with added benefits like flexible tenure, higher returns, loans against HDFC Fixed Deposit facility, lower minimum deposit amount, etc. The highest HDFC Fixed Deposit interest rate is 5.50% while that for senior citizens ranges between 3% to 6.25%. Some of the popular HDFC Fixed Deposit Schemes are Regular Fixed Deposit, Non-withdrawal Fixed Deposit, Tax-Saving Fixed Deposit, Overdraft Against Fixed Deposit and Foreign Currency Non-Resident Fixed Deposit.
● Mutual Fund
Mutual Funds are on the rise due to the option of fund management by experts. This is a great alternative to self-trading wherein you invest a lump sum amount of money in SIP which maximises return and minimises loss. You get the option of choosing from a huge number of Mutual Funds like HDFC Mutual Funds offered by Banks and other Financial Institutions .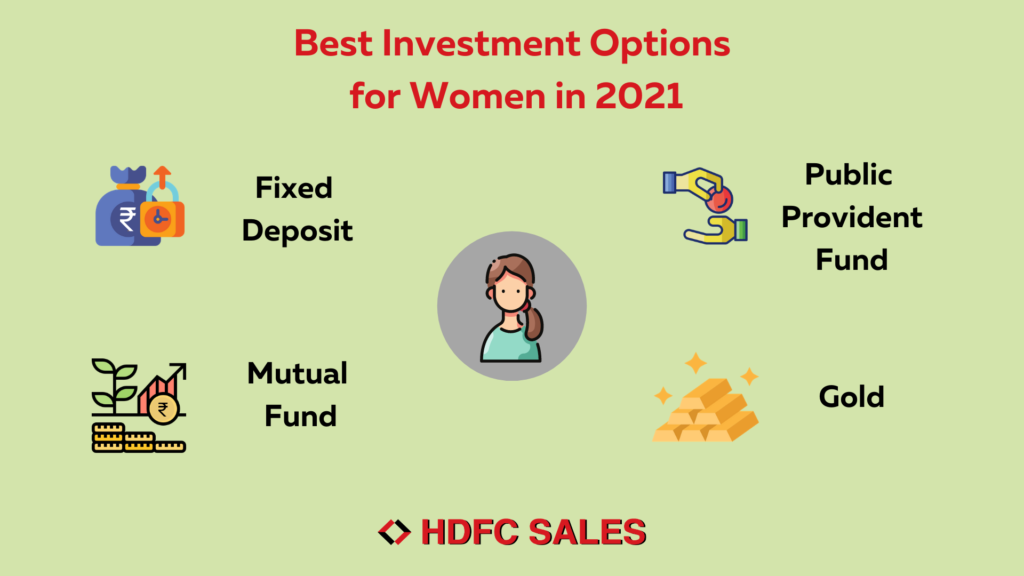 ● Public Provident Fund
Public Provident Funds are one of the most popular choices for long term investment in India. With an interest rate of 8% and a time span of 15 years, PPF annual investment amount ranges from Rs.500 to Rs.1,50,000. PPF Schemes can be enjoyed by everyone, be it a working woman or a housewife. Another added bonus of PPF is the tax benefit.
PPFs are available in banks and post offices and can help you save a considerable amount over a long period of time.
● Gold
Gold has been one of the best investment options for many years now. One can buy gold coins in denominations of 5 grams, 10 grams, 20 grams and keep investing over the years for multiplied returns. Although the rate of gold is not fixed, it generally faces a steady climb. You can sell off the gold as and when required to make jewellery or liquid cash.
Conclusion
In today's world, it is crucial for women to be able to take charge of their finances and be self-reliant. In order to do so, they need to ascertain which kind of investment they are looking for whether long term or short term, compare the interest rates and schemes and make an informed decision.
Disclaimer: HDFC Sales Private Limited, Registered office: 4th Floor, Wing-A, HDFC House, 165-166, Backbay Reclamation, H.T. Parekh Marg, Churchgate, Mumbai – 400020. CIN: U65920MH2004PTC144182; Toll Free: 1800 266 3345; Email: customercare@hdfcsales.com; Website: www.hdfcsales.com; IRDAI Reg. No. CA0080; AMFI Reg. No. 39103; PFRDA Reg. No. POPSE24012019.