All across the world, the ownership and responsibility of the bread-earner towards the future of his/her family is extremely crucial. Irrespective of the field you work for, the well-being and financial security of your family will always be at the fore-front. No matter what your current savings look like, it doesn't take enough time before your funds dry out in the event of an unfortunate incident.
This International Family Day, let us understand the importance of having a Life Insurance Policy in securing the future of the family.
Why Should you get a Life Insurance?
Financial security is one of the most imperative steps one can take to secure the future of their families. That is the reason why people opt for a Life Insurance Plan.
These plans are credible, safe, and trustworthy when it comes to entrusting your funds for a secure future of your family. Basically, a plan like an HDFC Term Insurance Plan is a contract between the insurance provider and a person wherein the former makes sure that a specific amount is paid to the nominated beneficiary if the latter dies during the agreement term.
The Primary Life Insurance Plans:
Taking Life Insurance doesn't come with any tenure restrictions.
Irrespective of the age or stage of your professional life, it is easy to apply and acquire a policy. Fundamentally, there are two primary ways to get an HDFC Life Insurance Policy.
Term Plans or Protection Plans:
This is one of the cheapest ways to ensure that the family can handle the financial shock if a situation leads to the sudden death of the family's income earner.
Endowment Plans:
This one is an investment plan that assists with building savings over a period of time. These funds eventually get doubled up and provide as an emergency fund to handle the financial situation during the absence of the provider.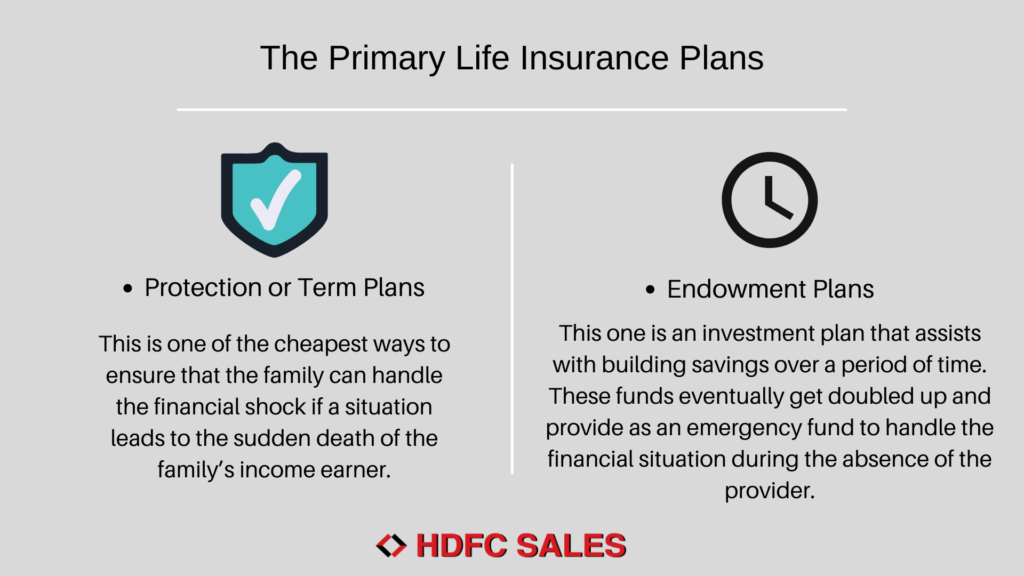 Selecting the correct Insurance Plan:
Considering the plethora of options available out there, it could be a bit difficult to choose the best from the lot. There are a few essential factors that you must look into before making a decision, such as:
Keep in mind the time when you start investing, and the number of members you would like to get insured as these two things vary from person to person.
The second thing that you must comprehend is the needs of your family. For how long does your family require financial support? What if there arises an injury or an accident? Can there be any situation or event that would demand a large sum of money from your family?
Apart from the aforementioned points, don't forget to look into your current income. With this factor in mind, choose only a plan that you can afford seamlessly.
Wrapping Up:
Now that you have a clear picture, make sure that you only choose the best plan. Also, don't forget to compare different HDFC Life Insurance Plans before you invest your money. Research really well and find out meaningful information to take the best foot forward.
Disclaimer: HDFC Sales Private Limited, Registered office: 4th Floor, Wing-A, HDFC House, 165-166, Backbay Reclamation, H.T. Parekh Marg, Churchgate, Mumbai – 400020. CIN: U65920MH2004PTC144182; Email: customercare@hdfcsales.com; Toll Free: 1800 266 3345; website: www.hdfcsales.com; IRDAI Reg. No. CA0080.