Easy Home Loan procurement is made possible by a good CIBIL Score. Hence, having a good CIBIL Score is always advantageous.
CIBIL or Tans Union CIBIL is "Credit Information Bureau (India) Limited" set up in the year 2000 by the Reserve Bank of India with an aim towards minimising credit-related risks. This bureau provides loan lenders with the borrower's CIR (Credit Information Report) and Credit Score.
What is your CIBIL Score?
Your CIBIL Score is a measure of your loan repayment capacity. Whether you are an individual or an organisation, you will have a CIBIL Score-Card.
Your loan repayment capacity is a critical factor of consideration while underwriting your HDFC Home Loan application.
Your CIBIL Score is a 3-digit number between 300 and 900. The higher the score, the higher is your credit-worthiness.
It's not only loan lenders who are interested in your CIBIL Score. Employers also prefer to check your CIBIL Score before hiring you as a part of their background verification process.
How Often is your CIBIL Score Updated?
Normally, credit institutions (Banks & NBFCs) update CIBIL every 30-45 days. A delay could take place when there is a dispute concerning your account or your updated information has not been submitted to CIBIL by your loan lender.
If it has been 2 months and you notice your CIBIL Score is not updated, get in touch with the institution. In case of a dispute, you can inform CIBIL. They respond to queries within a period of 30 working days.
How is your CIBIL Score Calculated?
The factors that determine your CIBIL Score are-
Your loan-repayment history (35% weightage)
Loans outstanding (30%)
Your experience with debt: the time frame for which you have re-payed your loans (15%)
The type of loans you have taken or currently have (10%)
Your credit mix-ratio of secured to unsecured loans (10%)
These factors are put in a mathematical equation to get your 3-digit CIBIL Score.
What is the Minimum CIBIL Score Required to Apply for a Home Loan?
When you apply for a Home Loan, Home Loan lenders usually prefer that your minimum Credit Score be between 650 and 750. The higher, the better.
E.g., the minimum CIBIL Score required to apply for an HDFC Home Loan is about 720-750.
Your current debt should not be more than 40% of your income.
When you have an excellent CIBIL Score, you are in a position to negotiate a better deal on your Home Loan. You can reason well to get yourself a higher loan amount and lower Home Loan interest rates.
How can you Maintain a Good CIBIL Score?
Here are some things you can do to maintain a good CIBIL Score: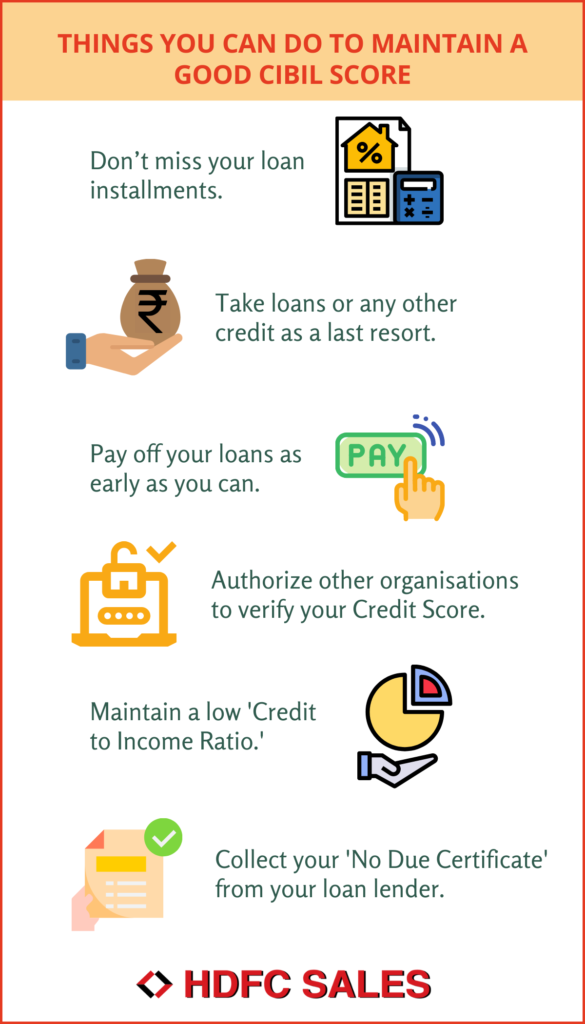 Don't miss your loan instalments. It doesn't matter what type of loan you have; missing any loan instalment harms your Credit Score.
Take loans or any other credit as a last resort. Taking loans frequently can affect your CIBIL Score.
Pay off your loans as early as you can.
Authorise other organisations to verify your Credit Score only when it is necessary.
Maintain a low "Credit to Income Ratio". This means that at any given time, your income should be much higher than your loan EMIs.
Don't forget to collect your "No Due Certificate" from your loan lender after you finish paying off your loan.