Travel Insurance is a General Insurance Plan that protects you against a wide range of potential problems that may arise while travelling or even before you leave. Travel Insurance alleviates the stress associated with travel risks by providing various medical and non-medical travel benefits ranging from paying for medical bills for sickness or accident to reimbursement for delayed baggage, missed flights, and other incidents.
However, sometimes we are forced to cancel our trips owing to emergencies. As a result, purchasing Travel Insurance coverage is a must when making travel arrangements, especially if you want to go overseas.
Cancellation policy
Travel Insurance provides you with the advantage of being reimbursed if you are unable to travel on your vacation due to a valid reason as determined by the insurer, like:
A medical emergency, such as a family member's illness;
Work-related reasons, such as leave not sanctioned; or,
A natural calamity or terrorist attack that strikes your holiday spot.
In the event of trip cancellation, a Travel Insurance Policy provides cancellation benefits based on the sum insured to compensate for financial losses incurred due to a sudden cancellation.
If your trip gets cancelled before the scheduled departure, you can seek compensation for pre-paid and non-refundable expenditures such as airline tickets and hotel reservations.
● Complete cancellation
In complete trip cancellation, the insurance company can cancel the policy and refund the premium amount to the policyholder after deducting the nominal charges.
● Partial cancellation
In the event of partial cancellation, such as a change in travel period, an insurer can cancel the current plan and reissue the policy without any deductions.
How to claim your policy?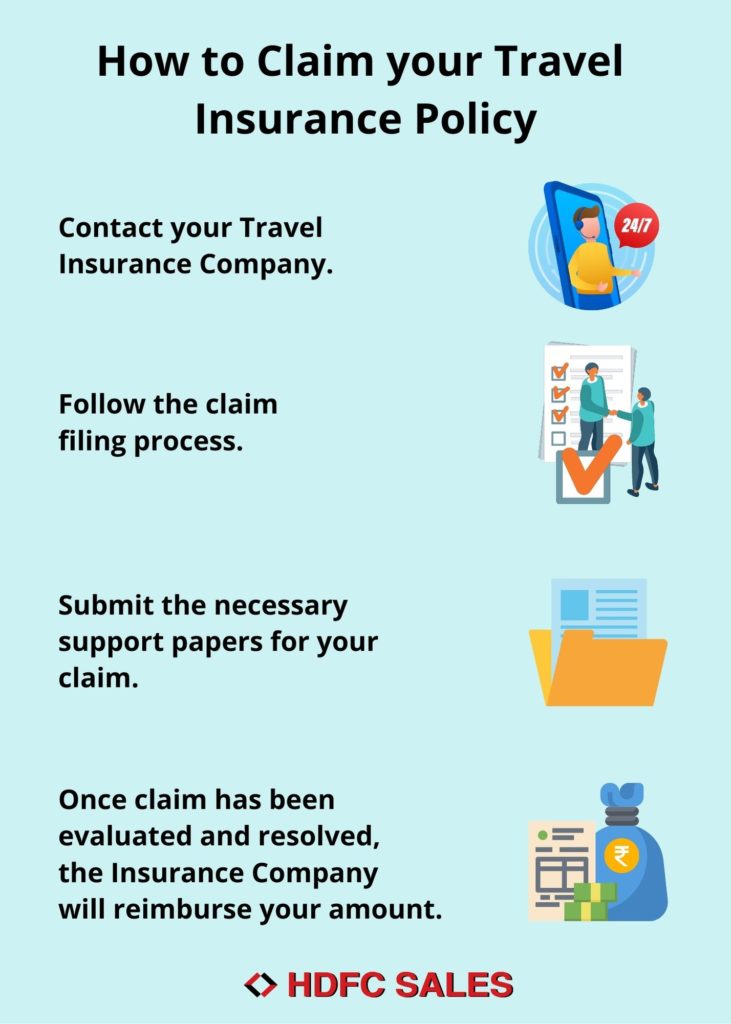 As long as the insurer has not left for vacation and has not made any claims, insurance firms enable policyholders to cancel the policy and receive a refund within 10-20 days of purchasing the plan. However, proof for not travelling is required.
Call your Travel Insurance Company's 24x7 customer care line for help if you need to cancel your vacation. They will walk you through the process of filing a claim and obtaining the necessary supporting papers. In most cases, you may finish the claim procedure online. Once your claim has been evaluated and resolved, they will reimburse your amount.
When obtaining Travel Insurance, thoroughly read your policy paper to understand your coverage's terms and conditions as well as inclusions and limitations. This will inform you about what your policy covers. Also, keep in mind that the actual Travel Insurance Plan may vary from policy to policy and insurer to insurer, depending on how the Travel Insurance Policy is designed.
Conclusion
General Insurance provides a Travel Insurance Policy based on your vacation destination, kind of travel and type of travel. General Insurance Plans offer coverage that can safeguard you while you enjoy a pleasant and much needed vacation!
Disclaimer: HDFC Sales Private Limited, Registered office: 4th Floor, Wing-A, HDFC House, 165-166, Backbay Reclamation, H.T. Parekh Marg, Churchgate, Mumbai – 400020. CIN: U65920MH2004PTC144182; Toll Free: 1800 266 3345; Email: customercare@hdfcsales.com; Website: www.hdfcsales.com; IRDAI Reg. No. CA0080; AMFI Reg. No. 39103; PFRDA Reg. No. POPSE24012019.