General Insurance Policies are an integral part of our lives. They protect us against unforeseen financial losses from damage to our possessions.
However, it is not enough to know only the benefits of your General Insurance Plan. It is also vital to be aware of your rights as a policy-holder.
To begin with, no one can force you to sign on a blank proposal form. If you have done so, request a copy of the proposal form to ensure everything stated is correct.
Here are five fundamental rights every General Insurance Policy-holder possesses.
1. Turn-Around-Time for policy issuance
The insurance company should get back to you within 15 days of submitting the proposal form. Your General Insurance policy documents should reach you within the specified time.
If the company fails to do so, you can escalate the matter in writing.
2. The Freelook Period
Every General Insurance Policy comes with a 15-day freelook period. The freelook period begins from the day you receive your policy documents. So, keep the receipt as proof.
If you're unhappy with the General Insurance Policy you've bought, you can cancel the policy within 15 days. Call up the insurance company's service center and intimate them in writing.
You will get a refund on cancellation. Charges might get deducted for the duration the policy provides you with risk cover. Any tests or inspections conducted and policy set-up fees are the other charges borne by you.
3. Right to information and document requests
Sometimes, you might find it challenging to understand the fine print on your policy. When asked, your insurance company must help you with the simplified version of the policy's terms and conditions.
Even if you've bought your HDFC General Insurance Plan through an intermediary, you can be in direct contact with the insurance company.
For lost policy documents, inform the insurance company. They will issue a duplicate set of records for you.
4. Changes to your HDFC General Insurance Plan
It is possible to make some changes during your policy term as and when required. General Insurance companies pass endorsements to make changes to policies that are in force.
Inclusion of more benefits or other members and deletions get billed on a pro-rata basis.
It might not be possible to make changes to every feature of the policy though you can always check with your insurer.
5. Submission of claims under your HDFC General Insurance Policy
As a policy-holder, you have the right to claim under your General Insurance Policy.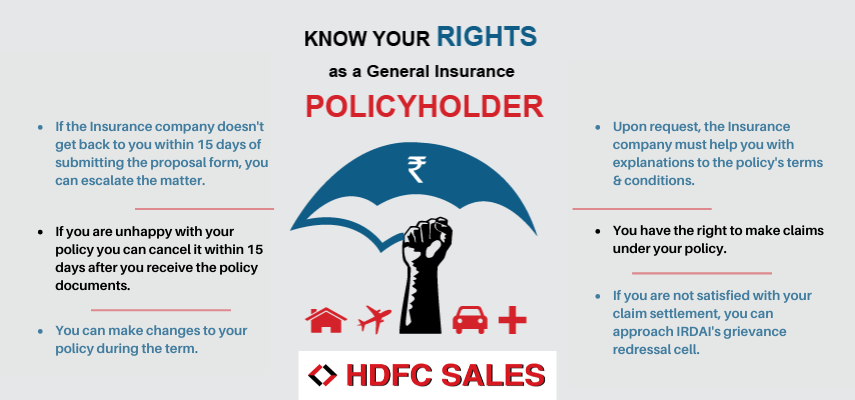 Submit the claim or inform the company within the time stated in its terms and conditions. You must also provide the insurance company with the documents required. Timely submission of documents enables the company to process the claim faster.
Disclaimer: HDFC Sales Private Limited, Registered office: 4th Floor, Wing-A, HDFC House, 165-166, Backbay Reclamation, H.T. Parekh Marg, Churchgate, Mumbai – 400020. CIN: U65920MH2004PTC144182; Email: customercare@hdfcsales.com; Toll Free: 1800 266 3345; website: www.hdfcsales.com; IRDAI Reg. No. CA0080.