We reside in a world where our life is full of uncertainties. The risks entail not only our lives but also property, assets, wealth, health and other spheres.
However, we understand your emotions involved in purchasing the most valued asset, a home. Home Credit Assure Plan protects during such misfortune events.
Here's a rundown of the benefits that can be availed through this insurance package.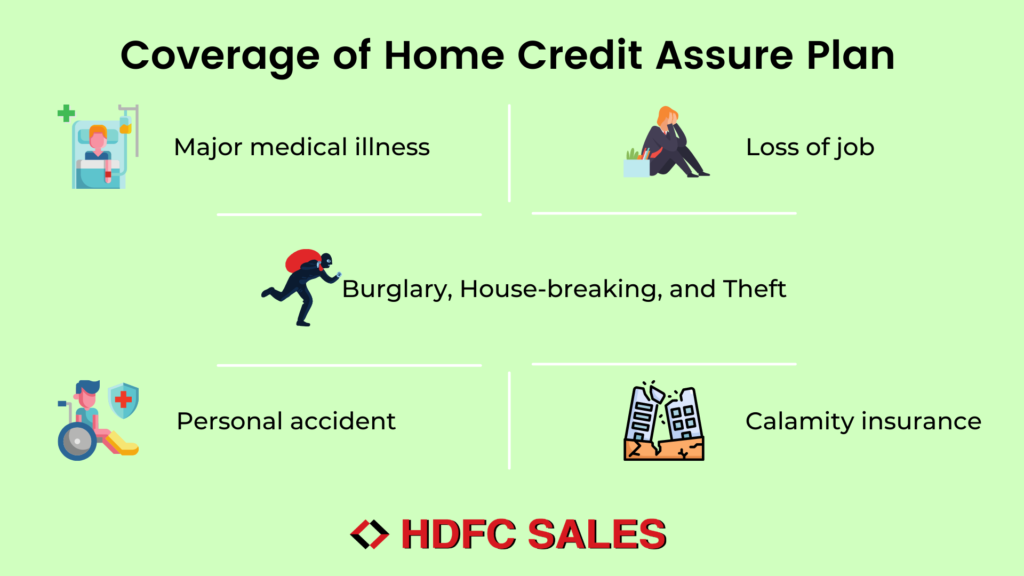 Major medical illness
In life, no one can really predict the uncertainties involved with your health. Health Insurance has become a necessity for many individuals living in India.
So, don't let your health ailments stop you from paying the EMI of your Home Loan. With a sum insured, you will be covered against nine major critical illnesses. Diseases like Cancer, Kidney failure, Organ failure, Open Chest CABG, and many others are covered adequately.
Personal accident
Accidents are unplanned events that can happen anytime without informing you. The occurrence of such events can have unaddressed risks associated with it.
There can be extreme incidents like death and disabilities, adding to the financial stress for the individual and his/ her family. This can hamper your systematic EMI payments that you were contributing towards your Home Loan.
Home Credit Assure Plan provides significant coverage for accidental death, permanent disability, and even dependent child education benefits.
Burglary, Housebreaking, and Theft
You can even claim losses associated with burglary, theft, and housebreaking. The maximum sum insured is 25% of the policy. It has also sum assured for first claim basis and jewelry theft.
Loss of job
Contributing towards HDFC Home Loan EMI can be difficult if you have suffered any recent job loss. Life is unpredictable, and the fluctuations in the market can have an impact on your job. It can severely affect the financial devising you have towards your life.
Here HDFC's comprehensive package comes to your rescue. In the event of termination, up to three EMIs are payable to the insured person.
Calamity insurance
In times of calamities, we think of safeguarding our families. However, if you also have coverage for your property against such catastrophic consequences, perhaps it will be better in alleviating the financial burden especially when you have already availed a Home Loan and clearing off your debts.
This package ensures for damage and loss associated with factors like natural calamities, fire, strikes, riots, terrorism, etc.
Disclaimer: HDFC Sales Private Limited, Registered office: 4th Floor, Wing-A, HDFC House, 165-166, Backbay Reclamation, H.T. Parekh Marg, Churchgate, Mumbai – 400020. CIN: U65920MH2004PTC144182; Toll Free: 1800 266 3345; Email: customercare@hdfcsales.com; Website: www.hdfcsales.com; IRDAI Reg. No. CA0080; AMFI Reg. No. 39103; PFRDA Reg. No. POPSE24012019.