Mosquitoes have proven to be a menace and are quite deadly. If you are going by the numbers, they can potentially kill millions across the world. More than 300-600 million people get Malaria each year and the approximate annual death toll from this disease reaches a million people. 40% of the world has been living in Malaria-infested or Malaria-prone zones. A child dies every two minutes from this deadly disease. Now, when it comes to India, it has the 4th biggest number of Malaria death counts and infected cases in the world but the good news is that India has managed pretty well in holding its fort against Malaria by bringing the disease rate down.
So, as we approach World Malaria Day which falls on 25th April, let's demystify the health complexities associated with this vector-borne disease.
Do you need special health coverage for Malaria?
A Health Insurance Policy provides immaculate coverage for medical emergencies; such emergencies often leave out vector-borne diseases like Malaria which can be equally fatal and financially draining for you. So, wouldn't it be nice, if there was exclusive Health Insurance coverage for Malaria and similar diseases? Health Insurance schemes offering coverage for diseases like Malaria have hence become quite lucrative and rightly so. Therefore, it is integral to invest in one keeping the goodwill of yourself and your family.
Are you eligible to buy health coverage for Malaria?
Unlike most Health Insurance Policies in India, getting special health coverage for Malaria doesn't have any prerequisite conditions - the only one being that you must not have the disease which the insurance is covering for you.
How do you avoid getting Malaria?
If you are living in a mosquito-prone region, chances are that you might get Malaria. Along with making the diagnosis conveniently available, WHO has urged to take the following preventive measures since precautionary measures are effective against this vector-borne disease: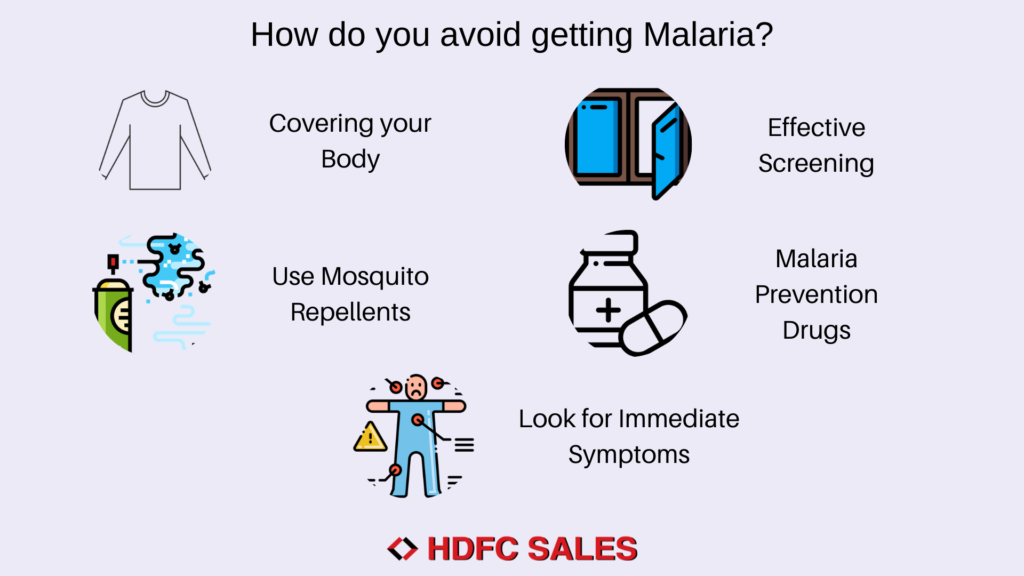 Covering your body
Try to wear light and relaxed long pants, long-sleeved shirts especially after sundown.
Using Mosquito Repellents
Creams, lotions, coils, plug-in vaporizers, etc., provide an effective remedy against keeping the mosquitos away.
Effective screening
Screening windows and doors is quite an effective method to keep away mosquitoes from entering your house in a swarm.
Malaria prevention drugs
Children are more susceptible to mosquito bites. Make sure that they are given the right anti-malarial medicine with the right amount of dosage. You must finish the course if the medication has been prescribed by the family doctor.
Look for immediate symptoms
Seek medical assistance immediately if you experience any of these symptoms like Fever, Headache, Body ache, Nausea, Fatigue, Diarrhea, Blood Stools, Profuse Sweating etc.
Summing Up
Making sure to take preventive measures seriously can prove to be the difference between life and death when it comes to Malaria. Although this notorious disease has a cure, being vigilant and aware of the afore-mentioned tactics can save you from a lot of troubles. However, you should still look into Health Insurance products like HDFC General Insurance Plans for a healthier and secure future.
Disclaimer: HDFC Sales Private Limited, Registered office: 4th Floor, Wing-A, HDFC House, 165-166, Backbay Reclamation, H.T. Parekh Marg, Churchgate, Mumbai – 400020. CIN: U65920MH2004PTC144182; Email: customercare@hdfcsales.com; Toll Free: 1800 266 3345; website: www.hdfcsales.com; IRDAI Reg. No. CA0080.