The dangers that surround us constantly are not always noticeable unless the situation goes out of hand. This makes the need for insuring yourself or your loved ones against such uncertainties crucial. This is where a General Insurance Policy comes handy to safeguard your possessions and help you regain some peace of mind.
What exactly is Fire and Special Perils Insurance?
With HDFC's Fire and Special Perils Policy, you secure yourself and your possessions from the damages inflicted by fire, explosion, crashing of aerial objects, man-made perils such as riots and strikes or damages incurred due to natural calamities like storms, cyclones, etc. All these instances can damage your belongings and also affect you critically. This type of Insurance Plan provides you with integrated coverage of the damaged property and possessions.
Is Fire and Special Perils Insurance Plan an Expense?
Many of the Indian households are prone to natural and man-made disasters. A major chunk of Indian buildings do not completely comply with all the safety guidelines for disasters, and are hence, prone to unforeseen events like a fire breaking out in the building, or a flood destroying the building. Natural calamities can strike anytime, and human hazards are unpredictable. In these cases, it is imperative that your possessions are safeguarded and insurable just so that you have a safety cover in case of any mishaps.
Hence, the Fire and Special Perils Insurance Plan is not an expense, but a smart investment for ensuring that your possessions are secure, and covered under a scheme that offers a multitude of other benefits. Here are the types of situations this plan protects your possessions against:
Fire– Home and possessions are covered in case of a fire breaking out.
Human Hazards- In case of any human hazards like riots, malicious attacks, terrorism, etc., the plan keeps your possessions secured.
Natural Calamities– Home and possessions are covered under this plan in case of any natural hazard like flood, cyclone, earthquake etc.
Accidental Damage- In case of any mishaps like leakage from automatic sprinkler installations, the plan ensures to cover your possessions.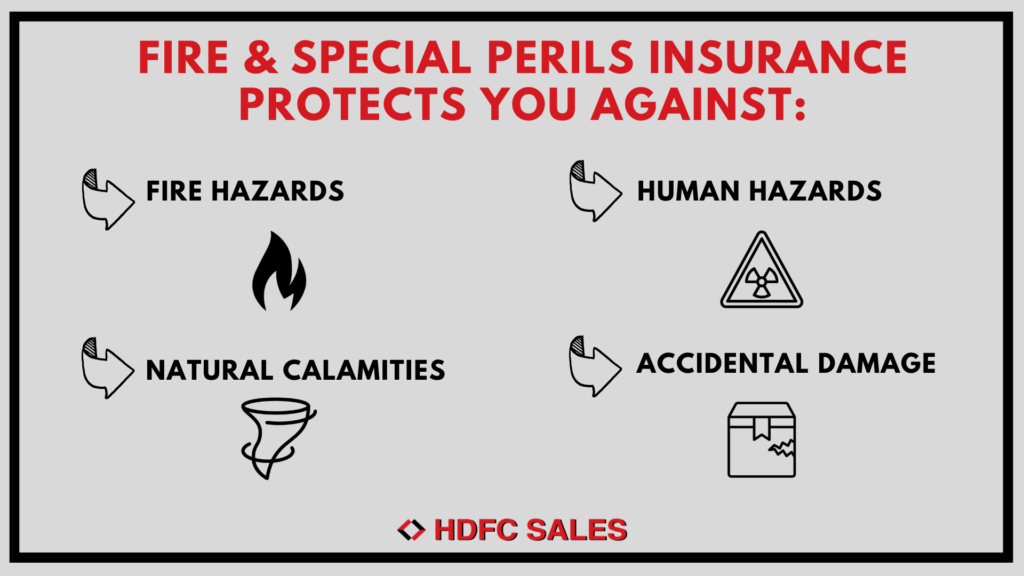 With all these benefits, it is no wonder that this holistic Insurance Plan can cover your house and possessions in one go for up to 15 years! This Insurance Plan is suitable for home-owners, SMEs, and enterprises as well. With holistic protection for your home and possessions that are backed by sound financial capability, this is the best type of investment one can make.
Conclusion
HDFC's catalogue of General Insurance Plans is extensive but Insurance Plans like Fire and Special Perils Insurance Plan come with the desired flexibility regarding tenure and premium, to help you make better decisions.
Disclaimer: HDFC Sales Private Limited, Registered office: 4th Floor, Wing-A, HDFC House, 165-166, Backbay Reclamation, H.T. Parekh Marg, Churchgate, Mumbai – 400020. CIN: U65920MH2004PTC144182; Email: customercare@hdfcsales.com; Toll Free: 1800 266 3345; website: www.hdfcsales.com; IRDAI Reg. No. CA0080.