One crucial characteristic that makes Mutual Funds a lucrative investment option for modern investors is their liquidity. You can readily purchase Mutual Funds and redeem them at any point you want to fulfill your monetary obligations. However, even when a quick exit alternative is available for a Mutual Fund, it includes an 'Exit Load' option that can deduct some part of your Mutual Fund investment returns.
What is precisely an 'Exit Load?'
As the name implies, an 'Exit Load' is a one-time charge levied when you exit from the ongoing Mutual Fund investment. Various Mutual Fund Schemes impose a fee when you plan to quit a fund, and this charge is known as the 'Exit Load.' Also, this 'Exit Load' in Mutual Fund gets expressed as a portion of the NAV (Net Asset Value) and does not get covered in the Total Expense Ratio (TER) of the Mutual Fund investment.
Why does an 'Exit Load' get imposed on a Mutual Fund Scheme?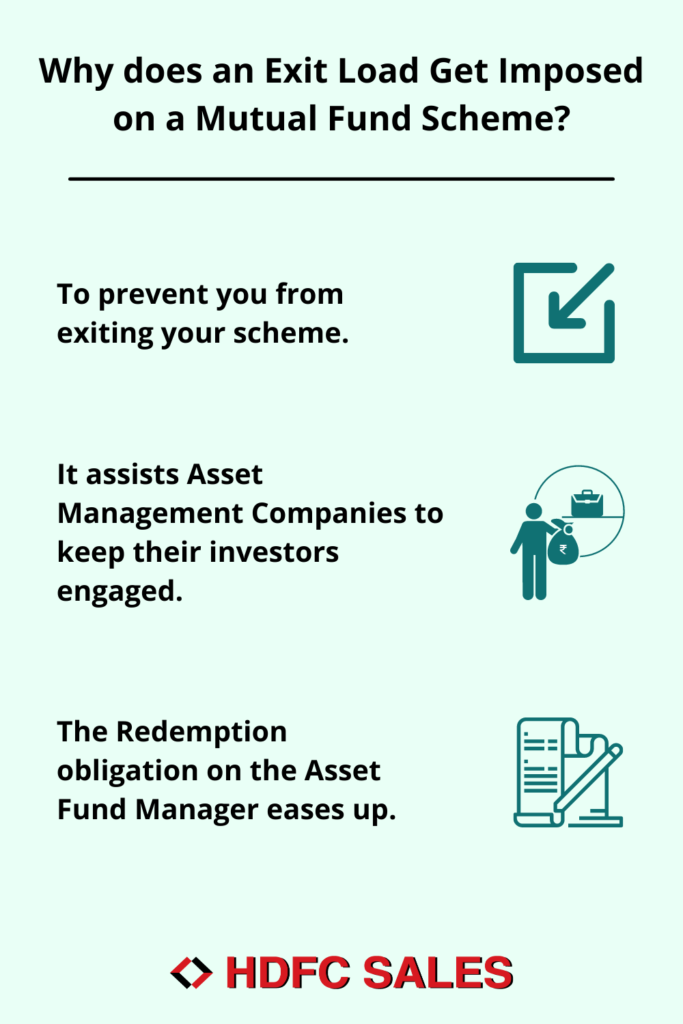 The principal reason for imposing or levying an 'Exit Load' under a Mutual Fund investment is to prevent you from exiting your scheme. It assists AMCs (Asset Management Companies) to keep their investors engaged. Furthermore, when an 'Exit Load' remains in place, the redemption obligation on the Asset Fund Manager eases up.
Also, when an investor requests for Mutual Fund redemption, the Fund Manager needs to arrange for the funds to fulfil the redemption request. Having an 'Exit Load' in place, Fund Managers can maintain a portfolio investment without worrying about maintaining higher liquidity.
This is what helps boost the profitability of the Mutual Funds, as when the funds remain invested for a long time, they can fetch more lucrative returns.
Where does the 'Exit Load' on a Mutual Fund go?
The 'Exit Load' gets paid to the AMC, which gets reinvested in an investment portfolio. SEBI (Securities and Exchange Board of India) laid directions for the Asset Management Companies to reinvest the 'Exit Load' Funds in the Mutual Fund Scheme portfolio.
Therefore, Mutual Fund Companies hold a portion of the redemption amount, payable as the 'Exit Load' and then transfer you the balance sum. Hence, it might not be wrong to say that the principal objective of an 'Exit Load' is to reduce the number of withdrawals from the Mutual Fund Schemes.
Conclusion
An 'Exit Load' is nothing but a way through which Asset Management Companies limit the investor withdrawal from a Mutual Fund Scheme. For more details on mutual funds, visit us now.