In its most basic form, wealth can be defined as the state of abundant material possessions that one can convert into money at any time. Traditionally, wealth has only been associated with money. While that is true to some extent, it's not the complete picture. Wealth is the state of mind that money and possessions give you to enjoy life to the fullest.
Importance of wealth
Wealth not only grants you access to the infinite pleasures of the world, but it also gives you peace of mind that you don't have to work day-in and day-out to make a healthy, peaceful, and prosperous living. It gives you financial freedom and free time that you can use to pursue happiness.
Strategies to get wealthy
There are countless ways to get wealthy. However, the most common and easiest of those leverage the true potential of compound interest in one form or the other. If you intend to become wealthy fast, you need to understand the risk-reward mechanism. The higher the gain, the higher the risk. With that in mind, here are the ways for you to build wealth in increasing order of the returns.
The "15x15x15 rule" best describes the effects of compounding. According to this rule, if you invest 15000 rupees per month for 15 years at 15% annual returns, you will have one crore rupee at the end of the cycle. This effect keeps dramatically increasing as time passes. Compound interest is an interesting concept; it can help you accumulate your wealth quickly.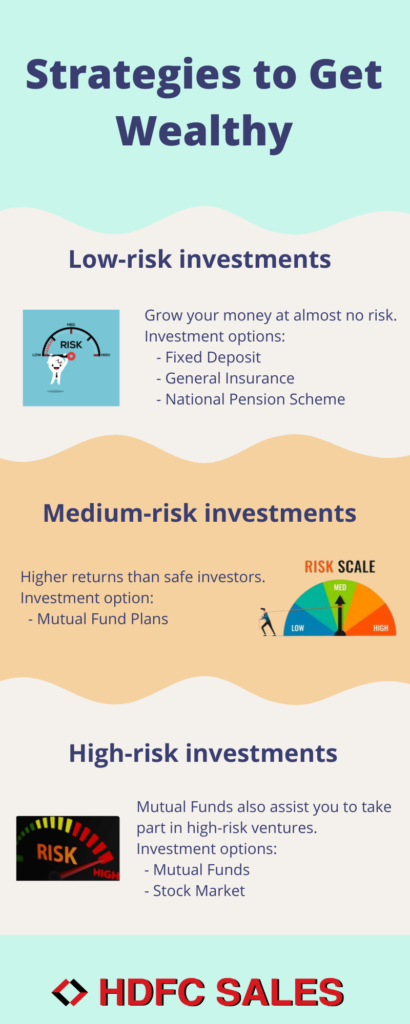 Low-risk investments
Fixed Deposits offer an excellent way to build your money at almost no risk. However, they offer limited returns, and you have to wait for a long time for your wealth to accumulate. HDFC Fixed Deposits have a reputation of offering some of the best services in the FD sector. You may also consider taking insurance to keep yourself safe from external risks.
You get nearly 5% returns on FD investments, depending on the investment duration. You may also consider investing in Government Bonds, Digital Gold, PPF, and NPS Schemes for higher average returns. They're known to give an average of 8-10% returns per year. The National Pension Scheme application process is fairly simple. So, anyone can take advantage of these.
Medium risk investments
Medium risk-takers enjoy higher rewards than safe investors. You can start your own business and work hard to make it a success, and when it does, you enjoy the benefits that come with it. A better way to own a business is through Equity. You can sequentially invest in a business that you believe will excel in its field.
However, this step needs a lot of effort and fundamental analysis of the company. Mostly, people don't have the time, resources, or knowledge required for these technicalities. Hence, Mutual Funds become the perfect option for almost everyone.
A professional Fund Manager can look into your risk appetite so that you don't have to look at the Stock market and invest in Mutual Funds. Another good thing about it is that you can select the risk you want to take here. Mutual Fund Plans are the best place to start your investment journey.
High-risk investments
Although Mutual Funds give you an option to invest in high-risk ideas, you feel particularly risky while trading options on the stock market using derivatives. You can earn unlimited returns on these, but you will find yourself subjected to enormous risks. You can hedge these too, but that defeats the purpose of the risk factor.
How to get started?
We recommend you do your research, understand your risk-taking abilities, and invest accordingly. However, if you want to choose any of the mentioned alternatives, you can go contact us.