With the festival of lights approaching closer, people are busy decorating their houses and office spaces, buying gifts for the loved ones, and shopping lavishly to celebrate Diwali with immense joy and grandeur.
However, what if you invest half of the funds in some money-saving instruments to get a more stable and secure future?
By exploring the best investment opportunities in India, you can always remain financially guarded during the testing times and earn better profits to keep your family happy and peaceful throughout their lives.
Why is it prudent to choose investment over shopping this Diwali?
While most people prefer buying gold ornaments during Diwali, they can get better returns if they invest their funds in financial instruments. Also, since Diwali is one of the biggest festivals in India, companies look forward to launching new products and deals for their customers.
Hence, if you plan to invest funds in financial instruments during the festive season, you can earn better returns in no time. While we understand people love spending money on celebrations, investing funds in financial instruments, like Mutual Funds, can be an excellent option to gain substantial profits.
What makes Mutual Funds the best investment option this festive season?
Investors usually misunderstand Mutual Funds as a complex investment instrument. However, in reality, it is one of the most simplistic and profitable investments that offer a host of advantages such as professional Money Management, diversification, economies of scale, liquidity, and transparency, to name a few.
In simple terms, Mutual Funds refer to a pool of investments, including assorted securities such as Debt, Equities, and Money Market instruments for a diverse investment portfolio.
Mentioned below are some advantages of investing in Mutual Funds this Diwali.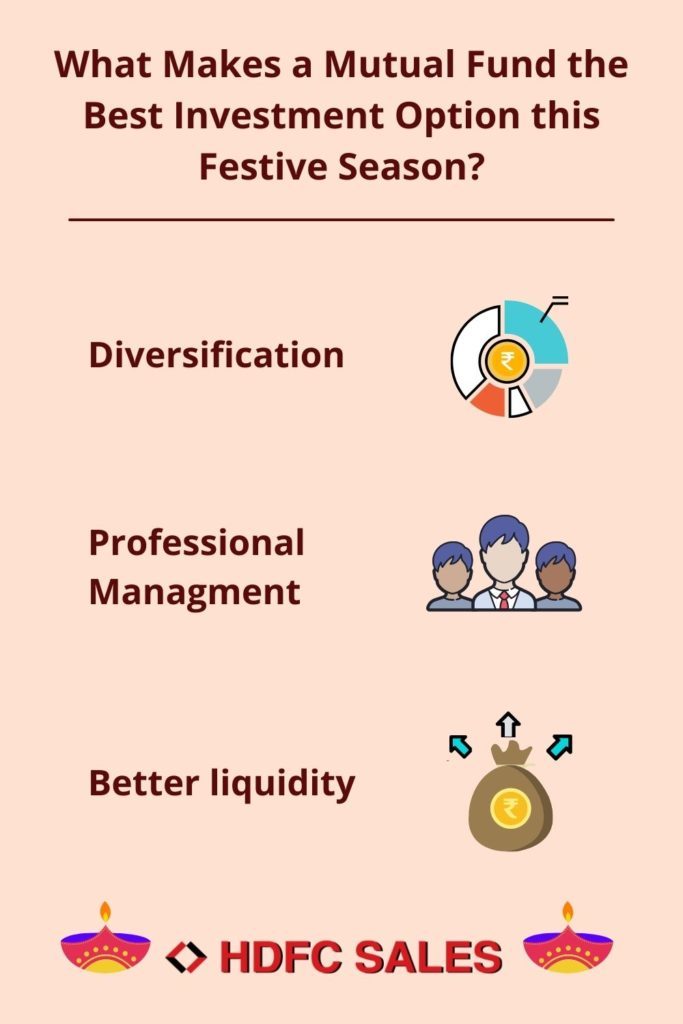 ● Diversification
One of the most attractive benefits of investing in Mutual Funds is diversification. It is the means of growing a given investment over various asset categories. Diversification assists investors in creating a miscellaneous portfolio that segregates the invested funds in numerous sectors according to your risk appetite.
● Professional Management
Many investors do not own the time or means to conduct their analysis and buy individual investment stocks. This is where professional management becomes helpful. Several investors invest in Mutual Funds for the professional expertise it provides to your investments.
A Fund Manager continuously manages fund investments and coordinates the portfolio accordingly to suffice its goals. This expert management is one of the most important benefits of a Mutual Fund.
● Better liquidity
You can readily trade Mutual Funds to meet your financial requirements. Upon liquidation, the funds get deposited in your bank account in a few days and provide more expeditious disbursal.
To sum up, we can say that if you want to bring pure joy and bliss to your life this Diwali, it is best to invest in Mutual Funds. If you are looking for the most comprehensive and competitive Mutual Fund Schemes in India, visit us now.