It is vital to track your Mutual Fund portfolio's performance every 6-12 months. Reviewing your Mutual Fund performance tells you how close you are to achieving your financial goals. Regular reviews also reveal whether you need to rebalance your Mutual Fund portfolio or improve upon any other areas.
When you track your HDFC Mutual Fund's performance, don't forget to consider your financial goals. Calculate how much more your investment needs to grow in the term that's left.
All Mutual Fund houses release fund performance sheets every month. Multiply your fund units with the current NAV. Add any dividends you've received so far. Compare this value with your initial projections. This way, you will know whether your HDFC Mutual Fund is at par with your financial goals or not.
Some parameters used to understand your Mutual Fund's performance:
Compare peer performance-
See how well your HDFC Mutual Fund is doing compared to other Mutual Funds in the same category.
Relative performance-
Track how your fund performs versus the market index BSE or NSE. The term used to represent benchmark performance is "Alpha." A good Mutual Fund is one which outperforms the index. That's why a higher alpha is a sign of excellent performance.
Risk adjusted returns-
Risk-adjusted returns show you the profits earned by the Mutual Fund versus the risk taken over time. When two similar Mutual Funds have the same performance, the one with lower risk is a better choice.
The "Sharpe Ratio" is the figure used to describe risk-adjusted returns. A higher Sharpe Ratio is ideal.
Historical performance-
Though historical fund performance doesn't shed much light on future performance, you can observe the trend over time. You will also get more information about the HDFC Mutual Fund's best and worst returns since inception.
The Mutual Fund's Manager and changes in the portfolio-
Keep note of the Mutual Fund Managers. As each individual is different, their investment style could vary too. Check for any changes in the Mutual Fund's underlying portfolio. Such changes could affect the Mutual Fund's performance. Watch the fund performance for a while before you decide to make any portfolio changes.
More Tips to Track your Mutual Fund Performance
It helps if you know what to expect from your investments. For example, Equity Mutual Funds are growth-oriented. You invest in them to meet your long-term financial goals. However, Liquid Mutual Funds have a short-term investment horizon. While Equity Mutual Funds usually give high returns, you cannot expect similar returns from your Liquid Mutual Funds.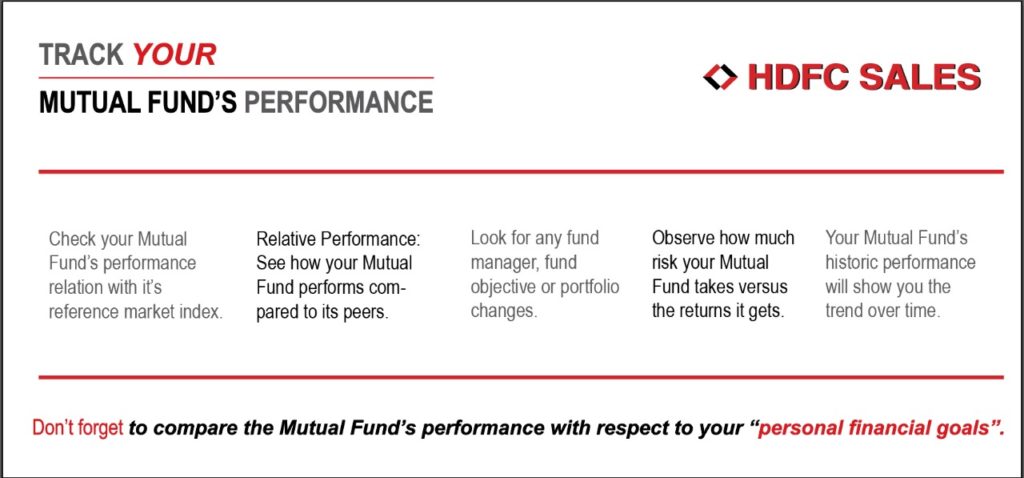 What to do when your HDFC Mutual Fund under-performs?
Even good Mutual Funds get affected by ups and downs in the market. If you have a Mutual Fund that under-performs, do not lose hope and wait for 6-12 months before you exit from the fund. When you exit from any Mutual Fund, you must also check if any taxes will apply.
Disclaimer: Mutual Fund investments are subject to market risks, read all scheme related documents carefully.