A Pension or Retirement Plan enables you to save, invest, and get a lump sum amount as a fixed income (in the form of Annuity Plan) when you retire. Also, investing in Pension Plans offer investors the dual advantages of Retirement Planning and tax savings in the form of exemptions under Section 80C of the Indian Income Tax Act.
The National Pension Scheme (NPS) is an Indian Government project that aims to give retirement benefits to all Indian citizens, including people in the unorganized sector. In addition, when individuals attain the retirement age and do not own a regular income source, the NPS Scheme in India can present economic stability and security that the Government offers as a part of a consolidated Retirement Plan.
How to apply for NPS online?
Building a sizable corpus for your retirement period is a crucial point you must consider during Financial Management. It not only allows individuals to know their spending requirements, but it also enables them to enjoy their post-retirement time to the fullest. That is why the Indian Government introduced the NPS (National Pension System) to fulfil the country's growing senior citizen population.
This Retirement Plan presents well-organized savings during one's working years, teaching financial control in individuals and inspiring them to prepare for their post-retirement future.
Mentioned hereunder are the steps required to apply for a National Pension Scheme:
Visit enps.nsdl.com and fill out the National Pension Scheme Form online.
Choose National Pension System > Registration from the drop-down list.
Fill out the online application form that will need approximately 15-20 minutes. Note that you must have a scanned copy of your signature, a passport-size photo, Bank Account number, and a cancelled check with you.
Remember, the session may expire when filling the application form online, keep saving the data you've entered.
Also, apart from the NPS registration online, you can use the offline application mode by following the steps below:
First, take the print out of the NPS Application Form from your computer and submit the completed form to your nearest POP (Point of Presence).
Submit the KYC documents (Identity Proof and Address Proof).
The registration fee is INR 500, which applicants must pay when submitting the NPS Application Form.
Relevant authorities will generate a PRAN (Permanent Retirement Account Number)once the documents get approved.
What are the advantages of investing in a National Pension Scheme?
Below are some top advantages of investing in an NPS Scheme: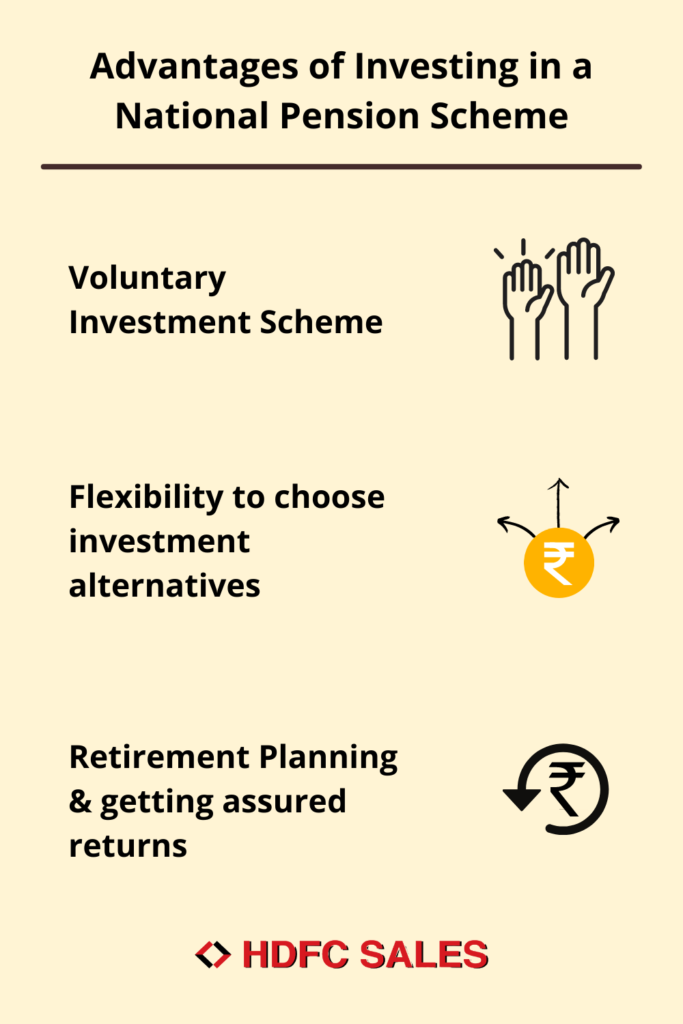 It is a voluntary investment scheme that every citizen between 18 to 60 years can avail.
The National Pension Scheme presents a lot of flexibility that enables you to choose your investment alternatives.
NPS helps you plan for your retirement years and get assured returns post-retirement.
The bottom line
In a nutshell, a National Pension Scheme is an immediate Retirement Pension Plan in which you can avail a regular income with tax advantages post-retirement. Also, with a small amount of voluntary risk, you can significantly increase your earnings. Moreover, if you are looking for the most comprehensive Pension Plan, visit us.