Loans without collateral is available only from NBFCs and HDFC Credila is one of them. Non-collateral Education Loan is available for students who are planning to go to USA and Canada for higher education.
What is the maximum loan without collateral?
USA upto Rs 35 Lakhs.
Canada upto Rs 15 Lakhs.
HDFC Credila's team assess the risk basis the below six parameters:
Academics of student.
Financial History of parents along with the repayment capacity.
Country.
University.
Course.
Job availabililty in that respective field.
If all the the above parameters fit in the policy then HDFC Credila can offer an Unsecured Loan for USA and Canada. However, for loans without collateral, the interest rates will be higher.
How to get a Student Loan without collateral for loan amounts up to INR 7.5Lakhs?
The Credit Guarantee Fund for Education Loans (CGFEL) Scheme guarantees Education Loans up to INR 7.5Lakhs without collateral. The one-year moratorium period is available for Student Education Loans taken under the CGFEL scheme. "The Model Education Loan Scheme of the Indian Bank's Association" also supports merit students with Student Loans devoid of any collateral.
For loan amounts between INR 4-7.5Lakhs, some banks or NBFCs could ask for a third-party guarantor or a co-applicant. However, Banks can refuse to offer a loan without collateral for amounts higher than INR 7.5Lakhs.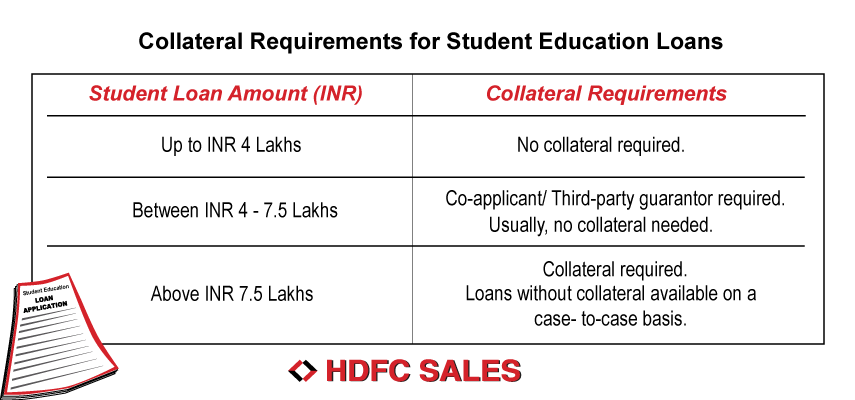 Income Tax benefits on HDFC Credila Student Education Loans
You get Income Tax benefits only on Student Loans taken from financial institutions that come under the Banking Regulation Act of 1949 or from recognised trusts. So, ask your Student Loan lender if you will get Income Tax benefits before you finalise your loan. HDFC Credila is the only NBFC which helps customers to avail the 80E tax-saving benefit. You can claim tax-saving benefits on Student Loans upto eight years.
Disclaimer: For detailed Terms and Conditions, visit www.hdfcsales.com; Toll Free: 1800 266 3345.