Since their introduction in 2001, Education Loans have made it possible for many students to pursue their desired career paths. One of the most impressive features of Student Education Loans is that loan repayment begins after your course is complete. So, you can focus on your studies and get a good job. Some lenders like HDFC ask you to pay off the loan interest amount before-hand and doing so ensures you don't have to pay interest on the interest amount.
You can take a Student Education Loan for full-time or part-time degree, post-graduation and vocational courses. The expenses covered include college tuition fees, accommodation charges and other costs incurred.
Here's an insight into the Student Education Loan approval process.
Student Loan eligibility criteria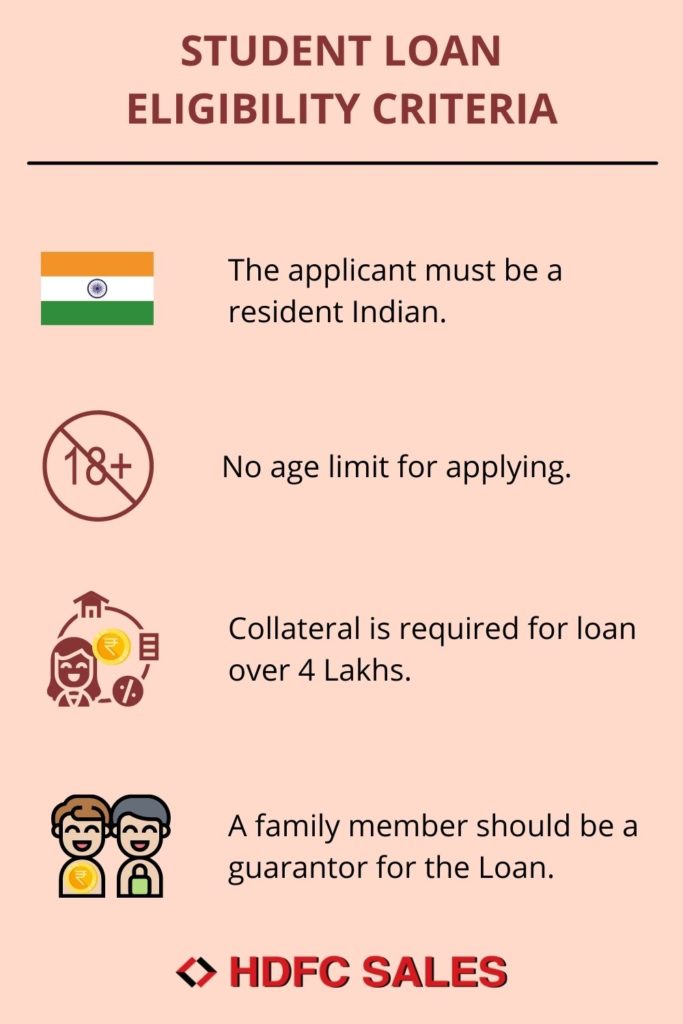 Before you apply, you can refer to the loan eligibility criteria to check your eligibility for Student Loan.
Based on their experiences, each Student Loan lender has their eligibility criteria. Barring a few, most of the eligibility criteria are the same for all Student Loan lenders because the basic eligibility criteria get laid down by the Reserve Bank of India (RBI).
Here are some conditions for the HDFC Student Loan eligibility criteria:
The applicant must be a Resident Indian.
No age limit for applying.
For Student Loans more than INR 4 lacs, the applicant and the co-applicant must be able to provide a collateral.
Generally, a family member should be a guarantor for the loan.
Documents required for HDFC Student Loan approvals
The documents required are:
Application form filled and signed with two passport-sized photographs.
KYC Documents- Address and Photo identity proof.
Bank Statements for the last 6-8 months.
College Admission Letter or any other proof for admission. The HDFC Education Loan application process allows you to apply for a loan before you get admission. This is to help you get a pre-approval for your Student Education Loan before you apply for colleges.
Proper documents for the collateral provided.
The applicant and the co-applicant's income proof.
The student's academic documents- mark sheets, entrance exam scores and any scholarship documents.
What do Loan Lenders look for in your Student Loan application?
Your HDFC Student Education Loan application goes through an underwriting process. This process begins with a preliminary scan and a visit from an HDFC Loan Officer.
The first thing any loan lender examines is your loan repayment capacity.
If your loan repayment capacity is found to be in order, next, the lender evaluates:
The course you plan to pursue,
The college/university's reputation,
Your academic performance and
Scholarships if any.
The lender needs to know if there is a job market for the course you wish to pursue, your future earning potential and your academic aptitude. Your work experience also gets evaluated.
All these factors are put together to determine your HDFC Student Loan interest rate, tenure and other terms and conditions. Your documentation should prove all these things well. If you make it easy for the lender to see what they're looking for, you might get good terms on your Student Loan.