All the phases of the economy lead to emotions like excitement or depression in the market that in-return drives movements amongst the investors. The mind of an investor is affected by these emotions which creates a perception of uncertainty.
During uncertain times, Fixed Deposit Plans keep the investor safe from his/her perception bias.
Benefits of Fixed Deposits
Returns are the main aspect that most investors focus on. However, there are other factors as well which makes a Fixed Deposit Plan, a secured and safe one. Let us take the example of the HDFC Fixed Deposit Plan. Some of its features include:
Easy investment complemented with high security and returns, flexibility, and attractive interest rates.
Higher rate of interest for Senior Citizens.
The convenience of booking a Fixed Deposit Plan through Net Banking.
Importance of Fixed Deposits during Market Turmoil
While investments are tailored according to the investors' goals, wants, and needs, FDs still stand as the smartest choice when it comes to stable investment plans during market turmoil. So, here are three reasons for investing in HDFC's FD Plans.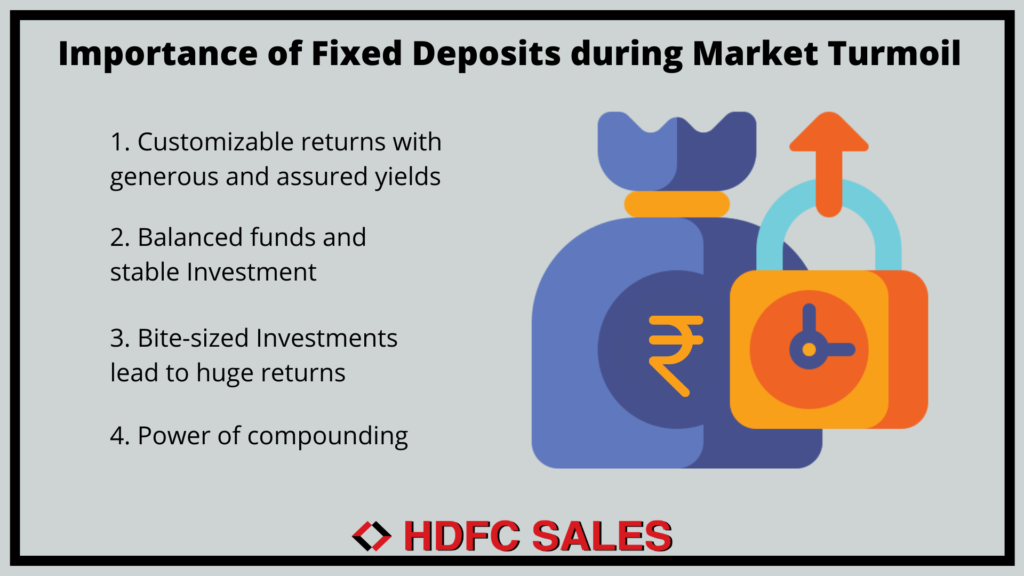 Customizable Returns with generous and assured yields
One of the biggest advantages of investing in an FD is that it gives you the choice of selecting the mode of how you want to receive the pay-out. Moreover, FDs are also a secure investment option, as they provide assured returns on their fixed interest rates, even if the market grapples or is in a turmoil. For instance, you can choose the tenure of the investment which has an elaborative range of 14 days to up to 10 years with HDFC. The HDFC Fixed Deposit interest rates for senior citizens go up to 6.00% annually. The interest rates for normal FDs can range from 2.75% to 5.50%.
Balanced Funds and Stable Investment
Investors can avoid the effects of a market turmoil with FDs, as opposed to equity-linked investments. With equity-linked investments, there is a chance that the investors might be risking capital or interest loss. With FDs, the principal and payment of interest is very strong, with HDFC Fixed Deposit Plans carrying the security level of CRISIL and ICRA MAAA. This helps the investors in generating good returns during unstable market situations and also balancing their funds effectively.
Bite-Sized Investments Lead to Huge Returns
Spreading investments over time can be beneficial for investors during market turmoil. Investing in SIPs can help you in growing your wealth without compiling a lump-sum amount first. Each contribution in an SIP can create its own unique FD. Investors can choose for multiple deposits with multiple tenures with HDFC Fixed Deposit Plan.
Power of Compounding
Small investment amounts can offer bigger returns with Compounding. The interest is combined with the capital amount and reinvested for a period that can range from 6 months to 6 years. Investors who are not interested in regular interest payment can opt for cumulative Fixed Deposit as the interest amount is paid after the FD matures.
Wrapping Up
Irrespective of whether you are aiming for security, benefits, or sheer comfort and surety of returns, FDs fit each of your requirements. This makes them an essential investment plan for all types of investors. Whether you want a high-risk investment to cap the invested capital or a low-risk investment to have a safe and secure path of earning good returns, HDFC Fixed Deposit Plan is always the right choice.
Disclaimer: Interest rates are subject to change from time to time. For detailed Terms and Conditions, visit www.hdfcsales.com; Toll Free: 1800 266 3345.