A Fixed Deposit is an investment instrument mechanized by Banks or NBFCs (Non-banking Financial Companies) that offer higher interest rates than regular savings accounts to the investors till specific maturity date.
Fixed Deposits (FD) are one of the traditional forms of investments in India and surely the safest and the most favoured avenues to watch your money grow.
Banks offer various types of Fixed Deposit for the investors to choose from, such as Normal Fixed Deposits or Tax Saving Fixed Deposits or even Senior Citizens' Fixed Deposits and more. So, if you're a student or a working professional and want to ensure that your hard-earned money is secured and is growing timely, then here are a few tips that you can look into!
Tips for Students and Working Professionals
Fixed Deposits come with loan facilities which can be beneficial for any form of financial emergencies. Since students have limited or no income, it is indispensable to explore the maximum and minimum deposit limit offered by Banks or financial institutions.
However, there is no fixed maximum limit of any form. If the deposit exceeds Rs. 1 Crore, it is called a Bulk Deposit. In such cases, higher interest rates are applied in comparison to Regular Fixed Deposits. If you're choosing to opt for Cumulative Fixed Deposit, there is a provision for re-investing the interest derived. This interest will further be acquired on a regular interval.
In case there is any form of the requirement of emergency withdrawal, before your Fixed Deposit matures, make sure to enquire from the bank about the terms and conditions accompanying the process of premature withdrawal.
Do remember that the tenure of the Fixed Deposit ranges from 7 days to 10 years according to the provisions of the bank.
Documents required for investing in FD
The following are a list of documents required for Fixed Deposits: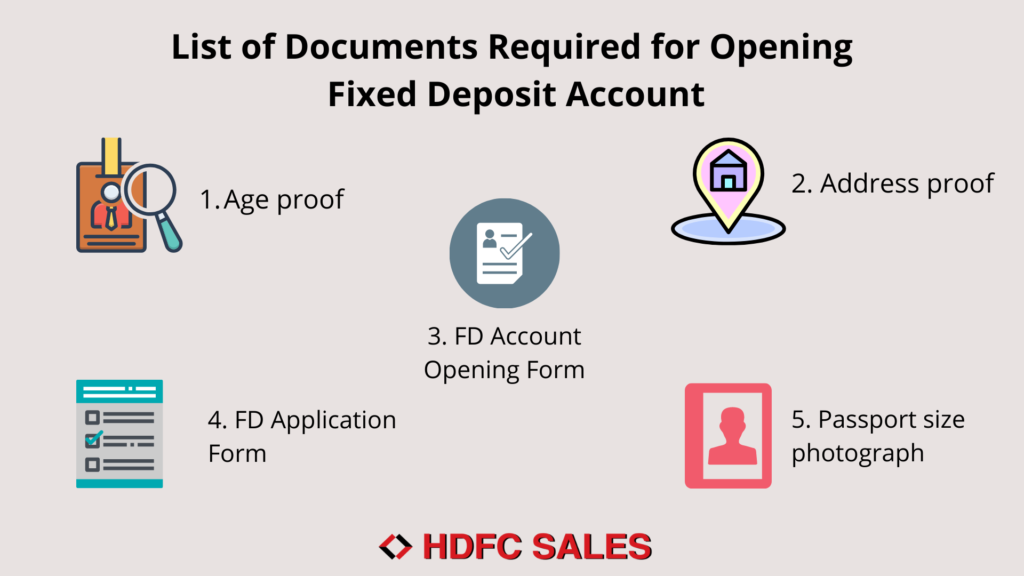 Age Proof (PAN Card, Voter's ID Card, Aadhar Card, Driving License, Photo Ration Card, Senior Citizen ID, Matriculation Certificate, etc.)
Address Proof (Bank Statements with cheques, utility bills, post-office issued Identification Card, etc.)
Application Form provided from the Bank or financial institution for opening a Fixed Deposit Account.
One can get hold of the FD Application Form from the nearest branch or can even download it online from the lender's official website.
Passport size photograph.
Conclusion
Fixed Deposit Plans are safe secure tools offered by banks and financial institutions for growing your funds. So, if you're a student or a working professional trying to ensure that your savings are in the right hands, then Fixed Deposit Plans are just the right thing for you!
Disclaimer: Interest rates are subject to change from time to time. For detailed Terms and Conditions, visit www.hdfcsales.com; Toll Free: 1800 266 3345.