A smart investor carefully observes the market, weighs the pros and cons of all available options, and then makes a sound decision. Most investors are drawn towards schemes with higher rates of return. In the light of the prevailing Fixed Deposit interest rates, FDs have gained minimal importance for most investors. However, this might not stand true for the risk-averse investors, who are reluctant to undertake any risk. And if you see yourself behaving as one, then the best investment plan in India for you is the fixed deposit investment.
Why Should Fixed Deposit Investments Interest you?
Though Fixed Deposits have been a rather dormant investment scheme for the past couple of years, there are several factors responsible for bringing it to the limelight in the recent times. Some of them are summarized below: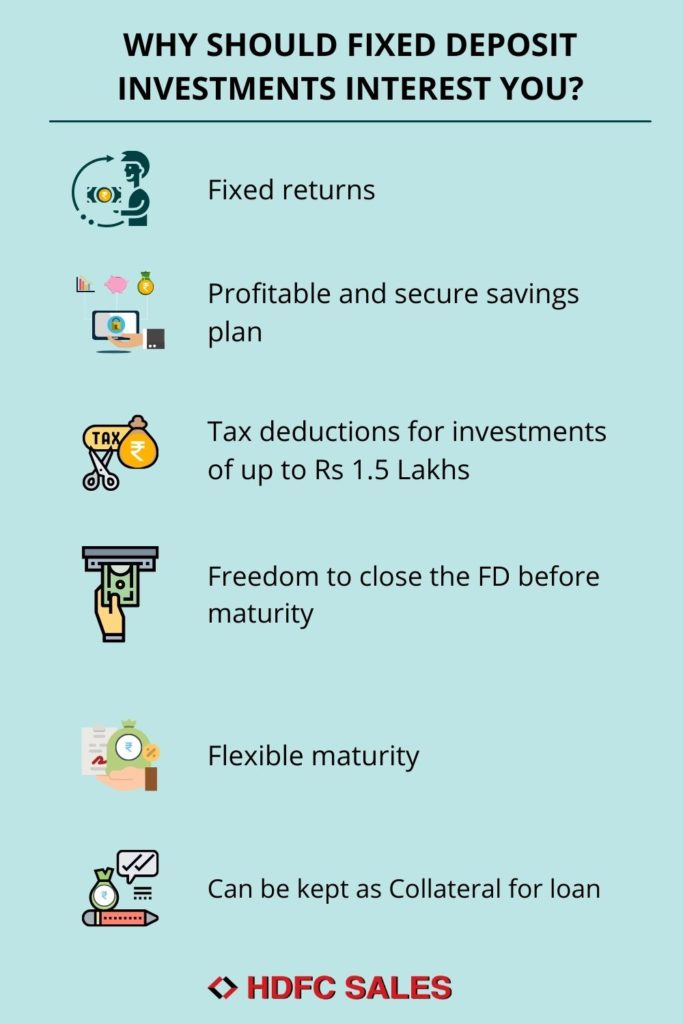 The primary advantage of a fixed deposit investment is the fixed return you receive, despite drastic fluctuations in the market rates. If you seek income certainty, within a particular period of time, FDs are the best investment instruments for you.
Another major factor working in favor of fixed deposits is the likelihood of an increase in the Fixed Deposit interest rates, making it a more profitable yet secure savings plan for any risk averse
Thirdly, tax benefits are certainly a priority to anyone. Under this purview, FDs are the best investment plan in India to save your taxes under Section 80C of the Income Tax Act. You can now claim tax deductions an investment of up to rupees 1.5 lakhs.
Liquidity is a concern for any rational investor. FDs are an excellent avenue to convert your investment into cash whenever required. You have the freedom to close the FD before maturity, without losing the principal amount invested.
Fixed Deposits also offer you flexible maturity. You can choose from multiple investment durations to match the investment goal.
FDs also offer the investors an option of taking a loan while keeping their Fixed Deposit as collateral.
In an ever-changing market situation, FDs are the only risk-free savings options. So if you seek stable returns, investing your idle cash in HDFC Fixed Deposit investment will certainly prove to be more profitable in the long run.
Disclaimer: This blog is for informative purposes only, while HDFC Sales Private Ltd makes an effort to provide the accurate and reliable information about the products, the Company does not guarantee or certify accuracy and completeness of the information. The company shall not be liable for any loss incurred by any person relying on such information.