Synopsis
A fixed or term deposit is one of the several methods to grow money. Isn't it better to build your savings, rather than just locking them in? Mobilizing your money for an assured return, without having to literally work around it is a smart way of growing your savings. Leading a family and fulfilling every dream is always a challenge with a single source of income.
Unlike stock marketing and cryptocurrency, a fixed deposit is the safest facility to grow your savings with guaranteed returns. Is a fixed deposit a good investment in India? Indeed. Every year, the value of financial assets of deposits in the banks in India is growing.
Do You Want To Know The Right Place To Grow Your Savings?
HDFC fixed deposits are some of the unique investment plans offered by Indian financial institutions with special features. The list goes as follows -
One of the best advantages of regular FDs is the broad range of tenure, starting from 12 months to 10 years. You can invest as little money as Rs.5000 at your convenience in the short term. These are well-suited fixed deposits for students who work part-time or get pocket money.
Professionals liable for income tax can choose TDS (Tax Deduction at Source). The monthly or quarterly payout covers the stipulated tax. If the interest is lower than tax, the balance amount is deducted from the savings/current account linked to the deposit.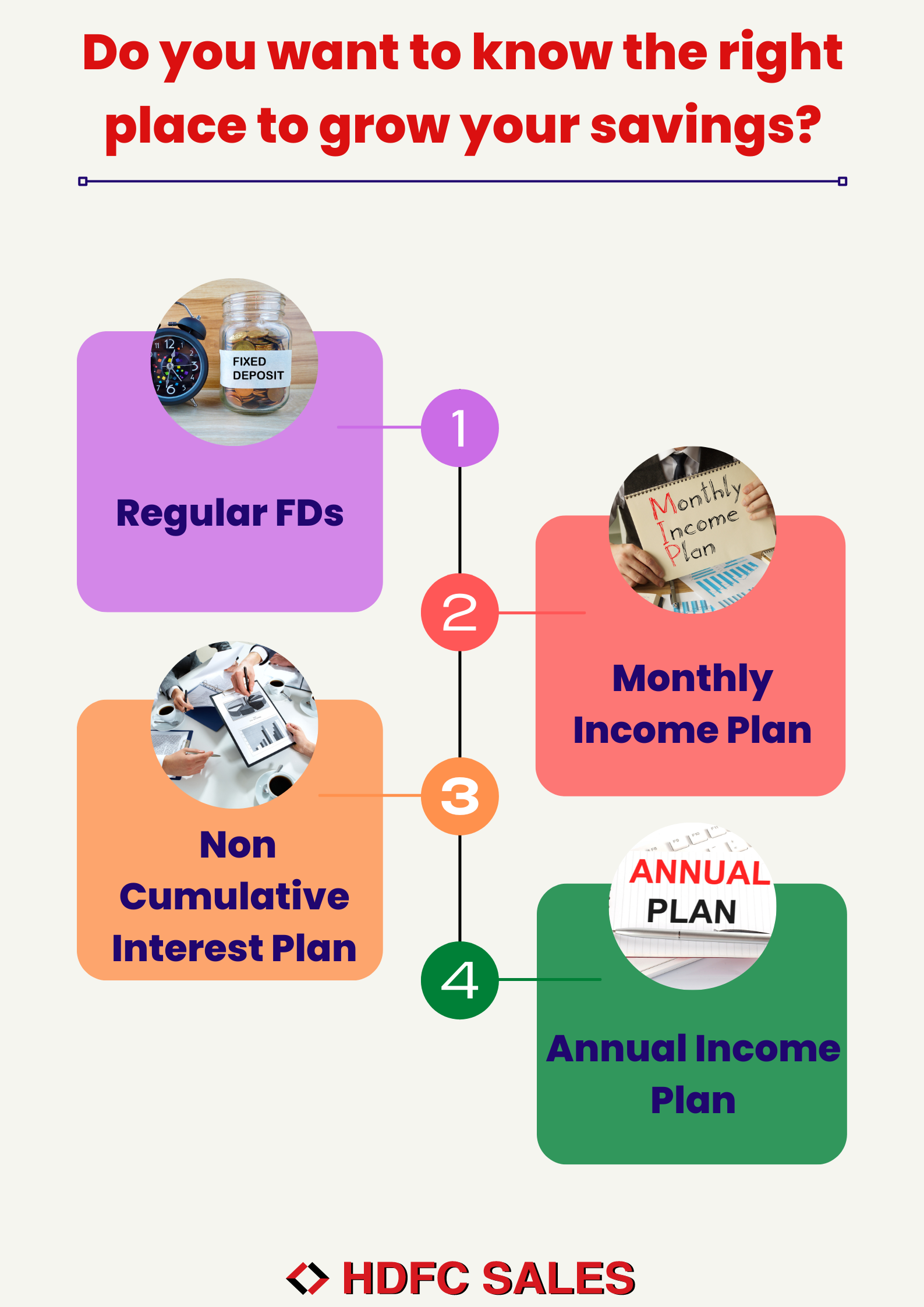 The Monthly Income Plan for HDFC fixed deposits is an ideal option for retired people, housewives and senior citizens who are looking to earn regular monthly income.
When interest payments are due, HDFC will deduct one percent from your deposit's stated rate of interest and pay you that amount. Then it takes the two percent decrease off its minimum fee for public deposits.
The plan offers you the flexibility of choosing between a Fixed or Variable Interest Rate. If you want to make sure that your money grows steadily, opt for a Fixed Interest Rate.
Non Cumulative Interest Plan
When you open an HDFC Fixed Deposit, you can choose to get interest paid either on a quarterly or half-yearly basis.
You can also choose between fixed and variable interest rates. The fixed interest rate option is ideal for investors who want to save money in a safe and secure manner. The variable interest rate option is ideal for investors who wish to maximize their investment returns while taking risks associated with market fluctuations.
After three months of making your deposit, you can borrow up to 75% of the amount deposited with an interest rate 2% above HDFC's general deposit rate for that quarter.
If you're looking for a safe investment with high returns, HDFC fixed deposits are your best bet.
HDFC offers non-cumulative income plans for all its fixed deposits that allow you to earn regular yearly interest income on your deposits. The interest is directly credited to your bank account through ECS. This makes it convenient for you to access your funds when needed, whether that's for an emergency or for investments in other financial instruments. You can also use the interest earned from these deposits as a means of planning for annual cash outflows and maximizing returns on your investment.
Additionally, HDFC offers its fixed deposits in both fixed and variable interest rates, so you have options depending on what kind of return you're looking for.
An Overview Of HDFC FD Interest Rates
The interest rates vary among tenure groups. Within a tenure group, interest varies among ranges of the principal amount as less than or equal to 2 crores, between 2 and 5 crores, and greater than five crores. Senior citizens can avail of interest rates 0.5% greater than non-senior candidates. For specific numbers, you can visit the official website of HDFC.
Closing
Nowadays, with all the uncertainties around, people are inclined towards investing their savings to secure their lives and fulfill their dreams. But, the concern is how safe your investment is. Whether a student or professional, irrespective of the scale of your income, you can look out for an investment option with HDFC fixed deposit schemes for better financial growth.
Disclaimer:
The contents of this blog/website represents our own unbiased opinions and is solely for educational or information purposes only and is not in any way binding on the Company. The information provided here does not constitute professional advice and should not be used in place of it. The Company shall not be liable for usage of this information in any form or manner and your browsing and/or using of this website is subject to all applicable laws.
This blog/website may contain links to other websites, we are not, directly or indirectly, implying any approval, association, sponsorship, endorsement, or affiliation with any linked website, unless specifically stated. We are not responsible for examining or evaluating, and we do not warrant the offerings of, any businesses or individuals or the content of their websites.