The National Pension Scheme in India was introduced by the Central Government in January 2004. It is a flexible scheme which allows you to systematically invest money in a Pension Account (NPS Account). After retiring, you can withdraw a part of the total amount generated and purchase an annuity (pension payment) with the remaining fund to secure a financially stable retirement life. Before you take the crucial step to open an NPS Account online with HDFC, here's everything you need to know.

Get started with NPS Account
The first step to secure yourself or your spouse under the National Pension Scheme in India is to get an NPS Account. Any citizen of India within 18 to 60 years of age is qualified to create an NPS Account, adhering to the KYC (Know Your Customer) rules.

To open an NPS Account online, you need your Aadhar Card or PAN Card, a net-banking facility enabled bank account, a scanned image of your signature and a passport size photograph. It is extremely important and crucial to have these documents ready before you opt to open NPS Account online.
Types of NPS Accounts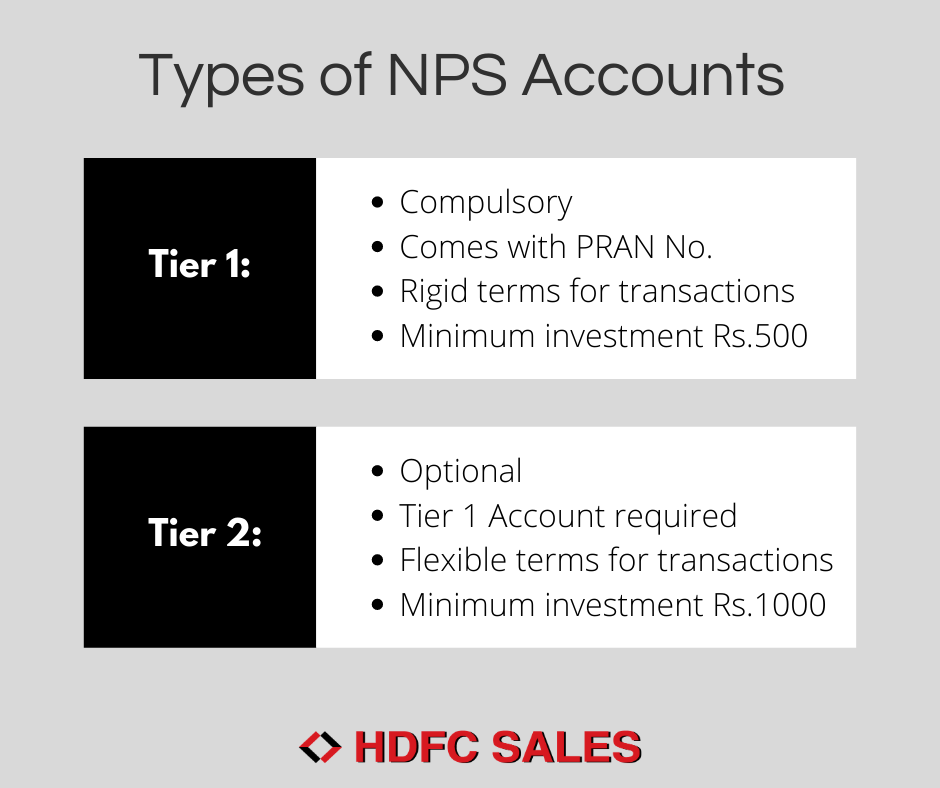 There are two types of NPS Accounts, that you can choose between, as per your needs.
Tier I:
This is the compulsory account which is more rigid in terms of deposits and withdrawals. On creating this account, the account-holder receives a Permanent Retirement Account Number (PRAN) which becomes the Unique Identification Code (UIC) for the NPS Account.
This type of account requires a minimum investment of Rs.500 and henceforth, you can invest even more until the retirement fund is created. Once you are 60 years of age, you are allowed to withdraw 60% of the total amount while the rest 40% goes into the purchase of annuities.
Tier II:
The option to create this type of an NPS Account is only available to people who already have access to a Tier I account. This is more flexible and requires a minimum investment of Rs.1000. It works exactly like a savings account and you can withdraw/invest money according to your convenience.
Conclusion:
Every individual deserves to live their life with their head held high, regardless of age or financial status. It is a matter of careful planning which should be executed with the help of expert advice at every step.
Therefore, mark the beginning of investing in National Pension Scheme with HDFC to get the best returns over a long-term.
Disclaimer: HDFC Sales Private Limited. Registered Office: 4th Floor, Wing-A, HDFC House, 165-166, Backbay Reclamation, H.T. Parekh Marg, Churchgate, Mumbai – 400020. CIN: U65920MH2004PTC144182; Toll Free: 1800 266 3345; Email: customercare@hdfcsales.com; Website: www.hdfcsales.com. PFRDA Reg. No.: POPSE24012019.