Before 2013, all Mutual Funds available in the market were regular Mutual Funds. Since 2013, SEBI (Securities and Exchange Board of India) has introduced the concept of Direct Mutual Funds. Direct Mutual Funds give investors the option to get higher returns on their investment.
Every Mutual Fund, including HDFC Mutual Funds, offers two versions for all its Mutual Funds so that you have a more extensive choice of investments.
Here's a comparison between Direct and Regular Mutual Funds on certain essential points of consideration: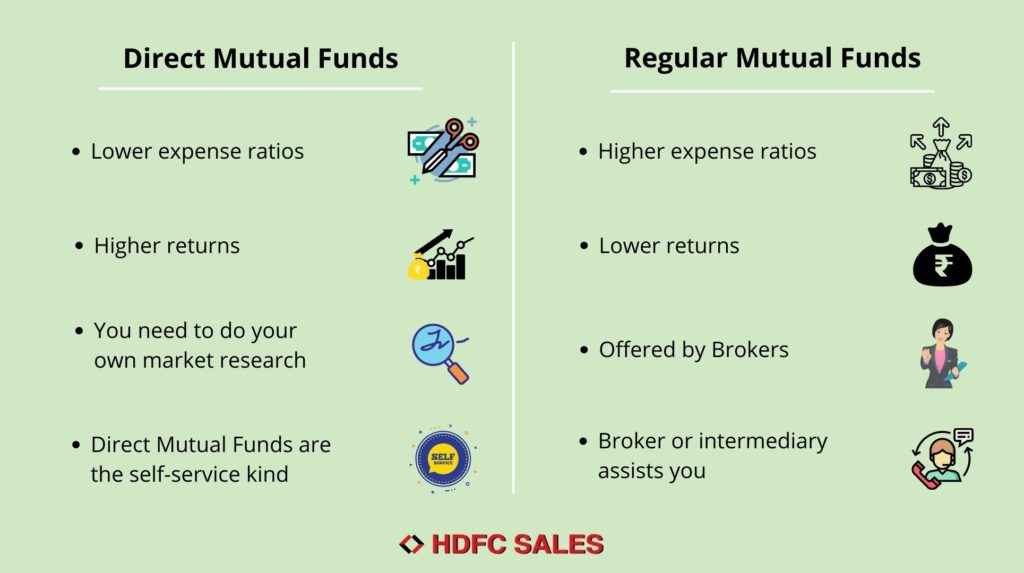 Mutual Fund expense ratios
Direct Mutual Funds have lower expense ratios. This is because they do not include a commission for intermediaries and brokers.
However, Regular Mutual Funds include commissions for intermediaries like brokers and distributors that offer you Mutual Fund Plans. That's why Regular Mutual Fund Plans have higher expense ratios.
Compared to Direct Mutual Funds, the expense ratio of Regular Mutual Funds is higher by about 0.5% to 1.5%. This varies from fund to fund.
Comparison of NAVs and Returns for Direct and Regular Mutual Funds
Since Regular Mutual Funds have higher expense ratios, they have lower NAVs (Net Asset Values). This, in turn, has an effect on your Mutual Fund returns. So, for the same underlying portfolio, Direct Mutual Funds have higher returns when compared to Regular Mutual Funds.
Over a shorter term, you might not see a significant impact on your Mutual Fund returns when you compare the two. However, these marginally higher returns can become significant amounts over 10 years or more due to the effects of compounding.
Investment advice and market research
To invest in Direct Mutual Funds, you will have to do your own market research. You will also have to take your own investment decisions. If you are a savvy investor, Direct Mutual Funds would be a better choice for you.
Regular Mutual Funds are offered to you by brokers or intermediaries. When you invest in Regular Mutual Funds through your broker or intermediary, they assist you by giving an investment advice and do the necessary market research.
Support on service-related issues
When you invest in Regular Mutual Funds, your broker or intermediary assists you with service-related matters throughout the term of your investment.
Direct Mutual Funds are the self-service kind. So, you will have to get in touch with your Mutual Fund Company or avail support online to resolve any service related issues.
If you wish to switch from Regular Mutual Funds to Direct Mutual Funds or vice versa, you can do so by filling up a form. Before switching, ensure that no exit loads are applicable on your Mutual Fund. When you make an exit from a Mutual Fund, short or long term capital gains might be applicable based on your holding tenure.