After the advent of the global pandemic, almost every individual became more watchful of their finances. People nowadays keep looking for alternatives to invest funds in various financial schemes to safeguard the future of their loved ones.
While there are numerous investment options available in modern times, the millennial generation prefers investing their funds in various Mutual Fund Schemes in India.
Mutual Funds are investment instruments used for pooling funds from investors sharing a joint investment goal. Moreover, these Mutual Funds offer active risk administration required in volatile markets.
Top Mutual Fund Schemes in India for Gen-Z
Mutual Funds are an assortment of professionally administered funds, which is why even investors who lack an in-depth understanding of financial markets contemplate investing in Mutual Funds.
Also, proficient Fund Managers can help you manage these funds and assist in buying once the scheme's investment purpose gets accomplished. When speaking from the investment objective, there is a wide range of lucrative Mutual Fund Schemes that Gen-Z can consider to get the best returns.
Some of the top Mutual Funds you can consider investing in are listed hereunder.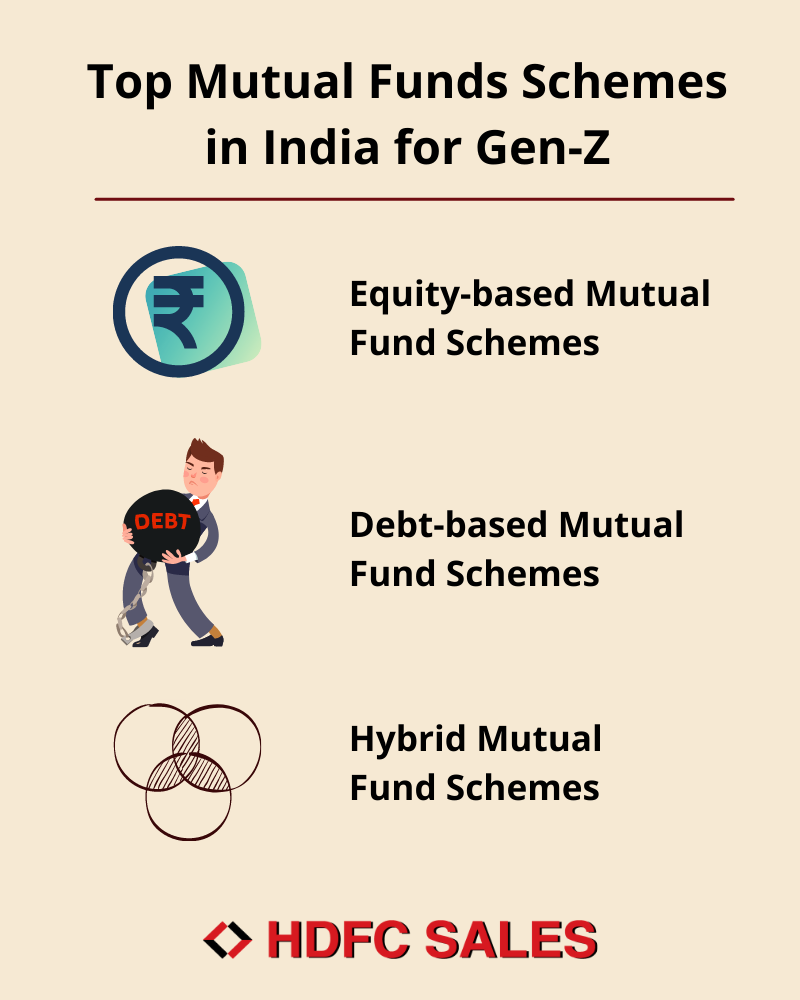 1. Equity-based Mutual Fund Scheme
Equity-based Mutual Fund Schemes invest primarily in Stocks and are also known as Stock Funds. This Mutual Fund Scheme invests the funds accumulated from different investors across distinct backgrounds into Shares of numerous companies.
The earnings and losses correlated with these Mutual Funds rely entirely on how the invested Stocks perform in the financial market. Moreover, Equity-based Mutual Fund Schemes carry the power to produce significant profits over a period. Therefore, the risk associated with these Mutual Funds remain relatively higher, making it the best Mutual Fund Scheme for millennials.
2. Debt-based Mutual Fund Schemes
Debt-based Mutual Fund Schemes invest fundamentally in fixed-income Securities such as Bonds or Treasury Bills. Apart from this, these Mutual Fund Schemes likewise invest in numerous fixed income instruments like Gilt Funds, Fixed Maturity Plans (FMPs), Liquid Stocks, etc.
Also, since these investments arrive with a set interest rate and maturity period, it can be a transcendent investment option for investors looking for steady income (Interest and Principal appreciation) with minimum risks.
3. Hybrid Mutual Fund Schemes
Hybrid Mutual Funds, known as Balanced Funds, are the best mix of Securities and Stocks, thereby connecting the gap between Equity-based and Debt-based Mutual Funds. The proportion can either be Fixed or Variable. Moreover, these Hybrid Mutual Funds can be the best choice for investors looking to take more chances for a debt plus profit advantage rather than sticking to reduced but regular income Mutual Fund Schemes.
The bottom line
To sum up, we can say that Mutual Funds are an excellent investment option for Gen-Z, given its wealth creation ability and the power of compounding. However, to get the best returns on Mutual Funds, it is prudent to start investing in the most extensive Mutual Fund Plans as early as possible.