One of the key contributors to the fact that retirement can be unpleasant is the instability of one's financial circumstances. Those who have committed their entire careers to achieve financial success are typically anxious about approaching retirement. Considering these factors, the government has devised several programs such as the National Pension Scheme in India to ensure retirees' financial stability and security. Pension plans or NPS System India offers a particular level of financial stability for retirees while contributing to the nation's economic growth.
The following is a list of the best pension programs supplied by the government to senior citizens:
Pradhan Mantri Vaya Vandana Yojana:
This pension plan, regarded as the best pension system in India, guarantees a predetermined sum of money each month for the remainder of one's life and is available to anyone over 60 who purchases it. The policyholder must commit to this plan that provides a monthly pension to seniors.
Indira Gandhi National Old Age Pension Scheme:
In 2007, the Ministry of Rural Development of India launched what is now known as the National Social Assistance Programme (sometimes referred to as "the Program") (NSAP). This national pension system's benefit is to equip its members with social security through pensions for older persons and widows and pensions for individuals with disabilities.
National Pension Scheme (NPS):
2004 marked the establishment of the National Pension System (NPS) by the Pension Fund Regulatory and Development Authority of India. (PFRDA). This government pension program is intended to provide financial security to retired seniors. You can apply for NPS online. Participants in this plan can make consistent contributions to their accounts while still employed, and they will be eligible for a standard annuity once they reach retirement age. In the event of an emergency, subscribers have the option to withdraw a portion of their account balance from the national pension scheme.
The national pension system HDFC is available to all employees, including those in the public sector, the private sector, and even the unorganised sector; the sole exception is those employed by the armed services. The National Pension System account allows subscribers to make a minimum contribution of 6,000 rupees per fiscal year. The subscriber can make the payment all at once or in 500 monthly rupee instalments.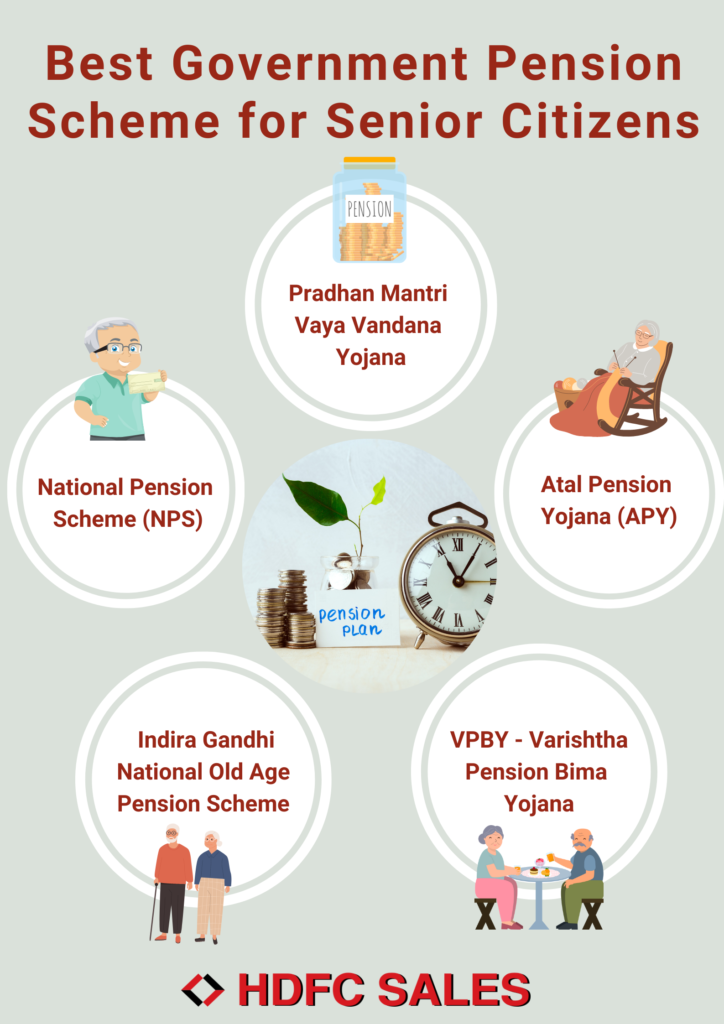 VPBY - Varishtha pension bima yojana:
The Varishtha Pension Bima Yojana is a pension program administered by the government for senior citizens exclusively. In addition to income security, it gives guaranteed returns. Older citizens have access to an immediate annuity plan as part of the program that provides these persons with annuity payments. The VPBY, also known as the LIC VPBY, is administered by LIC, and the individual is obliged to pay the premium of their choosing at the outset of the policy.
Atal Pension Yojana (APY):
This government pension program aims to provide retirement benefits for a predetermined minimum monthly contribution. The Atal pension system aims to alleviate the longevity risks encountered by workers in the unorganised sector of the economy and is mainly aimed at the employees in this sector. The APY program encourages employees to voluntarily save money for retirement by demanding a monthly minimum contribution from workers.
Conclusion:
The Indian government has devised several pension programs to provide seniors with financial security during retirement. Check your eligibility thoroughly to ensure that you are eligible to receive government pension benefits. Before registering for a new pension plan, it is vital to become acquainted with the restrictions and prerequisites that must be completed.
Disclaimer:
The contents of this blog/website represents our own unbiased opinions and is solely for educational or information purposes only and is not in any way binding on the Company. The information provided here does not constitute professional advice and should not be used in place of it. The Company shall not be liable for usage of this information in any form or manner and your browsing and/or using of this website is subject to all applicable laws.
This blog/website may contain links to other websites, we are not, directly or indirectly, implying any approval, association, sponsorship, endorsement, or affiliation with any linked website, unless specifically stated. We are not responsible for examining or evaluating, and we do not warrant the offerings of, any businesses or individuals or the content of their websites.