The cost of studying abroad can be skyrocketing and doesn't come easy customarily. Pursuing higher studies abroad is an inclination of the current generation, although it can be an additional strain on the family's stock of funds. Obtaining a prestigious degree from a renowned institution is every student's dream, and here's where Education Loans step into the picture.
An Education Loan is designed exceptionally by banks and financial institutions for striving students to pay for post-secondary educational expenses and associated fees. These loans cover the cost of tuition fees, books, and living expenses while pursuing a degree.
Education Loans to study abroad can be a convenient and helpful option for students and their families who find it strenuous to organize funds.
Expenses coverage in Education Loans
An Education Loan will fund the eligible student's higher studies, even abroad, but ever wondered about the expenses covered by this scheme? Here's all that you need to know!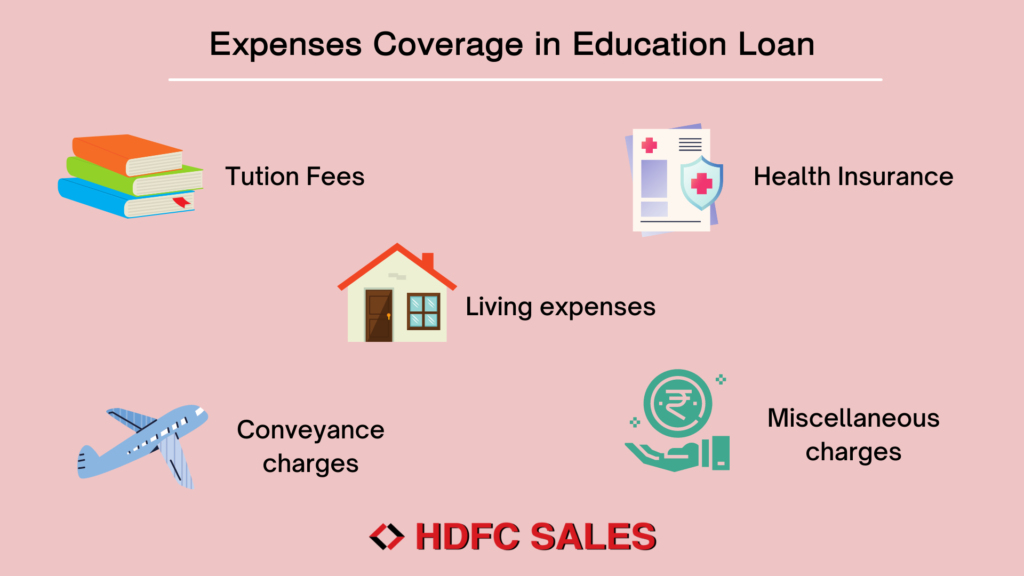 An Education Loan covers almost the entire expenses of residing abroad and pursuing the degree.
Tuition fees
Tuition fees should be the pivotal factor while reaching out for a loan because the main objective of the Education Loan is the payment of the tuition fees quoted by the institution.
Living expenses
The factor that seconds the tuition fees is the coverage of living expenses that comprises lodging, daily food, transportation cost, and other miscellaneous expenditures in daily life. Hence, it is crucial to include your living expenses while calculating your entire expenses for the tenure of your higher studies.
Conveyance charges
Flight tickets to foreign lands can be pretty high-priced; hence they should be quoted in the loan documents.
Miscellaneous charges
If your university opts for field trips and other assorted activities, they can also be included in the loan.
Health Insurance
One of the requirements of foreign universities is that a student must purchase Health Insurance. Thus, it can also be one of the considerations made while applying for the loan.
It is essential to make a note of all possible expenses for your higher studies that your Education Loan will have to cover before applying for it.
Key Basics around HDFC Credila Education Loan without collateral
Only NBFCs provide loans without collateral, and HDFC Credila is one of the market-leaders amongst them. It is offered to students who are wanting to go to the USA or Canada for further studies. The maximum amount of loan without collateral in the USA is up to Rs. 45 Lacs and in Canada is up to Rs. 20 Lacs, wherein the Educational Loan interest rates are much higher.
A few parameters such as country, university, course, job availability and financial history of parents are required to fit into the policy and only then HDFC Credila offers an Unsecured Loan.
Conclusion
So, if you're looking forward to studying abroad, then hesitate no more because these affordable Education Loans are here to make your dream come true! Lastly, always make sure to read all the scheme related documents carefully before finalizing anything.
Disclaimer: For detailed Terms and Conditions, visit www.hdfcsales.com; Toll Free: 1800 266 3345.