An Education Loan helps you fulfill any shortfalls that occur in funding your child's higher education. It gives you an alternative to using your retirement savings to pay for their college fees.
Things can get hectic when you're busy looking for the best courses and colleges for your child. It gets even more tedious when your child plans to study abroad. Besides college applications, there are VISAs to apply for and interviews to give.
The Student Loan application process also takes time. However, there are some ways in which you can speed up the process.
Apply to recognized universities and colleges
Every lender has a list of preferred and blacklisted educational institutions. They are more comfortable lending to applicants who've applied to reputed institutions.
Some lenders need that the student must have secured admission at the college for disbursing the loan.
However, some colleges check your ability to pay fees before they issue the admission letter. HDFC Education Loans give you a loan approval letter so you can get admission with ease.
The student must maintain an excellent academic record
Student Loan lenders prefer meritorious students. A splendid academic record shows how serious the student is about pursuing their career.
Besides, brilliant students get jobs in good companies through the on-campus recruitment drive.
Select a course that has high market demand
Every lender checks whether the course the applicant wants to pursue has market demand or not. The lender wants to know if the applicant will be able to get a well-paying job post-graduation. If the applicant struggles, it would be hard for them to pay their loan EMIs on time.
Education Loan repayment could last up to 10 years. So, pick a course in a field that has a high scope of growth in the future. When the applicant starts working, besides loan repayment, there will be other expenses and financial goals to meet.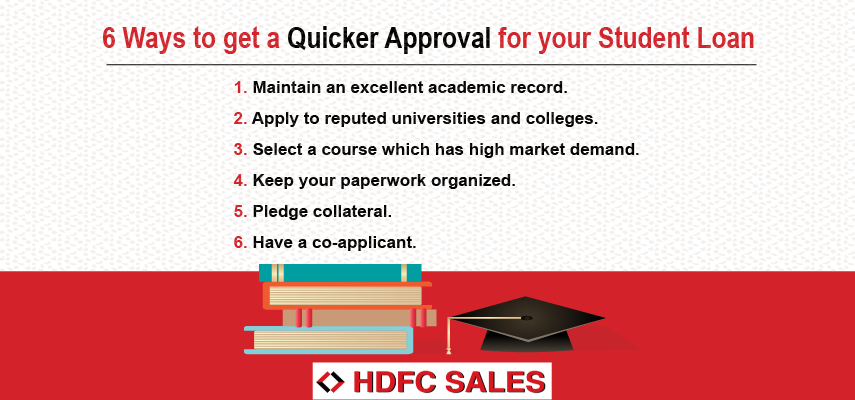 Keep your paperwork organized
When you submit your Education Loan application, provide all the required documents. Add any information you feel will support your case and speed up the process. For example, if you have a scholarship, submit a copy of it as proof. A scholarship increases your chances of getting a loan.
Pledge Collateral when you take an Education Loan
Pledging Collateral mitigates the risk. The lender categorizes such loans as secured. Secured Education Loans have lower interest rates.
You can use Moveable and Immoveable assets as Collateral. Fixed Deposits count as Moveable Collateral and Immoveable Collaterals include Property. The types of Property accepted are flats, houses, non-agricultural lands or shops.
If you pledge Collateral, submit the correct set of documents the lender needs. Ensure the property's title deed is clean.
Have a co-applicant on your Education Loan application
The student must mention a co-applicant on the Education Loan application form. Lenders usually accept family members as co-applicants.
The profiles of the co-applicants get scrutinized. Their tax returns, proof of steady income and good credit history are essential.
When you take an Education Loan, it is compulsory to have a co-applicant. A co-applicant pays the interest amount during the course. Doing so prevents the piling up of interest on the interest amount. It reduces the load of EMIs on the student.
To conclude, borrow as little as possible. After all, any debt is a liability.
Disclaimer: For detailed Terms and Conditions, visit www.hdfcsales.com; Toll Free: 1800 266 3345.